Magnolia trees are so ancient they predate bees—they're pollinated by beetles. The genus is vast and includes, by some counts, nearly 350 species. The big white blooms of the Magnolia grandiflora are most associated with the South, but magnolias continue to make memories across their entire range, from a saucer magnolia near the Chesapeake Bay to a bigleaf magnolia in the Lowcountry. We asked plant people around the country to introduce us to their favorite magnolias:
Michelle Campanis fell in love with the Southern magnolia (Magnolia grandiflora) when she rented a carriage house room as a horticulture student at the University of Tennessee. "There was a huge tree outside, and the raindrops on those leathery leaves made a beautiful symphony," she says. "I still remember it."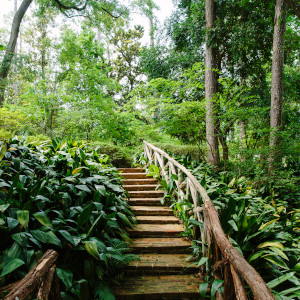 Now as the school's Arboretum Education Programs Coordinator, Campanis says the magnolias evoke memories and sentiments for her colleagues, students, and alumni. "I recently posted pictures of a Southern magnolia's spring blossoms, and so many people commented with, 'I remember…'"
Philip Evich, a Smithsonian Gardens horticulturist, recalls his family's annual portrait in front of a pink saucer magnolia (Magnolia x soulangeana). The medium-sized deciduous tree's showy flowers appear before Washington D.C.'s famous cherry blossoms. "We spent Easter Sunday with my grandparents in Maryland," Evich says. "The pastel pink blossoms were so quintessentially 'Easter' to me."
Trey Franklin remembers his boyhood on his family's Rembert, South Carolina, property, where the magnolias were "eminently climbable, the thick and horizontal branches so tantalizingly high and unreachable until I tossed a knotted rope around one and spent the rest of the summer in the relatively cool shade exploring those limbs, so thick I could run along them."
Franklin, who directs the University of South Carolina's W. Gordon Belser Arboretum, is particularly fond of the bigleaf magnolia (Magnolia macrophylla). "Their half-meter-long leaves are striking, but the unmistakable broad, flat white flower marks it as a magnolia species," he says. He notes that macrophylla, often overshadowed by grandiflora and the Fraser magnolia (Magnolia fraseri) are also native magnolias that deserve landscape consideration. "These trees are not suited to all locations in our state, but where they grow, they are strikingly beautiful," he says. Bigleaf magnolias prefer sun to partial shade and do not tolerate wet soil or drought.
Michelle Campanis notes that backyard gardeners often try to force a large magnolia into a cramped space where it won't thrive. "Grandiflora grows to eighty feet and really needs room," she says. "If you don't have the space, consider 'Little Gem,' a dwarf southern magnolia cultivar that grows moderately to twenty-five feet. The 'Bracken Brown Beauty' grandiflora cultivar grows slowly to upwards of fifty feet."
An avid hiker, Campanis loves coming upon native magnolias in their natural habitats. She recently encountered several bigleaf magnolias while backpacking deep in the Smoky Mountains. She says planting natives is important for home landscapes too. "Non-native magnolias take a beating during weather events like last year's late freeze," she says. "If you want the most success, you need to do your research and plant within your USDA Plant Hardiness Zone."
Always on the botanical lookout, Philip Evich was delighted recently to discover sweetbay magnolias (Magnolia virginiana) when visiting the Oxon Run National Parkway in Washington, D.C. "There are fewer than twelve magnolia bogs left in the world, and several are located in the capital area," he says. "The sweetbay is beautiful, with silvery leaf undersides and a great scent. It's a slow grower that works well in a small garden."
He's also keen on 'Michiko Renge' (Magnolia sieboldii), a signature tree in the Smithsonian Castle's Enid A. Haupt Garden. "Every May, people are so excited to smell its blossoms that waft across the garden," he says. "The tree also makes you work to see the ping-pong-ball-shaped flowers."
Resources for ordering magnolias include your local tree nurseries as well as the Arbor Day Foundation.