When Bradley L. Bowers steps into the studio behind his New Orleans home to shape pieces for his ceramic serving-ware collection, his mind lingers on family, and history, and the art of gathering. He thinks of his maternal grandmother, Dorothy; he moved to the Crescent City to help care for her as she succumbed to Alzheimer's, but before that, she lived most of her adult life in Clemson, South Carolina, tending tomatoes and just about every other vegetable. And of his father, born in Nigeria, with its tradition of communal eating. And of the enslaved Africans once forced to learn the techniques of French cuisine, whose stories he learned of around the time he began studying the porcelain of Limoges, France, during a postgraduate fellowship at his alma mater, the Savannah College of Art and Design.


After an inspiring stint crafting tableware for a forthcoming book by the chef Bryant Terry called Black Food, and his grandmother's death, Bowers decided to develop a line that would act as a daily tribute to these influences, one centered, he says, on "the food that Black people create." A rice tray, for instance, featuring an indentation that can hold pickled peppers or okra, and personal scoops fitted to the shape of a hand, which a person can use to help himself to that rice, a take on the Ethiopian custom of using a piece of bread to ladle food. He molds platters and bowls to show movement, some as though they're swaying in a breeze, the way a pleasant discussion can sway to and fro across the table. Tools for eating, yes, but also ones that reflect the intimacy of sharing food, made to fit into the hands in a way that requires physical contact and recognition as they are passed. "Growing up in the South," he recalls, "the best memories I have are of holiday dinners at my grandmother's house, and reaching across the table, and asking for someone to pass a dish your way." He named the collection Kojo, which translates to "gather" in Yoruba, a native language of his father's home country.
The ebullient Bowers, who can recall quotes from practically anything he's read—Toni Morrison, the architect Frank Gehry, Ralph Ellison—began as a portrait painter. But during his freshman year in Savannah, the wide-ranging possibilities of the arts engulfed him, and he expanded his talents. Since graduating, Bowers has designed colorful silk scarves, avant-garde sculptures and jewelry, lighting fixtures, interior projects, and more, often marrying his artistry with cutting-edge technology such as 3D algorithms and printers. Since his fellowship on Limoges porcelain, though, the ancient craft has stayed with him. The French are famous for the specificity of their porcelain serving dishes, too, which range from a cooking vessel just for cassoulet to oyster and escargot plates with hollows for the delicacies they hold.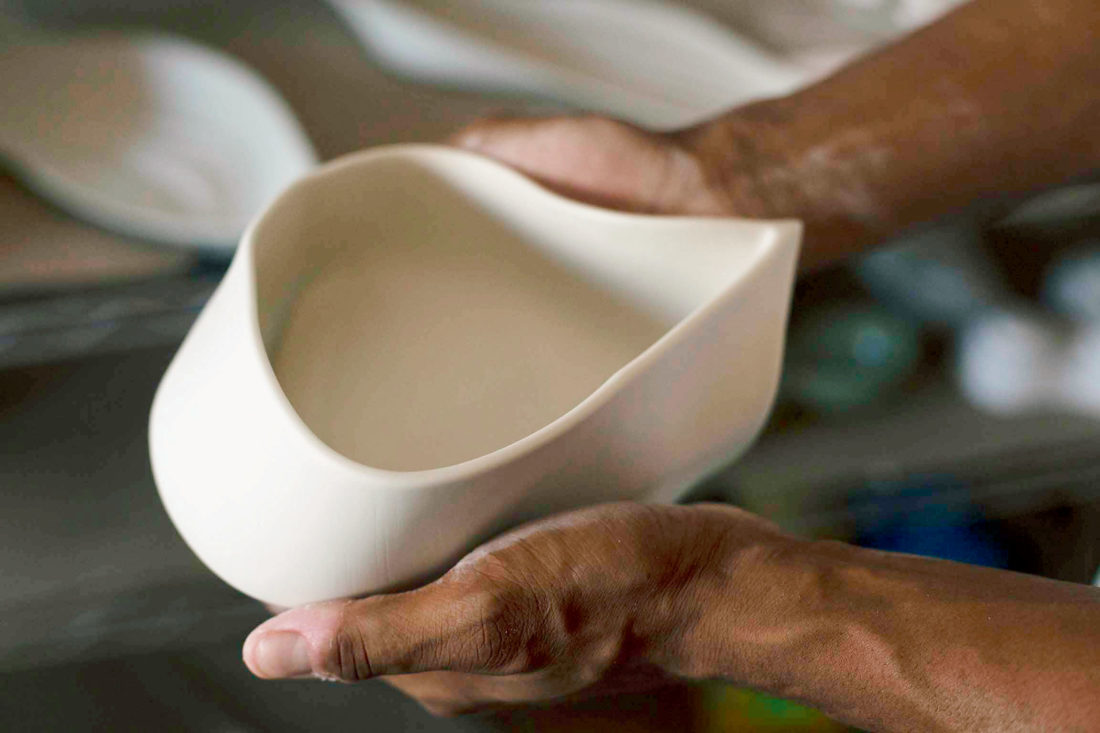 No matter his medium, Bowers likes to leave the interpretation of how to use or appreciate his work to the viewer or client. "The death of utility is being so specific that you can't use [the piece] for anything else," he says. So a vessel Bowers built for sliced tomatoes, which holds them upright for easy serving while allowing the juices to drain, can also work for, say, toast. Still, the utility he brings to the items is an art unto itself: A fish platter's undulations echo waves, but the ridges also allow air to move beneath a fried snapper, preventing sogginess.


"I didn't want any of these forms to be carbon copies of each other," he says of the line, which also includes a salad bowl, a tureen, and a gravy boat. He begins by modeling the molds on a computer, producing them using a 3D printer, testing and tweaking them, and then reinforcing the final printed plastic "mother molds" with plaster. To create each piece, he then pours liquid clay into the molds, removes the items once set, fires them, glazes them, and then fires them again so they're watertight. The Kojo pieces come in white, but he plans to expand his palette into shades of cobalt blue, coral red, deep crimson, peach, and Bermuda green. And while he will continue to add new dishes while working out of his in-house studio, he envisions one day partnering with a ceramic production house so offerings might become more readily available; in the meantime, he'll release the collection through his website.


As Bowers makes these pieces to honor those whose contributions the story of cuisine has historically left out, he considers, too, the fraught history of porcelain itself. Once called "white gold" and reserved for the upper classes, porcelain and its trade lay at the heart of Europe's interactions with Asia for hundreds of years, and its manufacture and innovation became both a class marker and a vehicle for mobility. Bowers means each object to nod to those nuances, that difficult shared history, the idea that beauty can emerge regardless. In this case, together, at the table, while engaging in a sort of everyday diplomacy over a meal: "I want to start a conversation."
---