When my husband, Jim, and I first stumbled upon a rental listing for a little cabin in the woods, we had three fresh children—ages two, one, and three months—and we were both desperate for a solid night's sleep. I was loosely aware of a numb desire to be the one getting tucked in—to feel cool cotton sheets tugged taut under my chin by some sweet grandmotherly soul who was older and wiser; someone who would assure me we would make it through those little years, as delightful as they were, with at least our humor intact.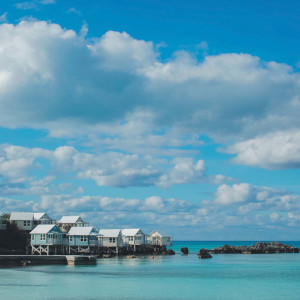 The cabin, located on Green Frog Farm near Jackson, Tennessee, looked like just the ticket—far enough away from our home in Memphis for us to enjoy the quiet of the countryside, but not so far that we couldn't scoot back if someone got sick. The moment we stepped across the threshold of the log-hewn cottage, I looked at my husband and said, "If Laura Ingalls Wilder had collaborated with the fine folks of Blackberry Farm, this is what they would have come up with." The night was wintry (for the South), but we found a fireplace aglow, like something out of a storybook. The lamps were lit low, the wingbacks looked both lovely and well-loved, and a fresh batch of homemade cinnamon rolls sat atop the kitchen counter.
I fought back tears as I took it all in. For almost three years—night and day—we had been pouring out every last drop of ourselves for the sake of these sweet babies. And we were glad to do it. But here? It felt like somebody had been thinking about us long before we were thinking about them—the way a father looks out for his children. The folk art hammered into the walls, the handmade quilts tucked into the bed, and the meticulously stacked logs made me feel taken care of.
That visit was more than a decade ago. Jim and I have since added two more children to our family and those original three have grown into teenagers. Parenting has changed for us, as new phases of our kids' lives continue to stretch and grow us, but the need for some serious soul rest is as present as it ever was.
A couple of times when that feeling has reached a fever pitch, we've retreated back to that little cabin in the woods, one of four now at Green Frog, a historic settlement dreamed up by John Freeman. Roughly thirty years ago, Freeman, a doctor with a penchant for carpentry, first envisioned creating a place where fast-paced folks might slow down and take note of the trees and animals and skies around them. He, along with his wife, Nancy, and four children, had spent decades as Christian missionaries in Thailand—much of it, deep in the jungle. Upon retirement, they landed in Tennessee, where Freeman's love for the rhythms of nature beckoned him to this quiet spread of land, and the original little cabin nestled in the woods there.
Freeman had a soft spot for buildings with old bones and good stories, and because of that, all the makings of a real town started to emerge. Over time, the Freemans acquired and moved to the acreage a country store, a Methodist church, a one-room schoolhouse, a blacksmith shop, a printing press, a cotton gin, and a moonshine still, as well as several other log cabins available for rent, which had served as homes for families in other eras.
Freeman and Nancy, with the help of two of their daughters, outfitted each cabin so that the past met the present in a way that felt faithful to history but also comfortable for those in need of a getaway. Nancy, along with Jackson's Bells Garden Club, began to plant trees, eventually establishing an arboretum, now with more than a hundred species, on the farm. As the vision took shape, Green Frog came to symbolize both life and rest; Freeman and his daughter Krista Revelle told me that they pray for each person who comes to stay as a guest on their property.
This June, I took our four daughters back to the same little cabin that Jim and I had stumbled upon all those years before. When we arrived, my fourteen-year-old said, "Mom, let's go tech-free while we're here. It just seems right." When middle schoolers are offering up their phones in favor of a more authentic experience, you know you've found a good place. We meandered around, visiting the church and the school and the old country store, pretending to be Laura from Little House on the Prairie or Elizabeth from When Calls the Heart. We took note of butterflies and birdsong and the beauty of several big trees planted all in a row.
These old buildings have seen a thing or two. They've withstood fire and storms that originated both inside and outside their walls. They've testified to the glory of God in nature as it provides shelter for his children. And they are holding steady, just as strong and as sure as they ever did. And each time I crawl into bed at the little cabin in the woods at Green Frog and curl up under an antique quilt, I feel like I have been tucked in tight, and that all the secrets of life and rest have been whispered sweet in my ear by the timekeepers stacked around me: the very walls themselves.