When he first moved to Berlin, Germany, in 2011, Garrett Keast, a classical music conductor who was born and raised in Houston, found himself feeling a tad self-conscious as "the American guy in Germany"—especially in highbrow fine arts circles.
"I remember when I first moved here, I did kind of hide my American accent a bit," Keast says. "I spoke in a very clear, almost English-sounding kind of way."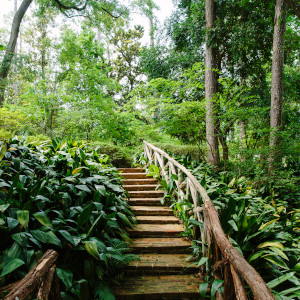 But these days, Keast is embracing the connection to his homeland more than ever—and not just in terms of an almost imperceptible Texas twang. The chamber orchestra Keast founded in 2020 that's dedicated to performing an American repertoire, the Berlin Academy of American Music (BAAM), has hit a high note with a flurry of recent achievements, including its "most successful performance yet" on June 3 for a sold-out crowd at the Elbphilharmonie in Hamburg, Germany—one of the top concert houses in the world.
"Every last seat was filled, it was a great audience, and we really gave them a fantastic program," Keast says. "It's not stuffy at all. It's fresh and fun and a really energetic orchestra on stage. We pack a punch. We come with a saxophone, a trombone, two horns, we have a drummer with a drum set—we're not just a sweet little Mozart chamber orchestra."
Keast founded BAAM when his regular conducting gigs were canceled because of the pandemic. (He's been on the podium at revered concert halls like the Paris Opera; Berlin's Konzerthaus and its Deutsche Oper; Concertgebouw Amsterdam; and the Atlanta Symphony, just to name a few.) With his newfound free time, Keast dug deep into the works of American composers like Leonard Bernstein, George Gershwin, and Aaron Copland, plus others—like Igor Stravinsky—who weren't born in the United States but lived there and were strongly influenced by its culture. 
"It just hit me like a lightning bolt during the second or third month of the pandemic," Keast says. "I started realizing I should really focus on American music and make this my niche, because it's always been a niche I wanted to fulfill."
BAAM performed its first concert in September 2020 to a masked audience in Berlin. The program included "You Have the Right to Remain Silent," a 2010 composition by Pulitzer Prize–winning pianist and composer Anthony Davis that was inspired by his experience being racially profiled by a police officer in 1970s Boston.
Since then, BAAM has performed seven concerts, mostly in Germany, with another seven already booked for 2024. In October 2021, the orchestra released its first CD, Transcontinental, which received a glowing review and a five-star rating by BBC Music Magazine. Two more CDs are scheduled for recording in June and November 2024, along with a tour in the 2024/2025 season.
"What's good about Germany and these really developed classical music audiences here is that they're curious," Keast says. "Some of the pieces that we present, they would hear occasionally, but not all together like our program. What I keep hearing people say is, 'That's a lot of great music that we don't hear enough of.'"
Keast's early career got a kickstart in Houston, where he met two of his most influential mentors: Stephen Stein, then the Houston Symphony's conductor in residence, and Christoph Eschenbach, its music director from 1988 to 1999. "I was way too green at the time, but they just allowed me to be there and be kind of part of them," says Keast, who was then an apprentice. "They hired me for little side jobs all the time, and I could watch rehearsals. And I worked in the Houston Symphony library as an unpaid intern for a couple years and just had access to all the scores I needed. It was a huge and amazing training ground."
Keast's parents still live in Houston, and he and his wife, Meghan, and their two young boys go back for a visit at least once a year; his parents' pool, he says, is a big hit with the kids, while he and Meghan get their fix for Tex-Mex.
And back in Berlin, when Keast has a hankering for a taste of home, he's immensely grateful for how far the city's Mexican food scene has evolved from the "barren landscape" it was when he first arrived in Europe. "Now there are lots of places to pick from for good tacos, margaritas, salsas," he says. "I'm from Texas, okay? We have freaking good salsa in the grocery store in Texas. And there's starting to be good ones here too."