On trips between Charleston and Hilton Head Island, I've learned a stretch of South Carolina's Highway 17 like the back of my hand on a steering wheel: where the straightaways let you step on the gas, where a one-traffic-light town drops the speed limit, and of course, where the best food stops and gas stations can be found along the way. No matter how late I'm running, I make sure to brake at a special place called Carolina Cider Company.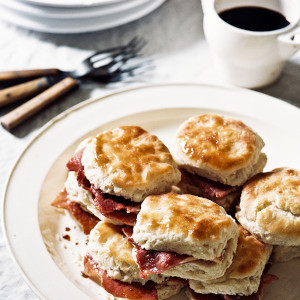 Off the southbound lane, about an hour outside of Charleston near Yemmassee, right before the roundabout that brings travelers toward Hilton Head Island—conveniently placed exactly where one gets a mid-road-trip hankering for something sweet—sits Carolina Cider Co.
A charming portico with hanging baskets and vintage signage in cherry red and white paint beckons. Inside, every sort of cider imaginable—peach, muscadine, and blackberry, to name a few—lines the shelves. Dressings, sauces, and condiments—we Southerners love a condiment—cover the back wall, past the tables displaying nuts, glassware, gifts, and jarred and boxed snacks like pickled okra, praline pecans, and benne wafers. There are also Southern-staple ingredients like grits and hush puppy mix.
But my eyes always land on the glass pie case near the checkout counter. Here, individual pies come in two sizes, with all flavors—except one—handwritten on a chalkboard behind the counter. (I'll share the secret one—an unlisted and delicious key lime pie.)
The owners, the Lehnert family, have been in the pie and cider business for three generations, beginning in 1929 when Oswald and Catherine Lehnert and their five children lived in a one-bedroom house in Wisconsin. Back then, Catherine woke up at 3 a.m. to bake fresh cherry pies every morning. Oswald made the bread and cider, which he sold alongside the pies at their produce stand. Later, the second generation of Lehnerts set up shop in Massachusetts and Colorado. (Today, Anthony Lehnert runs a Colorado location called Colorado Cherry Company, and his son Elias Lehnert is rebranding the business to Legacy Pie Co.)
But the South Carolina shop came later. "It was spring of 1996," Jessica Lehnert recalls, when she and her husband, Tristan, ventured out on a road trip in search of Southern sunshine after years spent on the West Coast. Packing up their belongings and three young kids in the car, the family journeyed from Oregon to South Carolina. Having visited the Lowcountry on a vacation years prior, they set their sights on this region. That first week, driving on local streets and highways, they happened upon a place for rent in Garden's Corner, South Carolina.
The building was the former site of the Peeples General Store and Wrecker Service, where Herman A. Peeples and his wife Erma Lee Smith Peeples sold garden and farm equipment and lived in the single-story brick house next door. The Lehnerts fell in love with the location and charm of the building, and settled in. They immediately started visiting farmers' markets to start new relationships with local growers from around the South. "We were starting fresh, so building connections and community was important," Jessica says. Today, the connection to farms is still clear: The family's generations-old cider recipe has been entrusted to Hillside Farms in Georgia, which exclusively uses it to produce the cider lining the shelves of Carolina Cider Co. Pickled vegetables like beets, peppers, and cucumbers come courtesy of Shawnee Springs Farm in Virginia. (The sweet fire pickles and spicy pickled garlic are bestsellers.) About their partnerships with farms, Jessica says, "This started as a small business and so we are keeping it this way."
These days, the fourth generation is already involved—Jessica and Tristan's son August expanded the business to Clockwise Coffee Co., housed in the same building on Charleston Highway, where travelers can get their caffeine fix with espresso drinks.
If you're road-tripping along the South Carolina coast to see friends or family this summer, look for the white building on the side of Highway 17 near Beaufort, South Carolina. I recommend a stop to pick up a bottle of peach salad dressing, a key lime or cherry pie, or some blueberry-lemon scones for your host. If you are in a hurry or running behind schedule, all the more reason to pull over. After all, Southern hospitality dictates: a guest never shows up late and empty handed.