When Freddy Welch's family bought the Smith House in Dahlonega, Georgia, in 1970, they had no idea the restaurant and inn would be such a gold mine—literally. Nearly forty years later, during renovations to the basement dining room, the family discovered a mine shaft running along a gold vein, a vestige of the town's gold rush in the early 1800s. "It has always been the story around town that the Smith House sat on a gold vein, but we didn't really believe it," says Welch, who grew up in an apartment behind the kitchen while his parents ran the restaurant and now owns and operates the Smith House with his wife, children, and grandchildren. Today, guests and visitors can drop in to see the vein, along with the bottles and other artifacts pulled from the dirt.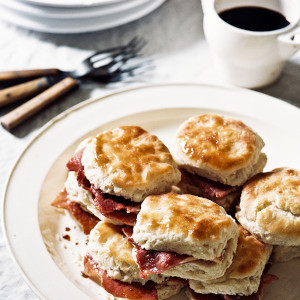 But ever since it opened as a restaurant and boarding house in 1922, the main draw at the Smith House has been the food. "We're known for our fried chicken," Welch says. "Plus our rolls, cornbread, fried okra, and fresh vegetables." Three different families owned and operated the spot before the Welches purchased it, and while each added new dishes and embellishments to the menu, they kept most of the core recipes the same as when Bessie Smith ran the kitchen. Now, a hundred years later, visitors still pile in for that buttermilk fried chicken and homemade sides, plus the rotating meats such as baked ham, pot roast, and country fried steak. Their fried chicken may have even inspired one of the state's most famous joints: the late Chick-fil-A founder, Truett Cathy, was a Sunday Smith House regular.
"When it first opened, there were two communal tables to serve guests," Welch says. (Those guests could get a room and three homecooked meals for $1.50 a day.) "When my family first bought it, we would have a three- to four-hour wait to get into the restaurant on Sundays and Saturdays, so we built more dining rooms. We went from twenty-two seats in 1922 to 350 seats today." And although a vintage cash register on site—once owned by the house's original builder—has a function to accept payment in gold, these days they take card and cash, too.