Nathalie Wu has called Amelia Island home for twenty-two years. She relocated with her family to the barrier island in Northeast Florida from Singapore when her late husband, Thomas Tolxdorf, became the executive chef at the Ritz-Carlton, Amelia Island in 2001. A graduate of Les Roches International School of Hotel Management in Switzerland, and with a background in hospitality, Wu opened her own restaurant in 2017 in historic downtown Fernandina Beach after losing her husband in a tragic car accident in 2014.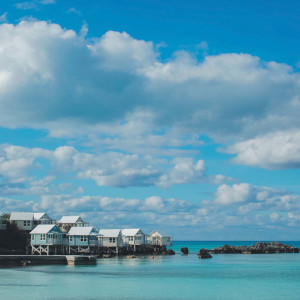 She derived the menu at Wicked Bao, her fast-casual Asian street food concept, from the expansive Asian flavors of her childhood in Taiwan and time spent in Singapore. "Dishes from night markets and hawker centers are street food," she says. "They are not pretentious; they are simple, fast, and tasty. Calling Wicked Bao an Asian street food restaurant gives us a lot of room to be creative in our menu." Charred octopus is one of her standout dishes. "It's lightly marinated, grilled, seasoned with house-blended Chinese five-spice, and served with a slice of lime," she says. "But for our first-time customers or less-adventurous diners, I recommend the most popular crispy pork chop rice."
In recognition of her support for the people and businesses of Amelia Island, Wu was recently named Business Owner of the Year in the Secretary of State's 2023 Florida Main Street Awards. She is also an active member of the Nassau County Chamber of Commerce. "I work downtown, I live downtown, and I promote downtown," she says. "I love the small-town feel. The pace is slower, we have less traffic, and you can walk everywhere. We have a charming historic district, with beautiful old homes, bed-and-breakfasts, and many locally owned, independent restaurants and galleries."
When she's not personally greeting customers at Wicked Bao, including the French chef Jacques Pépin, Farmer Lee Jones, and bands like Stick Figure and Flipturn (an Indie rock band from Fernandina Beach), Wu spends her days on the island—as you might expect—surrounded by people and food.


From sunup to midday
"I go to a coffee shop every day," Wu says. "I love coffee and I love to catch up with people. Mocama Coffee, Hola! Cuban Cafe, Amelia Island Coffee are all my favorites." If she's having brunch on the weekend, you'll find her at Pogo's Kitchen or Leddy's Porch at the Florida House Inn. For a quick lunch, Wu enjoys the rice box at Timoti's and Thursday's chicken and dumpling special at T-Ray's Burger Station, "a Fernandina Beach institution." For a more leisurely meal, "Café Karibo, is very yummy and consistent. I usually order the Big Bella sandwich or loaded lentil salad."
---
An evening on the town
"I work most nights, so I don't go out much in the evenings," Wu says. "Some of us will go after work Wednesday to The Decantery for Champagne Wednesday. I am not a cocktail drinker; I prefer a glass of bubbly or pinot noir." For dinner, Wu's choice is "España! Make sure you have a reservation. I love all the tapas and paella. Chef Roberto has been a wonderful friend and mentor." She adds, "Burlingame is my girls' night out spot. The oysters, grilled octopus, and shrimp and grits are some of my favorites."
---
Market day
Wu has a weekly plan of attack for Fernandina Beach's Saturday farmers' market: "Bacon Farms is always my first stop," she says. "Wicked Bao uses Bacon Farms' baby spinach, arugula, and English cucumber when in season. Carol and John of Me, Myself & Pies always have great smiles and good pies. Jen of African Love Kitchen offers a well-spiced and tasty sambusa. My favorite is the goat sambusa."
---
New kids on the block
"It's very exciting in downtown Fernandina Beach right now," Wu says, ticking off restaurant and hotel openings: "Pablo's Mexican Cuisine has just moved from North Second Street to Centre Street as the brand-new Mezcal Spirit of Oaxaca. Longtime local favorite Le Clos has been acquired by the Boat House and is under renovation. We heard a raw bar is coming, and Baba's Mediterranean just opened. Two hotels are coming up on North Second Street, right down the road from Wicked Bao."
---
Days off
This year Wu is trying to focus on self-care, including a yoga practice. "Centered on Yoga is the perfect spot, right downtown on Centre Street. It's another woman-owned business that I love to support," she says. And nothing calms the spirit like a walk on the beach. "I love shark teeth hunting at North Beach. It's less crowded than other beaches."
---
Other island favorites
Wu often stops into Lindy's, a jewelry store on Centre Street. "I call Lindy's my happy place," she says. "Lindy has owned the store for almost twenty two years. You can see the theme here—another woman business owner who inspires me a lot." She also frequents Color It Green, "a great gift shop with a mission to support nonprofits and give back." And she's a big-time thrifter. "From my many Wicked Bao Instagram and Facebook postings, most people probably know I frequently shop at Cats Angels, Nassau Humane Society Second Chance, and Barnabas New to You. Thrifting is fun and a great way to support our local families and animals."
There's one more favorite place to mention. "The Ritz-Carlton, Amelia Island will always be very special to our family. It brought us here twenty-two years ago, and we discovered paradise."