Swap palms for palmettos and California for Carolina. In recent months, two restaurants inspired by the Lowcountry have debuted in Los Angeles: Joyce, from co-owners who grew up in South Carolina and North Carolina and have a home on Johns Island near Charleston, and Queen St., opened by a Charleston-born chef and now arguably one of L.A.'s hottest reservations.
For a Charlestonian living in L.A. like myself, it's disorienting, and a sign of Charleston's rapidly changing role in national discourse. Growing up, people were more likely to confuse Charleston with Charlotte when I told out-of-staters where I was from ("Oh, I think I flew through there once!"); now, Charleston is a trend.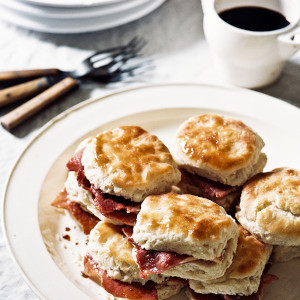 These restaurants aren't fully capturing what it's like to eat in Charleston or the South more broadly—dishes like charred Spanish octopus and Santa Barbara halibut ceviche line their menus. And how could they, with Lowcountry seafood and produce thousands of miles away? Rather, they offer a quick escape to an increasingly desirable tourist destination, minus the airfare. What they're selling, in many ways, is the idea of Charleston and the South. But what does that actually mean?
At Queen St. in L.A.'s gentrifying Eagle Rock neighborhood, chef Ari Kolender, who grew up in Charleston, has created an aesthetic I can best describe as hyper-curated. Pages from the iconic Junior League cookbook Charleston Receipts line the bathroom walls. Idyllic photos of the Lowcountry marsh hang alongside a massive U-shaped raw bar. Outside is a faux-historical plaque describing Charleston's "palmetto trees, stately homes, wrought iron fences, & numerous informational plaques." Dishes are often nods to history—an anchovy-topped tomato pudding that Kolender pulled from that same Charleston Receipts, or she-crab soup topped with sherry tableside. The restaurant and its menu strain to be so specific to Charleston that any offerings that deviate—uni-and-caviar-topped oysters, slices of Derby pie (famous in Kentucky but which the chef includes as an homage to his grandmother)—feel disorienting. Dining there feels like a Pinterest board come to life. 
Five miles south, in L.A.'s skyrise-packed downtown, sits Joyce, which opened in August. Unlike Queen St., Joyce takes a more light-handed approach with its Lowcountry inspiration, casting a wider geographic net in a menu inspired more by the Southeast than just Charleston. The result feels like Californian dining inflected with Southern—and frequently Lowcountry—techniques and ingredients. There's kale braised in coconut milk, drawing on Gullah Geechee stewed greens; hushpuppies with crawfish embedded inside so that each bite tastes like a meal by the water; and "Edisto Island cornbread" made with cornmeal sourced from the eponymous sea island. Southwestern techniques and ingredients also show up, like the Mexican bay scallop aguachille that includes crunchy hominy.
These places get the big things right—hospitality and creativity. Dining at the perpetually packed Queen St. is a rollicking good time, while Joyce comforts with friendly service that feels like chatting with a neighbor. And I love that they're showing the West Coast some of the East Coast's best flavors, from small, flavorful sea island red field peas to classic Carolina gold rice to smoky sorghum.
There's no universal experience of a city. There's no universal cuisine, either. Just like in Los Angeles's diverse food scene, Charleston doesn't contain just one type of food—it draws influences from the many people, cultures, and cuisines that have shaped it, whether it's the restaurants of Goose Creek's growing Brazilian community or the Caribbean cuisine celebrated at the annual Reggae Jerk and Wine Festival in Charleston's Brittlebank Park. There's even a new cookbook, Kugels & Collards, about the Jewish influence on food in South Carolina, including in the Lowcountry. And of course, there's the deep legacy of Gullah Geechee cooking and its roots in Central and West African cultures.
And yet, in the week after I dined at both L.A. restaurants, I flew home to Charleston. I walked down the real Queen Street, as I usually do each morning because I grew up nearby, and breathed a sigh of relief when I reached Colonial Lake. Eating out in L.A. hadn't reminded me of home. It just made me miss it.