A beer bar can take many forms. It can be a center of craft where tourists dip a toe in the local scene, a way station where regulars encounter beers from across the country, or a port where tipplers welcome rare imports. It can be a gastropub with an impeccably curated tap list that pairs with finger foods, a bottle shop that offers the best on draft and in cans, or an ale-obsessed emporium lined with hundreds of handles.
Southern beer bars represent a haven for brew fanatics to find one another, and for small operations to get their suds in front of the beer curious. For years, strict brewing and distribution laws have meant the region's beer culture struggled to find a place in the American craft revolution. (Georgia breweries are still restricted to selling just three thousand barrels of beer directly to consumers per year.) Yet Southern beer bars are finding ways to help the region gain its footing in the nation's beer scene. As these seven standout establishments show, a great beer bar is about more than the quantity of taps. In fact, it's about more than just beer—it's about small businesses, the people who run them, and the people who support them every time they share a round.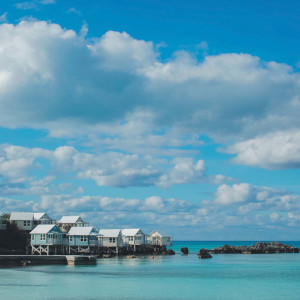 ---
Decatur, Georgia
When Dave Blanchard and two friends opened their Brick Store in 1997, the current American craft beer wave was just a ripple. With a market that leaned heavily on European imports, small regional breweries were novelties, especially in the South. So now that upwards of nine thousand craft breweries exist in the United States, and bars and restaurants are flooded with brews from every corner of the globe, you might think this OG is just another pub. And you'd be so wrong.
By following twenty-six years of trends—but never straying from its standards to chase one—Brick Store Pub still stands as the measure of all beer bars. It's one of the few places where you can taste a rare brew poured the right way, at the right temperature, in the right glassware. You want the latest hazy IPA, barrel-aged barley wine, or pastry stout? Beer director Neil Callaghan, who spent eight years in Florida with craft pioneer Cigar City Brewing, stocks the best of the new styles. But you can also get a traditional English ale pulled from the old-school Cask Bar upstairs. "It isn't a beer museum," Blanchard promises. "There are things about brewing history and tradition we want to shine a light on. But we always want to evolve with the scene."
---
Wilmington, North Carolina
When it comes to the Carolinas, Asheville gets a ton of beer love, and deservedly so—the city always lands near or at the top of national rankings for the most breweries per capita. While beer makers thrive in the mountains, the state's best beer bar is closer to the beach, in Wilmington. Set inside a repurposed 1955 auto service station, Fermental is a full-service destination. Owners Steve and Kristen Gibbs have perfected the popular noncommittal model of bottle shop/bar, where you can grab a taster (or a full pour) of a new-to-you draft beer while shopping for growlers and cans of the same to take home. "It gives you the opportunity to try something before dedicating yourself to an entire four-pack," says Steve, who maintains a nice balance of local and national craft beers along with the traditional brews he cut his teeth on when Fermental opened in 2013. And if you're traveling with a partner or pal who isn't into beer, Fermental also curates an unimpeachable list of meads, ciders, wines, and sakes.
---
Louisville, Kentucky
Deep in the heart of bourbon country, a small but devout sect of locals eschew the darker spirit in favor of a different fermented beverage. They gather in the Original Highlands neighborhood of Louisville at a 1905 Unitarian church. And there, surrounded by brick, light streaming through the large windows, they quietly quaff Trappist ales brewed by Belgian monks. This is Holy Grale.
Okay, that might be a tad over the top. But it's hard to overstate the reverence with which co-owners Lori Beck and Tyler Trotter treat the beer they serve. They traveled to Belgium to taste beer and build relationships and then worked to earn La Trappe Governorship and Orval Ambassadorship—certifications from legendary Belgian brewers that declare Holy Grale meets or exceeds their exacting standards of service. "Those brewers have a slow-food mentality; they don't rush fermentation, and they produce a superior product," Beck says, adding that this approach to drinking fits right in with the pub's Southern-meets-European version of hospitality. "We're looking for ways for people to slow down and feel transported for a while."
---
Tampa, Florida
Long before bars blared college football, neighborhood taverns in the colonial days were regular hangouts for discussing big ideas over pints of dark ale brewed in-house or down the lane. In this spirit, Veronica Danko, a lawyer who studied in Vienna and worked in Munich, opened what locals now call "the Indie" in 2009 in an old gas station. At the time, Tampa's Seminole Heights neighborhood was just starting to bubble with artisans, vintage shops, eclectic eateries, and a nascent craft beer scene. The Independent tapped into the bohemian vibe and became a proudly screen-free gathering place where people could work, meet, and map out the future of the burgeoning community over imports from Belgium and Germany. "It's a place where you can come alone and meet so many great people," Danko says. She continues to add to a slew of locally brewed crafts in a beer-hall environment that spills out onto a spacious, breezy patio. The food hits the high notes of both Floridian and European cuisine: brats with sauerkraut; soft pretzels and beer cheese; and a Habana Cuban that layers mojo pork, ham, salami, and Swiss with spicy German mustard.
---
Knoxville, Tennessee
When Zack Roskop brainstormed names for his bar in 2020, the word hub kept coming to mind. First, he wanted the downtown location in the city's buzzing nucleus to serve as a literal transportation hub: the start and terminus of the brewery tour business he had launched with a secondhand school bus in 2014. Roskop also planned to focus on local pours so his passengers could kick off and cap their mobile beer quest properly. The result is his Knox Brew Hub, with nearly two dozen taps, each strictly dispensing a beer produced in Knox County or a county that borders it. But much more than that, his home base has become the embodiment of the community spirit Roskop created with his brewery expeditions. "Before the tours, you'll walk into the bar and see three or four groups at separate tables around the room," Roskop says. "When the tour is over, it's just one large mass of people all sitting together."
---
Mobile, Alabama
Downtown Mobile is always looking for an excuse to parade or party, and during festivities, many of the cups you'll see as you walk around read "LoDa Bier Garten" (open containers from local establishments are allowed in the entertainment district). When it first opened in 2011, LoDa (named after its Lower Dauphin Street neighborhood) was pretty much a year-round Oktoberfest with German food and beer. But soon owner Matthew Golden expanded the menu to include burgers and wings, and general manager Jarvis Ossa blew out the tap list to 102 constantly rotating ales and lagers from all over, including a rapidly emerging local brewing scene. Today—seven days a week—you can get the likes of a Haufbrau Helles lager from Munich, a 2019 Pear Mary sour from Oregon's renowned Cascade Brewing aged in the on-site keg-cellaring program, or a fresh Hoppy by Nature American IPA from Braided River Brewing just down the street. And when you're ready to mosey along, you can take the party with you.
---
Spring, Texas
For nearly a decade, Mary Thorn worked for Saint Arnold Brewing Company, one of the oldest craft breweries in Texas, in downtown Houston. She witnessed firsthand the fusion of cultures, largely facilitated by restaurants, bars, and brewpubs, that organically occurred in the increasingly multiethnic metropolis. Thorn wanted to bring some of that melting pot energy to the northern suburb where she lived.
The result is her Thistle Draftshop, an old automotive repair shop turned expansive sixty-tap bar and bottle shop offering two hundred independently brewed beers, mainly from Houston and elsewhere in Texas, without the expense and inconvenience of trekking into the city. But the bar's proximity to George Bush Intercontinental Airport also makes Thistle more than a boon for thirsty suburbanites.
"We have tourists stop in and say, 'I have one or two days in Houston. Which breweries should I go to?'" says Mary's son Jake, the general manager and beer buyer. "Here you can taste and map out what you want to see while you're here. We try to be that directory."