For anyone who grew up in the second half of the twentieth century, Saturday mornings often involved camping out in front of the living room TV in your pajamas with a bowl full of Sugar Smacks, Crispy Critters, or other high fructose corn syrupy goodness. During these sacred hours, between commercials for Wham-O frisbees and G.I. Joes, kids across America became acquainted with the lovable and looney cartoon characters who shaped their upbringing. In the years since, some of these characters have aged better than others, but as a whole they instilled in generations of children a sense of humor and wonder.
And while the geographies are nebulous in some of these stories—where is Bedrock or Smurf Village, anyway?—and thinly veiled in others (I'm looking at you, Jellystone Park), we're pretty sure a handful of them were in the South. Here are six old-school cartoon characters with Southern ties, stated or presumed.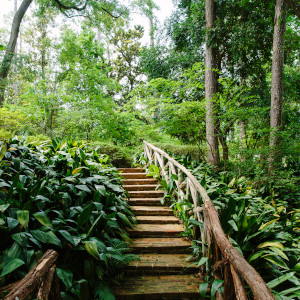 Wally Gator
Provenance: Wally Gator was the star of a regular segment on The New-Hanna-Barbera Cartoon Series from 1962 to 1963.
ID: Wally is an easygoing, cigar-smoking alligator, always donning a snazzy pink pork pie hat.
Southern bona fides: Wally Gator lives in a city zoo, though he's known to try to escape for adventures around town—ultimately with a goal of making it back to his home in the Everglades. The short's theme song sequence shows Wally in his natural environment: doing donuts on his motorboat around cypress trees in the Florida swamps.
---
Tennessee Tuxedo
Provenance: In 1963, Tennessee Tuxedo and His Tales premiered on CBS and ran until 1966.
ID: A dashingly dressed penguin, Tennessee "tries but can't succeed-o" (as the theme song croons) in various exploits with his best friend, a walrus named Chumley.
Southern bona fides: Although Tennessee Tuxedo lives in the ambiguously metropolitan Megapolis Zoo and has a decidedly transatlantic accent, for his name alone we think he—or his parents—were raised south of the Mason-Dixon line.
---
Foghorn Leghorn
Provenance: A regular on Looney Tunes and Merrie Melodies from 1946 to 1964, Foghorn Leghorn has since made appearances in the likes of Space Jam, Who Framed Roger Rabbit?, and a 2011 Geico commercial.
ID: A bombastic, loud-mouthed rooster, Foghorn Leghorn is often at odds with his fellow farm animals, most notably his basset hound nemesis, Barnyard Dawg.
Southern bona fides: Foghorn's thick drawl and mannerisms are said to have been inspired by the fictional radio show character Senator Claghorn from the circa-1940s Fred Allen Show—a character who in turn was inspired by a Texas rancher.
---
The Cattanooga Cats
Provenance: The Cattanooga Cats rose to fame on their eponymous television show, made by Hanna-Barbera from 1969 to 1971.
ID: Country, Kitty Jo, Scoots, and Groove are four colorfully clad, anthropomorphized cats in a psychedelic rock band, traveling the country in a groovy yellow striped tour bus.
Southern bona fides: With their rustic-meets-rock-star outfits and catchphrases like "wavy chitlin gravy," the Cattanooga cats mix classic seventies flower power with an Appalachian aesthetic. It's safe to presume they named their band after their Tennessee home.
---
The Hillbilly Bears
Provenance: From 1965 to 1967, the Hillbilly Bears appeared in a regular short on The Atom Ant/Secret Squirrel Show on NBC.
ID: The Rugg family—Paw, Maw, Floral, and Shag—are a family of banjo-picking, tandem-bike-riding bears living in a cabin in the mountains.
Southern bona fides: As in many cartoons, the bears' accents and personalities are reductive, but there's no arguing they're inspired by Southern Appalachia. Between feuds with their neighbors and clashes with the fish, beavers, goats, and other critters around their mountain home, the plotlines play heavily on Southern stereotypes.
---
Huckleberry Hound
Provenance: The Huckleberry Hound Show premiered in 1958 and was the first ever cartoon series to win an Emmy when it took home the children's programming prize in 1960.
ID: A lovable blue coonhound whose escapades take him through various cities, time periods, and occupations, Huckleberry has been a Parisian detective, a Spanish bullfighter, a Roman gladiator, and an Irish magazine photographer, among other titles.
Southern bona fides: Although bound by neither space nor time, as a coonhound (a verifiable Southern breed and the state dog of Tennessee) with a slow twang, Huckleberry's Southern roots are undeniable. And although the connection has been denied, he draws a striking resemblance to another of the South's favorite fictional characters, sheriff Andy Taylor from The Andy Griffith Show.