This past spring, Virginia officials invited Doris Bralley to a ceremony at the Inn at Foster Falls in New River Trail State Park. When her granddaughter pushed her wheelchair into a second-floor guest room, she burst into tears.
Bralley was eleven years old and had lost her parents to tuberculosis when she moved into what was then an orphanage. Now ninety-three, she's the oldest living former resident. She was astonished to find her childhood room gleaming with fresh paint and new wood floors, furnished with custom oriental carpets, elegant furniture, and recessed lighting. "When we rolled her up, she started crying," her granddaughter Jennifer Grubb recalls. "She said, 'I'm home'."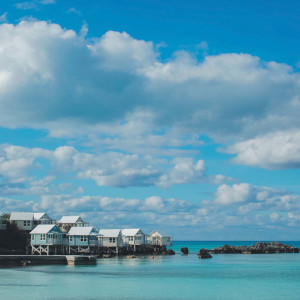 It had been a long journey for Bralley—and for the building, which had sat empty for sixty years. It recently reopened as an inn, the first of its kind for a Virginia state park.
The building was first used in 1887 as a boarding house for a Wythe County iron mining company in southwest Virginia. When the operation closed at the start of the First World War, the inn became a girl's industrial school and later the Abingdon Presbyterian Children's Home. It closed in 1962 and moldered for decades, at one point serving as a storage building for a pig farm.
"We drove by it for years and said: 'I wish they would do something with it'," says Xochitl Koppelmeyer of Statesville, North Carolina, who recently stayed at the ten-room inn with her husband and was delighted with the transformation.
Virginia's Department of Conservation and Recreation purchased the property in 1995 as part of a new linear state park preserving a fifty-seven-mile trail that was once a rail line. For years, officials debated what to do with the building. Finally in 2018, the state provided funding to make it a boutique hotel.
Theresa Dorlini, principal interior designer at the Roanoke-based Circle Design Studio, helped with the project. When she first saw the building, it was a brick shell. "There were holes in the floor," she says, "and you could see daylight through parts of the roof."
Archival photos guided the exterior restoration, but without interior images, planners had to get creative. Instead of trying to re-create the inn, Dorlini worked with architects and park employees to reimagine it. "We didn't want it to feel like visiting grandmother's house," she says. "We sort of lightened everything up. It's a modern take on something that was historic."
The 12,000-square-foot building now includes meeting and banquet rooms, a parlor, and a honeymoon suite with a canopy four-poster bed, gas fireplaces, and an oversize bathtub. The $6.6 million project opened in April and was formally dedicated in October. It has already won honors from a regional design organization.
With a two-story wraparound porch decorated with pierced brackets and finials, the building offers a commanding view of the park. It has quickly proven popular with cyclists eager for a soft bed and a glass of wine after a day on the trail.
It's also a new type of offering for the parks system. "We're used to having cabins and yurts, and we've done family lodges and bunkhouses, but we have never had an inn," says park manager Sam Sweeney. "This one comes with some more bells and whistles than other facilities."
The inn offers guests a complimentary dessert social every afternoon, featuring house-baked treats like chocolate cakes, sticky toffee pudding, and ginger cookies. There's also a free continental breakfast with overnight oats, yogurt parfaits, and freshly baked pastries.
The hotel is managed by concessionaire New River Retreat, which also runs nearby Draper Village and Mercantile, a dining and shopping complex in restored nineteenth-century buildings off Interstate 81—or eighteen miles down the trail from Foster Falls.
Recent inn guest Rankin Whittington of Lenoir, North Carolina, spent the day in the park and then retreated to a rocker on the second story balcony. "I was looking at the pasture and listening to the rapids," he says. "This place is gorgeous."
Others have treasured the setting too, says Donia Eley, who interviewed former residents of the children's home for a 1999 Radford University graduate school project. Although the word "orphanage" might evoke pitiful scenes from Dickens, that wasn't the case for residents at Foster Falls. "In this big building, they were rescued and found relief," Eley says. "They were cared for and given clothing and were educated. When they got to the orphanage, they felt very lucky." Today's travelers feel much the same.