Spoiler alert! Of the sixteen competitors who brave the Alaskan wilderness on the verge of winter in the addictive new Netflix survival series Outlast, half the field hails from the South. Though none of the participants know each other on arrival, the show's fresh angle is that they must be part of a team to win.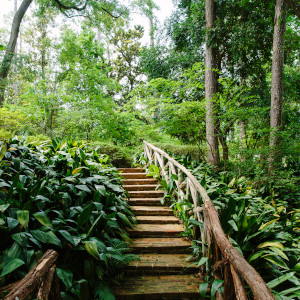 Double spoiler alert (without apology because you totally could have binged every episode by now): The last team standing, dubbed Charlie Camp, is composed of three Southern men: Seth Lueker, 31, an electrician from Winchester, Virginia; Paul Preece, 47, a mining specialist from Knoxville, Tennessee; and Nick Radner, 36, a high school wrestling coach from Tampa, Florida. Since splitting the million-dollar prize, they've happily returned to their homes, but remain close. G&G recently got the chance to chat with them about enduring the elements and their ongoing comradery.
You three remained fairly steady amid the deprivation of not having proper shelter or a consistent food supply. Was there a moment you considered firing your flare guns [the signal for quitting]?
Seth: There was for me. On just the second night, it was so cold.
Nick: At that point, morale was already so low. We're outdoorsmen, but that was the most brutal night I'd ever spent outdoors, because you knew you couldn't get away from it.
Paul: It's not shown, but I actually chucked my flare gun into the river to show myself that quitting wasn't an option. The show had to give me another one near the end, just in case.


Do you think being from the South gave you an edge?
Paul: It helped. We aren't professional survivalists, but we know the outdoors, so it's almost like we prepared for this our whole lives. None of us come from money, and knew that we needed to share whatever we had to survive, and to play the game with integrity and Southern hospitality.
Nick: There's a Southern attitude. I brag all the time about how tough my camp was. I'm originally from Rochester, New York, but I've been here for twenty-five years. These guys are Southern gentlemen. I'm full-blown Florida—I'll throw a gator at you.


To join Charlie Camp, Paul was the first competitor to switch teams. Did that change the dynamics of the game?
Paul: It definitely changed the game for me. My original camp had a lot of friction between people, and I'd seen these guys and how they interacted. Once I knew I was going, it set stuff in motion. It was like setting a fire and watching what happens.


Even so, Charlie Camp didn't engage in the sabotage that soon started, and then escalated.
Seth: I personally didn't want that drama, to walk around having to look over my shoulder.
Nick: We would hear about things going on in other camps and couldn't believe it. It was like they were taking themselves out. The environment was so difficult already, you don't want to add bad juju on top of it.
Paul: I wanted my family to be able to watch and still be proud of me. But if another team had brought that trouble to us, we were ready for them.


Besides catching some crabs and fish, living off the land proved daunting. What meals did you most fantasize about?
Seth: We played a food game every night. We'd take turns naming an ingredient, like brown sugar, peanut butter, pie crust, until we'd created an imaginary dish we all wanted.
Paul: When it was over and we were taken to a little town called Hoonah for medical checks, the first thing we ate was double bacon cheeseburgers with fried eggs on top.
Nick: And Seth drank, like, twenty-seven beers. I just remember looking in the mirror at how much I'd wasted away. Even after three showers, I was still grimy, and the tub smelled like salmon.


Upon returning home, how long was it before you resumed any outdoor pursuits?
Paul: It was immediate for me. Hunting with a bow in Alaska was tough, and back in Tennessee it was deer season.
Nick: I had to get back outside, away from cities, because I felt like society was crushing me. I went on a two thousand–mile road trip to meet a woman. I never would have done that before.
Seth: Because I'd won, my wife let me go hike the Appalachian Trail in early spring. I hit a couple of ice storms and ended up doing three states in a little more than two months.


From talking to you, it seems like Charlie Camp is still pretty tight.
Nick: This experience made a family out of some people. I honestly love these guys. There was a lot of good that came out of this besides just winning.