On many summer Fridays, we Charlestonians driving on Interstate 26 joke that we're switching places with Ashevillians headed the opposite way; coastal folks want the mountains and highlanders want the beach. But it's not just me and my neighbors who are drawn to the small towns of Western North Carolina during the hottest months. As a kid growing up in sweltering St. Louis, I spent many cool summer weeks with my grandparents in little Franklin, North Carolina, and through my work at Garden & Gun I've interviewed proud North Carolinians—as well as Atlantans and Floridians—who beeline to the mountains and their favorite towns.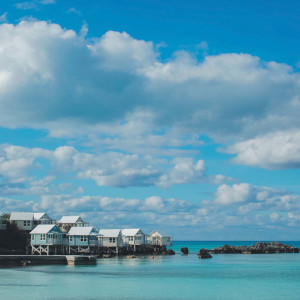 Although Asheville is a hub of activity, with Biltmore now in full bloom and plenty of breweries to explore, the small towns that surround it continue to draw visitors with new hotels, outdoor activities, quality antiquing, and tons of locally owned businesses. This is in no way a complete guide to the great small towns of Western North Carolina—you'll have to discover more of those on a drive yourselves—but here are seven spots I've found worthy of a summer drop-in:
---
Black Mountain
This tiny town boasts a serious arts pedigree owing to the experimental Black Mountain College that taught aspiring artists, including Cora Kelley Ward, from 1933 to 1957. The cozy nineteenth-century Black Mountain Inn is the perfect home base, and you can spend a weekend popping into the myriad antiques and art shops. I recently scored a jaw-dropping handmade stained glass and brass kaleidoscope at downtown's Curiosity Shoppe along with heirloom-quality North Carolina pottery and primitive furniture at Antiques on Sutton. Although it's a little hard to find, trust Google Maps when it leads you behind an old furniture factory to the tucked-away Black Mountain Cider + Mead. Refreshing drinks made with local apples and honey are your reward.
---
Brevard
The mascot of always-buzzing Brevard is the white squirrel—a living curiosity you might see scampering around the hills. After a day exploring the nearby bike and hiking trails of Pisgah Forest as well as the impressive collection of antiques at Underground Salvage Co., plan a meal at Square Root or Jordan Street Café, two longtime locally beloved restaurants. Also downtown, the powerhouse duo of architect Parker Platt and interior designer Katie Jackson opened the area's chicest household goods shop, Platt Home. Browse custom furniture, art by musician and painter Shannon Whitworth, and treasures from Platt and Jackson's travels to Argentina and throughout the South.
---
Boone
The Mountaineers football team at Appalachian State put on quite a show last season, bringing a lot of love to the little town of Boone. There's something for every explorer around there: Wilson Creek for fly-fishing enthusiasts; Mast General Store for shoppers; the Linville Gorge for hikers craving epic waterfall views. Local Mark Powell said it best in this piece, which shares a slew of hot spots: "…what I love most about Boone: It's perfectly content to be its own thing. A hard-working mountain town with great coffee—yes. A hippie town with a serious football problem—absolutely."
---
Flat Rock
The roadside Flat Rock Village Bakery turns out perfect espresso drinks, pastries made with local fruit jam, breakfast sandwiches stuffed with Hickory Nut Gap Sausage, and the area's best brick oven pizza for lunch. I like to fill up before spending the day at the Carl Sandburg Home National Historic Site, the acclaimed poet's charming homestead (he died in 1967). Tours of the farmhouse are a fascinating look at a writer's haven, and most of the 270 acres can be explored with leisurely trails that wind past the farmyard and its friendly goats, descendants of Sandburg's own herd. The breezy walks here are the stuff of legend in my family—they are so alluring that my willfully anti-activity English bulldog, Casey, sniffed cool mountain air here and then toddled about for more than thirty minutes, may her stubborn soul rest in eternal peace.
---
Franklin
I (along with hundreds of thousands of children across generations) can recall happy memories of "gem-mining"—or washing dirt through framed screens to find rubies and semi-precious stones—at the many roadside shops in Franklin, the "Gem Capital of the World." Years later, when I interned at the still-going-strong local newspaper the Franklin Press, I learned more about that history as well as the area's proud roots at the Scottish Tartans Museum. A favorite break point for Appalachian Trail thru-hikers, Franklin also promises a meandering walk along the shaded Little Tennessee River Greenway and a cold Trail Mate Golden Ale at Lazy Hiker Brewing. I haven't been back in a few years, but I have two items at the top of my Franklin bucket list: those apple pie cookies I keep hearing about from Bent Willow Baking Co.; and scoring some water lilies to bring back to my little garden pond in Charleston from Perry's Water Garden.
---
Hendersonville & Mills River
Drink to your delight: The golden nectar known as Bold Rock Hard Cider comes from the apples that grow plentifully around here, and the hotspot cidery hosts tastings and serves food alongside the craft ciders and local beers. The area is also a newly dubbed "American Viticultural Area," and wine lovers can find impressive stops along the Crest of the Blue Ridge wine trail. Nearby, DuPont State Recreational Forest is a treasured getaway for hikers and mountain bikers looking to escape Asheville's busy trails (the North Carolina author Charles Frazier recently told me this is one of his favorite biking excursions). My must-visit when I'm in the area: Poppins Posies, an incredible labor-of-love dahlia farm with three acres of blooms (read more about Bob and Judy's dahlias here; call or double-check their seasonal hours before stopping by).
---
Highlands & Cashiers
With locations in both Highlands and Cashiers, the Highland Hiker shop is a friendly and helpful starting point for gear and trail advice for the many beautiful routes in this area. For a guided fly-fishing trip, schedule time with one of the pros at Brookings (I'm forever grateful for the patience of Brookings' Simons Welter, who helped this newbie feel like a seasoned fisherwoman not long after our waders hit water). For overnights, regal Old Edwards Inn is the standard-bearer, with luxurious rooms and stunning Blue Ridge Mountain views. Newcomers are making their mark too; the chic English country-manor inspired Highlander Mountain House is lovely, and sister businesses Skyline Lodge and Oak Steakhouse host an exciting lineup of food-focused events, including upcoming dinners with chefs Vivian Howard and Mashama Bailey.