When it comes to trout fishing in the South, it's hard to beat the Tar Heel State. Four thousand miles of trout streams flow through the mountains of Western North Carolina, making the region a fly-fishing haven with plenty of variety for beginners and experts alike. These trout-rich waters take many forms, from secluded creeks deep in the Great Smokies to powerful rivers that meander through the valleys of the Blue Ridge Mountains. Anglers can cast flies to the resident brookies, rainbows, and browns year-round, with spring to mid-summer and fall to early winter providing the most consistent action.
As a fly-fishing guide for more than seven years, I had the opportunity to explore the region far and wide. These five rivers and streams, stretching from Panthertown Valley to Grandfather Mountain, are some of the finest trout waters Western North Carolina has to offer. You'll also find several top fly shops and guide services, along with a few local watering holes where you can grab a bite and swap fishing stories over a craft beer—another Western North Carolina specialty—after a day on the river.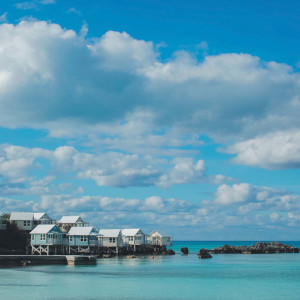 DAVIDSON RIVER
The Davidson is probably the state's best-known trout fishing destination—and for good reason. This classic freestone river winds through Pisgah National Forest near the bustling mountain town of Brevard and is mostly catch-and-release, allowing its browns and rainbows to reach impressive size. Ranked by Trout Unlimited as one of the nation's 100 best trout streams, the Davidson makes a perfect day trip from nearby Asheville, and numerous pullouts along Highway 276 provide easy wading access. The prime fishing spots fill up quickly, especially during the summer, so plan to arrive early or fish late in the day.
"The Davidson's trout have seen a lot of flies and anglers," says Kevin Howell, the owner of Davidson River Outfitters, a fly shop and guide service at the entrance to Pisgah National Forest. "So matching the hatch and using a long leader with light tippet are keys to success. Patience and persistence pay off."
Looking Glass Creek, a tributary of the Davidson, is a convenient option for anglers who prefer small streams, and the sixty-foot-tall Looking Glass Falls is well worth a stop on your way up Highway 276 into Pisgah. On your way out, swing by the Hub, a bike shop and bar where fly fishers, mountain bikers, and hikers mingle on the patio. Or head over to Brevard's Oskar Blues Brewery, which regularly features live music and food trucks and hosts an annual screening of the national Fly Fishing Film Tour each spring.
EAST FORK OF THE PIGEON RIVER
One of the most picturesque of Western North Carolina's trout streams, the East Fork of the Pigeon River begins high in the Shining Rock Wilderness between Brevard and Waynesville. Its rhododendron-lined headwaters are a stronghold for native brook trout, which have inhabited the Southern Appalachians since the last ice age some 10,000 years ago. A 2-weight rod is the perfect match for these tiny, jewel-like fish that eagerly rise to dry flies cast into the stream's plunge pools. You can't go wrong with a Parachute Adams, Royal Wulff, or a traditional Southern Appalachian pattern, like a Thunderhead.
If you like some hiking with your fly fishing, the upper East Fork is a great choice. Consider going with a companion, as the area is quite remote. Trails near a couple of overlooks along the Blue Ridge Parkway lead down to the gin-clear stream, which tumbles over boulders through a ravine. The rocky banks are steep, so be careful when entering the water. All the effort will be worth it when you land North Carolina's only native trout in its ancestral home.
TUCKASEGEE RIVER
A perennial favorite, "the Tuck," as it's affectionately known, is the largest trout river in the state. Its wide banks and plentiful trout make it a great place for beginners learning to fly fish, but the Tuck also draws experts targeting trophy browns and rainbows. The river originates in Panthertown Valley near Cashiers and flows northwest through Jackson County, eventually reaching Fontana Lake in the Great Smokies. Both forks of the Tuck, East and West, are dammed for hydroelectric power, producing cold discharges that combine to form one of the most trout-dense stretches of river in the Southeast. There is ample wading access, but be sure to check the dam release schedules before you go, as wading is dangerous during high flows. When the water is up, fishing from a raft or drift boat is the way to go.
"Nearly every time I float the Tuck for trout, my clients use dry flies, nymphs, and streamers throughout the course of the day," says Josh Whorton, a guide for Brookings Anglers in Cashiers and Highlands. "The scenery is epic, and the ability to float areas that don't see as much fishing pressure as the popular wading spots is a big plus."
When you get off the river, take in the sights of nearby Sylva, home to a newly created Social District (open containers permitted) and a burgeoning brewery scene including Innovation Brewing and Nantahala Brewing Co. Fuel up in the morning with coffee from White Moon, which transforms at night into a speakeasy called Dark Moon.
WILSON CREEK
Wilson Creek is nothing short of a fly fisher's dream. A federally protected Wild & Scenic River, this pristine trout stream springs from Grandfather Mountain and flows for roughly twenty miles through some of Pisgah National Forest's most rugged and beautiful terrain. Comprising 49,000 acres of wilderness, the Wilson Creek recreation area is also a popular destination for hiking, mountain biking, and kayaking.
Fly fishing in this remote corner of Western North Carolina feels like stepping back in time. Once the summer hunting grounds of the Cherokee, the area was heavily logged by settlers beginning in the late 1800s. A catastrophic flood destroyed the largest lumber town, Mortimer, in 1940, and today anglers cast within sight of its vine-covered ruins. Upstream, in Edgemont, still stands Coffey's General Store, which opened in 1895 and offers homemade breads and jams and plenty of local lore.
Most of the fly fishing takes place in the upper section of Wilson Creek before it plunges into a stunning 200-foot-deep gorge that's beloved by kayakers and adventurous anglers who like to rock hop. You can view the gorge from many pullouts along the mostly gravel road that parallels Wilson Creek. A true gem of a trout stream, it's convenient to Asheville, Blowing Rock, Linville, and Boone, where Foscoe Fishing Company can set you up with flies or a guide.
RAVEN FORK
If you want to put your skills to the test against some of Western North Carolina's biggest rainbows and browns, this is the place for you. A tributary of the Oconaluftee River, the Raven Fork begins in Great Smoky Mountains National Park and traverses the Qualla Boundary, home of the Eastern Band of Cherokee Indians. The fly-fishing-only section of the Raven Fork, known as the "Trophy Waters," stretches for 2.2 miles through the historic town of Cherokee and is strictly catch-and-release.
"On the Raven Fork, you can often sight-fish to giant trout," says Joy Ponder, a guide for Rivers Edge Outfitters in Cherokee. "The river has a variety of runs, riffles, deep pools, and pocket water, and the area has beautiful scenery and abundant wildlife."
Black bears, wild turkeys, and herds of reintroduced elk are a common sight around Cherokee, and more hiking and fly-fishing opportunities abound in Great Smoky Mountains National Park. You'll need to purchase a daily license—available online and at many area locations—to fish the catch-and-release section of the Raven Fork. Celebrate your trophy catch with a cold pint at Native Brews Tap & Grill, which features a selection of local beers from the Cherokee-owned Native American Brewing Co.