I first set foot inside Hotel Clermont on a summer night a couple years ago, barely settled into my new life in Atlanta. I remember everything about that evening to be unorthodox and endearing. I had moved to the city just a few weeks prior and found myself on a date with someone from my hometown of Miami. The romp was unfolding over vinho verde, my dog in tow at a now-defunct outdoor bar on the BeltLine. "Have you been to the Clermont yet?" my date asked me. I hadn't, but I had definitely heard the lore. I dropped off my dog and we drove to 789 Ponce De Leon Avenue.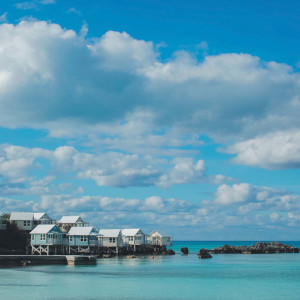 Thanks to its neon sign with ever-changing messages (inspirational quotes, happy birthdays, wedding announcements) and its original radio tower that was reinstalled on the rooftop in 2018, it's hard to miss the neighborhood staple. To get to the Clermont Lounge, we walked down a set of steps to the right of the recently renovated hotel, nodded hello at the stragglers smoking cigarettes outside the door, and paid the cover fee. What awaited me was a half-empty, dark, divey, damp, black hole of a bar below the hotel. ATMs lined the walls by the bathrooms, serving as a reminder that the lounge operates on a cash-only basis. My memory of that warm, sticky night is a fever dream: dim lights, loud music, the rise and fall of chatter between songs, slippery floors. A whiskey, a beer, possibly a kiss.
Despite its initial appearance and what you might hear about the Clermont Lounge—yes, it is Atlanta's oldest continuously operating strip club—the atmosphere is laid-back and everyone is friendly. All are welcome. And with this knowledge began my fascination with the seven-story "Georgian revival style Flemish bond brick structure," as described by Victoria Lemos (host, creator, and producer of Archive Atlanta). It was built ninety-nine years ago, to be exact, and is listed on the National Register of Historic Places. Constructed as an apartment complex in 1924, the building became the Clermont Hotel in 1939—a motor lodge for nearly seventy years until it fell into disrepair and was shuttered on New Year's Eve in 2009.
In the basement, the renowned Clermont Lounge has operated independently of the hotel since the late 1960s. It closed for a couple months in 2017 for renovations but has otherwise thrived. Embracing inclusivity, the club features performers of all sizes, colors, abilities, and famously, ages. In a podcast episode about the Clermont Hotel, Lemos said that up until 1963, the lounge was known as the Atlanta Playboy Club. (She speculates they were using the Playboy name illegally.)
The hotel changed hands in 2012, and after a six-year renovation, it re-emerged better than ever. For me, this ninety-four-room boutique hotel is an amusement park of sorts. The lobby overflows on weekends with people waiting for their cars—guests clad in sequins, fur, and velvet—or cut-off denim shorts, Hawaiian shirts, and even bikini tops, depending on the season. It's got that desert-esque feel in the bar (dark and sexy with a photo booth, reminiscent of the Ace Hotel & Swim Club in Palm Springs), and its French-American brasserie, named after the 1950s burlesque dancer Tiny Lou, will transport you to another time and place (think Midnight in Paris or The Great Gatsby; steak frites and overflowing coupes of champagne). Fanciful branding adds to its allure, and there are welcome drinks at check-in like you'd expect at some far-flung tropical destination. Each chic, retro-inspired room comes equipped with thoughtful amenities like earplugs.
The Clermont's rooftop is open seven days a week, and while the cocktails up there are not so great, nobody seems to notice. This is the absolute best place in the city to take a yoga class or read a book or watch a late summer sunset. I have friends who have dropped in for drinks at the lounge or rooftop and ended up spending the night at the hotel—a spontaneous staycation—and others, out-of-towners, who are now loyal patrons every time they come to the city. My friends and I often say the Clermont is the wildest place in Atlanta. It's a choose-your-own-adventure establishment, emitting a sort of magic that extends beyond hotel walls.
My most recent visit to the lounge was, like my first, a date. He was new to town, so I had to ask, "Have you been to the Clermont yet?" He hadn't, but he'd heard of it, of course, and wanted to experience it for himself.
We made our way to the rooftop, where I pointed out Ponce City Market and Downtown Atlanta's distinct skyline and the stars. It was a full moon, the first supermoon of the year. Then we popped down to the lounge. I noticed how it all felt very different from three summers ago, but also very much the same. The music. The dancers. Plastic cups filled with cheap liquor and ice. That night there was karaoke. I ordered a Fernet and a club soda, belted out the words to songs, made paper airplanes with dollar bills, and around 1 a.m. on the Fourth of July, we parted ways. He left with a tie-dyed T-shirt and I with a renewed appreciation for the city that has given me so much in such a short period of time. I thought about the ways I've changed since I moved to Atlanta, but also how I'm still the same person who walked into the lounge ready for adventure. I can't help but think that all Georgia roads lead to the Clermont. Maybe I'll see you there.