It starts like this. You're passing through Greenville, North Carolina, on the way to visit your family in Washington, North Carolina, about twenty miles away. You know somewhere between the Pitt County Fairgrounds and Agri Supply on MLK Jr highway, your mouth will start to water for the B's barbecue you grew up on. But B's, in a former gas station on B's Barbeque Road, closes when the food runs out, usually before the official 2 p.m. closing time. You can't time it right on a drive from Princeton, New Jersey, where you're living this year, so you start working kin and connections.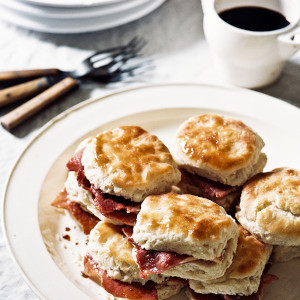 None of your family members live in Greenville anymore, but your sister has a friend who lives near the hospital, which is (no comment) located close to B's. This is how you find yourself on the phone with the nicest person you've never met, who's offering to go to B's around 6 a.m. to put in an order for a couple of racks of ribs for you to pick up the following day.
It's helpful to know the intricate timeline and ordering process of procuring B's barbecue and ribs. The internet isn't much help. Yelp says B's opens at 11 a.m. That must have been posted by a local angling for a better place in line. B's opens at 9 a.m., and there will already be a queue to pick up pre-ordered ribs and any other items on the menu: hand-chopped pork, chicken, green beans, slaw, and potatoes.
Your contact arrives at 6:20 on a Friday morning and they've already sold out of ribs. That's often the case. Because to order ribs, you arrive early enough for one of the three sisters who run the place to write your name and order in a notebook. You pick it up after 9. There's a rumor that some people stop by in the middle of the night (when the pit master, Ronald House, is tending the six or eight pigs on the coals out back) and ask to be added to "the list."
You decide to make a go of it yourself on a Saturday morning. You tell your spouse that you won't get ribs, but that if you go at 10 or 10:30 you can order everything else on the menu. "Absolutely not," he says. "Set the alarm for 5:45." "When did you get a B in your bonnet?" you ask in surprise. "It's the experience," he says. "We have to try for ribs."
So you find yourself elated at 6:45 on a Saturday morning when you place the order for the last half rack. Donna, the oldest sister, takes your order in the kitchen/restaurant. The pandemic and roof trouble have made this a takeout-only operation. Donna's sister Tammy, who's been working at B's since she was twelve, is already busy setting up. Judy, the third sister, arrives a few minutes later, and all three start their Olympian barbecue dance in the tiny building, seemingly held together by a half century of charred carbon and fierce customer devotion.
I'm a writer living in Berkeley, California, now, where barbecue is a verb and the grilled options are often vegan. But when I come home to North Carolina, B's Barbecue, with its irreplaceable hot pepper vinegar, is the taste of childhood, of hot summer nights on the Pamlico River, catching fireflies and scarfing pork sandwiches with my mom's special slaw and buttery cobs of Silver Queen corn. I tried to recapture some of those sensations in my new novel, Inside the Wolf, set in eastern North Carolina, with characters who come together over barbecue at novel's end. I don't name B's in the book, although barbecue is B's for me.
B's was started by the sisters' parents, William and Peggy McLawhorn, in 1977. Not much has changed. The pigs go on the grill between 10 and 11 p.m.; the pit master leaves around 5:30 a.m.; the chopper comes in around 7:30; and Arthur House, the pit master's nephew, arrives about 6:30 to get a hundred chickens on the charcoal.
It turns out your—okay my—contact (and I'm not sharing) who tried to place the order on Friday had her husband swing by at 5:30 a.m. the following day to order two racks of ribs for us. B's lovers are like that. So on a Saturday morning in May, we lined up at the window for a box full of ribs and two chickens and, especially, extra hot pepper vinegar sauce. We ended the day with North Carolina family and friends, gathered from far and wide, stuffing ourselves with B's until the fullest eater sighed happily and said a B's amen: "I feel like a busted can of biscuits."


Amy Rowland, a native of Washington, North Carolina, is the author of two novels. Her second, Inside the Wolf, will be published by Algonquin on July 11.