It's perched between sand dunes a mile and a quarter from the last access point at Sunset Beach, North Carolina, so you have to be committed, or crazy, or a little bit of both to find the Kindred Spirit Mailbox on Bird Island. Some walk, and others bike, but all who persevere are rewarded with a bit of serenity—and a connection to those who came before. "You have to want to do that," says Lynn Nesmith, daughter of the mailbox's co-founder, who splits her time between Sunset Beach and Florida. "It's not like you can just drive up, jump out of the car, and take a selfie. You really have to connect with nature and walk the mile."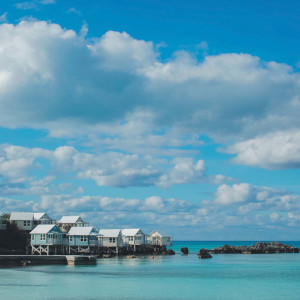 The origins of how the mailbox came to be are about as clear as the brackish water around the island, but a few things are certain. The mailbox was erected by Frank Nesmith and his former girlfriend Claudia Sailor around 1975 or 1976 on something of a lark. At the time, Bird Island was separated from Sunset Beach by Mad Inlet, and it could be accessed only by boat or by wading through the water at low tide. The couple painted "Kindred Spirit" on the side of the mailbox and put a notebook inside, encouraging visitors to share their thoughts. Thus Nesmith became the anonymous caretaker of the mailbox, and his passion for preserving Bird Island was ignited.
Visitors did come. They read messages left by others and wrote their own innermost thoughts in the notebook: Sons wrote messages to fathers who had passed on; families shared their favorite memories from their annual beach vacations; others wrote of feeling like they were leaving behind pain and troubles like the sand shaken off their flip flops at the end of the walk. All kindred spirits were united by baring their souls to the mailbox.
But change is inevitable, and in 1992, Frank learned of a development plan that would include a bridge and houses on the island, jeopardizing its ecosystem. Frank became the island's biggest cheerleader, joining efforts with other kindred spirits (or like-minded folks) to form the Bird Island Preservation Society. Frank's educational walking tours informed thousands of beach vacationers about the island's wildlife, coastal landscape, and Kindred Spirit Mailbox. He also generated grassroots support for purchasing Bird Island, and the state of North Carolina bought the land in 2002. They declared it part of the state's Coastal Reserve Program, ensuring that it will remain protected for future generations.
In 2018, the Nicholas Sparks novel Every Breath featured the mailbox, which cemented its status as a must-visit spot for visitors to the area. The box itself has to be replaced every few years due to exposure to the elements, but the original post remains, replanted numerous times after being knocked down by storms. Kindred spirits have erected benches beside the box to give visitors a place to collect their thoughts. These days, a single notebook that once lasted for months now has to be replaced almost every day during the summer.
Frank, who came to be known as the "Mayor Bird Island," died in 2020 at the age of 93. But his legacy remains with everyone who visits the mailbox. Three Sunset Beach residents have taken over the responsibility of checking it daily—nothing is ever wasted or lost. These volunteers collect the notebooks and other artifacts and trinkets—sometimes shells, memorabilia, and loose notes—and send them to the University of North Carolina at Wilmington where they are cataloged and stored in a special collection at the Randall Library.
Today, reaching the mailbox is a pilgrimage of sorts for many. Most visitors approach from the West 40th Street public beach access or park at the Sunset Beach Fishing Pier parking lot and walk southwest. Lynn recalls just one of the memories the mailbox has given her family over the years: It happened a few years ago, when her father was sick and she had come home to North Carolina to care for him. As it was getting late, and the sky was turning gray, she powered through the trek to the mailbox, passing a gentleman walking slowly. While she was sitting on the nearby bench, writing her message, he came to the mailbox. He shared with Lynn how he had heard about the mailbox at work at his night shift job in Ohio, and drove there, twelve hours straight, when he got off at 7 a.m. He had made some healthy changes in his life, losing 150 pounds by walking and trying to find special places for reflection, and the mailbox was the place he was most excited to visit.
As she headed back home, it started to storm. She remembered that the man, like her, had parked at the pier, and saw that the only other car that remained had Ohio plates. She quickly drove home, gathered some dry towels and bottled water and returned to the pier with a friend. Finding that the car was unlocked, she left the towels, water, and a note with her phone number, asking him to text her to let her know he got there safely because she was worried about him. He did make it, and responded back, thanking her for caring about him.
It's easy to turn back, if you're not determined, but don't give up. "You'll see people, and they're kind of looking," Lynn says, always encouraging visitors to make the walk. "If you're looking for the mailbox, it's not that much further—two hundred more yards and you can't miss it. It's kind of fun to talk to people the first time they get there and they find it, and hear the reason they came."