You might have heard that low-ABV drinks are trendy right now; I've been calling these things "porch pounders" since I could drink. Let me explain.
Just when I didn't think it could get any hotter in Dubrovnik, a city that's been making the Southern summers of my youth look cool, my friend Ivan texted me to meet him around a fire for dinner. "It's super local, you're gonna love it," said Ivan, who happens to be an incredible tour guide in Croatia. I schlepped up the stairs (there are a lot of them in Dubrovnik, where houses dot the hills), sweating profusely, to the home of Maria and Zlatko Papak. The Papaks frequently cook for strangers at their "eat with locals" events, which give insider glimpses into dining in the Dalmatian region, one of the areas I've been researching and writing about this summer.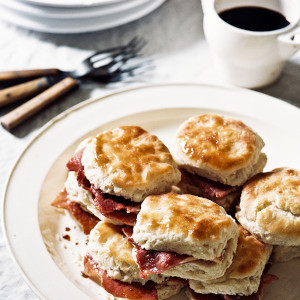 Zlatko stood by a custom-built fireplace in their cozy backyard, manning the peka—a delicious blend of meat and vegetables doused in oil and herbs and roasted on open flames under a bell-like dome—and looking like the Croatian equivalent of a Southern pitmaster out back by the smoker in peak summer. In the fridge sat a wine glass filled to the rim with what seemed to be wine and ice. "It's Gemišt," Zlatko told me, which is Croatian white wine plus sparkling mineral water. He adds ice because this summer has been hotter than Satan's den.
"Ahhh, a porch pounder!" I exclaimed. Everyone looked at me like I was crazy until I explained: A "porch pounder" is an icy cold drink you can crush on the porch from day into night. Apparently Zlatko's average is twenty glasses a night (two liters of wine, two liters of water). I'm not here to judge. I mean, it's important to stay hydrated.
From that sweltering backyard in Dubrovnik I was transported back to my old porch in Raleigh, North Carolina, where rosé flowed like water and lightning bugs and mosquitoes kept us company. (After a few porch pounders, do you even feel the skeeters feasting on your ankles anymore?) Nothing compares to chatting with friends over a cold drink on a summer night. And not a one-and-done drink; something light you can keep flowing (bourbon, you have your moment the rest of the year). Southerners don't have a monopoly on the tradition. What we might call a "porch pounder" pops up throughout the world—just a few days ago in France, I sampled chilled wine on ice, dubbed "vin piscine," which translates to "swimming pool wine." Wherever it's hot, there's a porch pounder just around the corner or up the stairs.
Some of my personal favorites include but are not limited to:


Hugo spritz, which is big in both Europe and the states right now. Made with Prosecco, seltzer, lime, mint, and the star ingredient, St-Germain Elderflower Liqueur.

Aperol spritz, an instant crowd pleaser for its jewel-like color alone. It has an easy 3-2-1 recipe formula: three parts prosecco, two parts Aperol, and one splash of soda water.

Venetian spritz, which is older than the Aperol spritz and slightly more balanced in bitter-and-sweet notes. It's my preferred spritz. Earlier this summer on Ischia, the Italian island off of Napoli, I chatted with Vincenzo Errico at his bar, L'ArteFatto. He served me the most perfect Venetian spritz. Same 3-2-1 rule, but Select Aperitivo instead of Aperol and a green olive for garnish.

Hungarian Fröccs, a refreshing mixture of soda water and rosé or white wine. In Hungary there are ten ways to order this spritz, which range from very little wine and lots of soda water to the opposite.

Light summer wines, including Txakoli from the Basque region, chilled Gamay, Piquette (a low-alcohol wine crafted from second pressings of grape pomace), and vinho verde (a "green" wine from Portugal). I am all about the zesty, low-alcohol Avinyó cava this summer, as it's just right for porch sessions.
Campari, soda, and lime. That's it!
And here are some tips from chefs, sommeliers, and porch-pounding pros from around Europe and the South:
It is acceptable to add water/ice to your wine.
Joe Stinchcomb, bartender and owner of Bar Muse, an intimate cocktail bar nestled inside the Lyric theater in Oxford, Mississippi, also learned to love my Croatian friends' favorite backyard beverage. "My girlfriend and I just got back from Europe, and one thing we absolutely loved to drink is Gemišt," he says. With the rise in popularity of Croatian wines stateside, you'll likely be able to find a bottle at your independent wine shop—but really, any crushable wine will suffice. "We like to use Topo Chico, but if you want to add a bit of flavor, you can use a lime La Croix," Stinchcomb says. Ice is optional but, as my pal Zlatko will tell you, necessary.

Sip on Txakoli and pretend you're in Basque Country.
Once you learn how to pronounce Txakoli (chah-kuh-lee), you'll never stop asking for it. It's the refreshing, slightly sparkling, very dry, low-ABV white wine from the Spanish Basque Country that appears on menus all over the world. "I'm probably gonna be nailed to the cross for admitting to doing this," says Paula de Pano, sommelier and owner of Rocks + Acid Wine Shop in Chapel Hill, North Carolina, "but just before I do any chores that I hate like folding clothes, vacuuming, or mowing the lawn, I grab a bottle of Ameztoi Rubentis Rose—or really, any Txakoli—chuck it in the freezer for about an hour or so, grab an insulated container and a bendy straw, and pour in the slushy." Artomana Xarmant Txakolina offers the stuff by the can—perfect for adding a straw and sipping on the porch (or in the laundry room).


Drop granita in place of ice in your wine.
Caroline Corvaglia, founder of the Italian olive oil company Della Pace, introduced me to a place in Rome that served perfectly brewed iced tea with lemon granita (similar to lemon sorbet) in place of regular ice. A few weeks later on Instagram, she was posting about rosé with lemon granita (major pink lemonade vibes). "Italians will throw a fit if you add ice to your wine, but sometimes when it's 110 degrees outside, you need something a little icy," she says. On a hot Puglia evening, she tossed a little lemon granita into her wine and noted that Italians couldn't begrudge her for elevating two classics. "It's a perfect and slightly sweet summer sipper," she says. "I imagine something like a store-bought Italian ice from the freezer section would work nicely too."
When in doubt, a High Life spritz will do.
If Miller High Life is the champagne of bottled beers, it makes sense to add a little apéritif. "I love Miller High Life and always have it in bottles—and I always have at least three bitter liquors on hand," says Scott Eren, a beverage enthusiast in Durham, North Carolina. Here's his simple recipe for the ultimate easy porch pounder: "If in the bottle, take a big swig of beer and slowly top it off with your chosen liquor." He often pours in Cappelletti, but Campari or Select Aperitivo are solid too. "Add liquor until the color looks good," he advises (about one to two ounces if you're not a wing-it kind of person). You can also pour both beer and liquor in a thin sidra glass over ice cubes. "Beer on ice is gauche if on its own and not in Thailand," he says, "but add pink to it and suddenly now you can put it on ice."


White Burgundy wins.
In Cashiers, North Carolina, April and Scott Franqueza, pastry chef and executive chef of High Hampton, often turn to white wine on the hottest days. "We have seriously been crushing some white Burgundy this summer while sitting out on our deck playing cards," April says. "We love wines that are crispy, mineral forward, and unfussy—they pair perfectly with the cool mountain weather."

Mix some grown-up limeade.
"If I'm going to make a cocktail at home, a gin gimlet is my go-to," April says. "I am no cocktail expert by any means, but we always have a fresh lime on hand, simple syrup, and I love Chemist Gin out of Asheville. That combo is kind of like a grown-up limeade, and it's my go-to porch pounder." While the gimlet—2 ounces of gin, 3/4 ounce of simple syrup, and 3/4 ounce fresh lime juice —isn't a low-ABV cocktail, you can water it down with half water and half gin to make it more sustainable for imbibing. You also could pour it over a lime or lemon frozen ice.


The Vermouth spritz is having a moment.
"What I am looking for in a porch pounder is something with a lower ABV that's iced, refreshing, and balanced," says Jessica Salyer, restaurant and wine program manager for Cúrate and La Bodega in Asheville. "This year I am obsessed with a Vermouth spritz that is verging on an Americano," she says. It's still light and super crushable and won't have you stumbling off the porch in daylight, she notes. Add Vermut Lustau Rojo (about 2 ounces) and a splash of Campari and top it off with Fever Tree Sparkling Pink Grapefruit in a glass with ice.


Bubbles all summer.
Cheetie Kumar, a chef and musician in Raleigh, North Carolina, has been busy with the opening of Ajja—a restaurant that celebrates flavors of the Mediterranean, Middle East, and beyond. To keep cool, Kumar is having "an all bubz summer." Sometimes she'll add a bit of Mancino vermouth, soda, and a lemon twist to cava. Other times she'll just pour a glass of Bohigas cava, a Spanish sparkling wine. "It's quite a deal too, and we just enhanced it last week with a scoop of cantaloupe sorbet," she says of her new restaurant's menu. "If I can't get to the beach, it'll transport me for a moment."