It's just a typical day in the G&G office: Pen and paper in hand, twelve editors are huddled around a conference table covered with pans of fresh-cooked bacon. There's thick bacon and thin bacon; strips of bacon so unbelievably crispy you might be able to shatter them with a glance, others so thick and chewy you need a knife and fork. The aromas permeating the room are intoxicating—and the giddiness of the hungry staff infectious.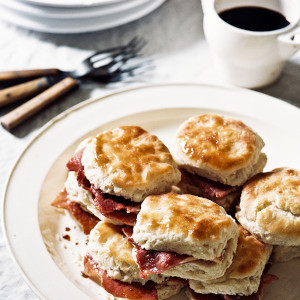 Everyone knows the South makes great bacon, and we have gathered nearly a dozen of the finest small-scale, mailable offerings in the attempt to find the region's best. On the table, each tray is labeled with a number. We will taste them blindly, take notes, and rank them independently before tallying the results and revealing which is which. We may need to taste some again, just to be sure we got it right. It's a hard job, but someone's got to do it.
For the sanctity of the experiment, we aren't supposed to discuss our initial thoughts with our fellow editors, so there are a few minutes of relative quiet—save for the rogue mmmms and ahhhhs and the occasional surprised exclamation after a particularly salty bite—before the metaphorical wheels start falling off the exercise. Pencil marks become illegible for the grease-soaked thumbprints smearing the paper. Pens are slipping out of hands left and right. Overwhelmed with early-onset meat sweats, one editor has to sit down in the corner for a moment to compose herself.
"My vegan parents would be horrified," senior editor CJ Lotz Diego says as she cheerfully breaks off another bite from a rasher. "My dad would be jealous," executive editor Amanda Heckert replies.
While we don't recommend eating this much bacon in one sitting (I went home and enjoyed a plate of raw carrots for dinner; other editors reported a salt-induced hangover at the next morning's meeting), we do advocate trying these standouts at your leisure and finding your own favorite. And while newsletter editor Emily Daily summed it up aptly when she said, "I've rarely met a piece of bacon I didn't like," a few candidates did indeed rise to the top of the pile. Here is our list of the South's most outstanding mail-order bacon brands.


Best Overall
After the votes were registered, three Southern bacons scored top marks:

Benton's Smoky Mountain Country Hams
Madisonville, Tennessee
At G&G, we've long proclaimed the gospel of Allan Benton, chronicling his adventures through Spain, his friendship with G&G contributing editor Latria Graham, his red-eye gravy recipe. So it was no surprise that even in a blind taste test, his bacon reigned supreme. With its stellar ratio of fat to meat, Benton's bacon spends around three weeks curing and drying before being smoked for two to three days straight, giving it a perfectly round and smoky flavor. And despite its thickness, each slice can still achieve a delightful crunch. It doesn't taste like your grandmother's bacon, and that's what we like about it.
---
Edwards Virginia Smokehouse
California, Missouri
Founded in 1926 in Surry, Virginia, by the Edwards family, Edwards Virginia Smokehouse was sold in 2021 to the Missouri-based Burgers' Smokehouse, which has continued to produce the legendary country hams and delicious bacon using the same recipes the family followed for nearly a century. Crunchy and flavorful, Edwards was probably the crispiest bacon on the table, with a melt-in-your-mouth texture and balanced taste. It was extremely difficult to eat just one slice.
---
The Loveless Cafe
Nashville, Tennessee
Nashville's Loveless Cafe has cemented its status as a Music City institution for myriad made-from-scratch reasons, including its pork chops, fried chicken, creamed corn, biscuits, and red velvet cake. Now you can add bacon to that list. With just the right balance of fat and salt, this bacon is simultaneously thick and crispy, making for an absolutely delicious bite that had our editors coming back for seconds—and thirds (and I think I saw someone sneak a fourth).
---
Honorable Mentions


Monroe Sausage (best for country ham lovers)
Beatrice, Alabama
While bacon is different from ham, which is different from sausage, which is different from scrapple (etc. etc. etc.) some cuts—such as Monroe's bacon—blur that line. This bacon is thick and meaty and very pork-forward, carrying with it a nice light and layered flavor deserving of a spot on any breakfast (or other) plate. Diego summed it up best in her notes: "Porky, chewy, yummy, satisfying."
---
CURED Fine Meats (best to wrap things in)
Jonesborough, Tennessee
Taking one bite of a slice of CURED Fine Meats's bacon, it's evident that the meat itself is high-quality. Thick and firm, the bacon has a depth of flavor that transcends merely "salty and smoky." It's subtle, sweet, mild, and mellow, with a taste that opens up after a few bites. This one would play well with other flavors, whether that's scallops, green beans, or a jalapeño and a duck breast.
---
Four Oaks Farm (best on a sandwich)
Lexington, South Carolina
"It looks like cartoon bacon!" digital intern Sadie Chafe exclaimed when she saw the pan of Four Oaks Farm bacon. And it tastes exactly how one might expect cartoon bacon to taste: a little smoky, a little salty, and totally delicious. A ninety-mile-per-hour fastball right down the bacony middle, Four Oaks Farm is a lovely combination of crispy and soft that would pair perfectly with a tomato slice and a dollop of Duke's mayo on a slab of white bread.
---
Broadbent Hams (best on a traditional breakfast plate)
Kuttawa, Kentucky
Underneath its thick and salty exterior, Broadbent's bacon is surprisingly complex in flavor, ranging from sweet to smoky to almost caramelized, with its fat and meatiness melding well in each bite. That rich flavor and briny kick would pair especially nicely with pancakes or waffles doused in maple syrup.
---
Father's Country Hams (best in a bloody mary)
Bremen, Kentucky
While extra salty and impossibly crispy bacon may not be everyone's cup of tea, it is good in everyone's cup of Bloody Mary. The salt on a piece of bacon from Father's Country Hams would melt perfectly into your morning cocktail, adding a savory punch to the drink and leaving the bacon crisp enough to keep snacking on.

---