When the Goody Shop Cafe opened in Albemarle, North Carolina, in 1919, American soldiers were just returning home from World War I, the Chicago White Sox threw the World Series, and women couldn't vote. Hugh Wainwright, the Goody Shop's current owner and grill master, hasn't been there quite that long, but to many locals, it seems like he has. "I've done this since I can remember," Wainwright says. "My first job was at Wink's Barbecue on Highway 52 when I was fourteen years old, hopping curbs." He developed somewhat of a food-service following in the Stanly County area before purchasing the café in 1995.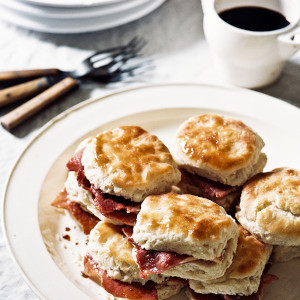 Original owner Claud Helms opened the Goody Shop across the street from its current location as a pull-behind food cart, a precursor to a modern-day food truck, before building a brick-and-mortar location. The café lived a few lives over the decades, including as a favorite stop for train passengers, who walked from the depot on the next corner. Throughout the sixties and seventies, mill workers kept the spot hopping.
During the decline of textile manufacturing in the South, the café changed hands five times from 1988 to 1995 before Wainwright bought it, intending to run it as a catering business. "I sat here at the counter for a month," Wainwright says, "and watched the same eight people come in every day—the UPS lady and a couple of others. That's it. If anybody new came in, they all stared and didn't speak to them. I bought it about two months later and the previous owner came in and said, 'Where did all of these people come from?'"
Thanks to Wainwright's changes, the Goody Shop continues to be a welcoming spot—walk in the café any day when the red, white, and blue "open" flag is out and you'll smell coffee, homemade chili, and burgers sizzling on the grill. Lynn Russell, Wainwright's indispensable cashier, waitress, and jack-of-all-trades for the last eighteen years, will likely be standing behind the counter, which is fronted with chrome barstools along the red brick tile floor. Vintage metal signs advertising Coca-Cola and Sun Drop, along with the café's original Mary Jane's menu board, line the walls, and the radio plays "Sittin' on the Dock of the Bay" or "Ain't Too Proud to Beg" while a two-blade ceiling fan from the original building spins feverishly. All the while Wainwright mans his post at the grill, flipping his signature Goody burgers or scratch-made western omelets, depending on the time of day.
"We speak to everybody as soon as they come in the door and as they're leaving," Wainwright says. "If we wait on you two or three times, Lynn is going to find out what your name is. That's half of what makes people come back. The other half is good food."
Chicken salad sandwiches and hot dogs are popular choices, but locals tell Wainwright his signature Goody burgers, a term he coined for the large patties served any way you like, taste just the way they did generations ago. As they should—Wainwright uses the original slaw and chili recipes from 1919. Biscuits, chili, chicken salad, pancake batter, and  it should be everything is made from scratch and cooked to order.
"We treat everybody the same, no matter what color your skin is, no matter who you like or who you love," Wainwright says. "I've been that way since day one." Lynn agrees: "I got married in 2007 and half the church was customers. They become family."
During a busy Downtown Christmas event one year, customers joined in washing dishes and cleaning tables. "We encourage customer participation," Wainwright says with a laugh. Lynn's favorite memory is a long-running joke with regular customer Peter Henkenjohann. Wainwright's sister Angela Dick mentioned that it was Peter's birthday, and someone in the café started singing to him. The regulars repeated the performance a few times a week for a month or so, then randomly for almost an entire year.
"I'll run it until I can't anymore, I guess," Wainwright says. "I want to keep it alive so a good, young person can come in here and run it." But he has one word of caution: "Whoever I sell it to, Lynn doesn't come with the deal." She's extra.