Want to know a little secret? Summer is one of the best times to visit New Orleans. Is it hot? Lawd, yes! But the benefits outweigh the rising temperatures. Hotels are at their most affordable as the crowds of winter and Carnival drift into hazy memory. Dining is hyper-local, with a bumper load of ripe produce and fresh-caught seafood.
In this slowest season, you can score great tickets, be it to a live show at Tipitina's or a play at the stunning, historic Saenger Theatre. Or, grab a bucket of popcorn and a seat at one of America's oldest movie houses, the century-old Prytania.
COOLinary is a dining initiative that spawns curated tasting menus citywide every July and August. Tales of the Cocktail also arrives in late July, bringing parties, seminars, tastings, and other events focused around craft cocktails and distilling.
There's a lot going on in New Orleans this summer, but one thing that's not new? Nola's wonderful, colorful inclusivity. We've got the latest on that as well.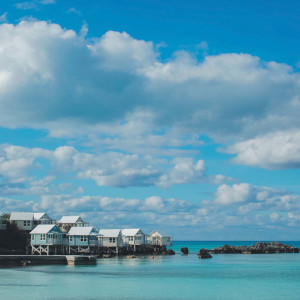 King at Hotel Fontenot
Lobster bouillabaisse. Brioche and olive tapenade. Prime steak tartare with cured egg, and crawfish beignets with crab fat aioli. King, newly opened inside the Hotel Fontenot, is the domain of chef Samuel Peery, and just reading its menu makes the mouth water.
Peery was born in Virginia and raised in Tennessee, and he brings Southern ingredients to new heights with artistic aplomb. His bold recipes feature splashes of Louisiana and old-world delicacies. The vibe and price points are ideal for an anniversary dinner or impressive business meeting, and the furnishings are minimalist chic, with black-and-white accents. It's difficult not to eat every piece in the massive bread basket from pastry chef Lanna Talley, but save room for King's exquisite desserts.
---
Devil Moon Barbecue & Brewery Saint X
The Central Business District has a fragrant newcomer in Devil Moon, a beyond-delicious barbecue joint, and the adjacent craft beer parlor, where you can wash down the spice and sauce. Louisiana-born chef Shannon Bingham (previously of Blue Oak) wanted to bring his passion for smoked, low-and-slow meats to the city, and his opening menu includes spicy pork ribs with Cajun seasoning, a smoked corn salad with Parmesan-lime dressing, and a freshly launched grab-and-go menu from which guests can pick up vacuum-sealed brisket, ribs, turkey breast, and smoked sausage, with instructions for finishing them at home.
Grab a barstool or a few cans to go from Brewery Saint X, too. James Beard Award–nominated beverage director Greg Engert and brewers Ro Guenzel and Alex Flores bring Czech styles, German lagers, and even British cask varieties to a modern, warm space.
---
One of the city's oldest—and most opulent—hotels is debuting new interiors this summer after a two-year, multimillion-dollar renovation. The Iberville Tower section of the property boasts 160 completely renovated rooms, forty-eight brand-new luxury suites, and the freshly designed Iberville Ballroom. As a guest of the tower, you get a dedicated elevator and concierge along with perks like a welcome gift, twice-daily housekeeping, and express access to the rooftop pool. View and book the new rooms on the revamped website, which features 360-degree imagery.
---
The Sazerac House Expands
This state-of-the-art museum and distillery has been a place to learn about cocktails and whiskey since it opened in 2019. A new, permanent educational series called Tropical Cocktails now explores the impact of rum and the sugarcane industry on New Orleans and on American history overall. Each Friday at 1 p.m., liquid historians guide guests through luxury rum and tropical cocktail tastings while highlighting cultural lore and modern distillation techniques.
---
LGTBQIA+ Culture Shines
Season seven of Queer Eye has launched on Netflix, and it's entirely set in the Crescent City. As the Fab Five jump into action, each episode is a little armchair travel to New Orleans, with stops in great salons, chic restaurants, and inviting design spaces. New Orleans & Company, the city's official marketing bureau, has also relaunched "Everyone's Welcome Here" alongside the New Orleans LGBTQ Hospitality Alliance; the program helps businesses enhance their inclusivity and be part of exclusive events.
Finally, Tubby & Coo's, a queer-owned bookstore that opened in 2014, is now on the move. Its new Traveling Book Shop will bring books on four wheels to neighborhoods around the city, particularly those that lack easy access to libraries and inclusive literature. The book shop's owner, Candice Huber, is hoping to give young adults and grown-ups alike the chance to connect with deep stories, fun authors, and safe spaces.