San Antonio, one of two U.S. cities named "Creative Cities of Gastronomy" by UNESCO (the other is Tucson, Arizona), has long been known for its Tex-Mex cuisine, but today's chefs work with more than just tortillas. "The unique mixing of the Euro-Catholic, German, Indigenous, and Mexican cultures, plus pockets of Spanish and French, over three hundred years has created an incredible recipe," says the chef John Russ, who owns Clementine restaurant with his wife, Elise. "The 'Mission City,'" he says, "marinates all of its history into its present self."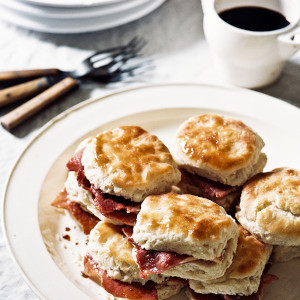 On a recent visit I learned how San Antonio, which is projected to become the fifth-largest American city by 2050, has retained a laid-back vibe while celebrating an incredible variety of flavors. Here are six establishments not to miss when visiting Texas's second-largest city:


Breakfast at La Panadería
The line was almost out the door when I arrived at the downtown outpost of La Panadería, a bakery started by José and David Cáceres, brothers from Mexico. Among the delicious baked goods are the much-requested tequila-almond croissant and a tres leches croissant. David told me that La Panadería uses a forty-eight-hour fermentation process that results in baked goods "unlike any other" and that the brothers learned most of their baking skills from their mother.
---
Dinner at Landrace
The James Beard Award finalist Steve McHugh operates and runs Landrace, an elegant spot with huge windows overlooking the San Antonio River. Couples dining in the romantic restaurant were having quiet conversations on the night I visited. Steaks feature prominently on the menu; the angus beef burger was both delicious and decadent, with gruyere and caramelized onions. Hopi Blue Corn Hushpuppies were another highlight. McHugh also owns Cured, a restaurant in the Pearl district, and he and his team are experts at using South-Central Texas ingredients such as jalapeños, kale, and of course, beef.
---
Brunch at Casa Hernan Cantina
This fun cantina sits in Southtown, "an old industrial area with train tracks all around," says chef Johnny Hernandez, who runs multiple restaurants in town. Casa Hernan's austere metal exterior gives way to a warm and welcoming margarita spot. The lounge is filled with gothic sculptures, wooden carvings, skulls made out of clay, candles, and bejeweled crosses. Light bites like quesadillas and open-faced crispy tostadas in the evening are a big draw. Hernandez also recently launched the new "Norteno brunch," which includes such spicy, yummy plates as scrambled eggs with chorizo and pico de gallo.
---
Dinner at Clementine
In a neighborhood that's about a fifteen-minute drive northwest from downtown, the intrepid diner will find the charming restaurant Clementine. A 2023 nominee for the James Beard Award's Best Chef: Texas category, John Russ and his team work magic with local tomatoes, greens, gourds, and artichokes. I saw plates of ricotta cavatelli, spaetzle, red grouper "en papillote," and chamomile-brined spatchcock chicken move through the dining room and delight diners at this cheery and boisterous spot.
---
Lunch at Botika
"San Antonians embrace any cuisine with love, because they are used to having different propositions alongside them since…forever," the chef Geronimo Lopez says. Lopez grew up in Caracas, Venezuela, where he was exposed to many different culinary influences, including Chinese cuisine. At Botika, his casual dining restaurant in San Antonio's historic Pearl Brewery, he mixes Asian and Latin flavors and techniques. Colorful lamps hang from the ceiling, kimonos decorate the walls, and sushi rolls and sashimi share the menu with such popular delights as short ribs with yakisoba noodles and charred octopus with olive aioli.
---
Dinner at the Hotel Emma
The Hotel Emma, formerly a brewhouse in the nineteenth century, is—deservedly—a huge draw in town. With traditional tile floors as well as exposed machinery, it reflects San Antonio's history through textures as well as through food. Chef Ned Elliott is the executive chef at Supper, the hotel's stunning main restaurant. Elliott highlights "Texas wagyu and tons and tons of local vegetables to really provide a great dining experience for guests and the public at large in San Antonio," he says. Over a live fire, he turns steaks, lamb, and veggies, and he also sources Texas Gulf redfish and other local seafood. His mentality is simple and echoes so much of what I heard about San Antonio: "We're an American eatery, and what that means to me is that we can borrow from lots of cuisines," he says. "We try to find the best ingredients that you possibly can and treat them simply."