When it comes to tomatoes, Southerners aren't always a finicky bunch, happily eating them off the vine or slapped on white bread with Duke's. Though we're certainly not above sitting at a table to enjoy them in a more traditional manner either. Enter the sterling-silver tomato server, an implement invented in late-Victorian England to "separate the refined from the unrefined," according to Patrick Dunne, the epicurean antiques expert and owner of Lucullus in New Orleans. "Eating tomatoes was a very late thing in European culinary history, and this discreet kind of serving piece was made possible by the Industrial Revolution post-1870," he says, adding, with a laugh, "It was really a form of snobbery invented by the English." No matter how you take your tomatoes, it's hard to argue that the delicate curves and reticulation in each of the servers shown here  wouldn't add elegance to any table. Those details serve a purpose, too, straining juice away from each slice before it's plated. While you may stumble upon tomato servers in antique shops, the folks at Replacements Ltd.  in McLeansville, North Carolina—the world's largest retailer of china, crystal, and silverware—nearly always have these silver stunners in stock or on the way, in five of the patterns most popular with Southern collectors. 
---
Above:
Orange Blossom by Alvin Silver
The long history of citrus in the tropical South explains the popularity of this pattern, which echoes the shape of orange blossoms in both the design of its handle and the reticulation in the bowl of the server ($500).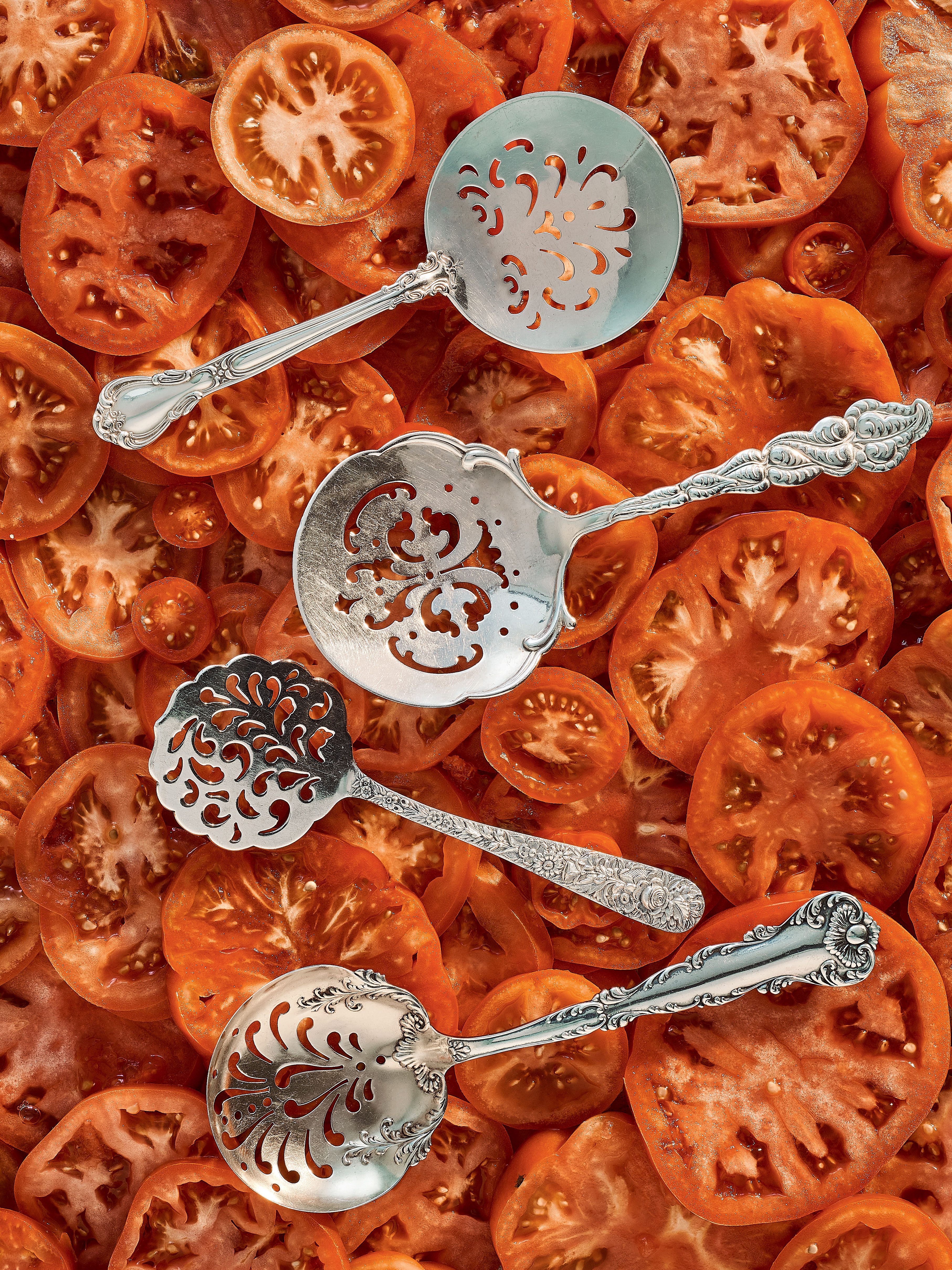 photo: Johnny Autry
From top:
This American-made pattern was manufactured in sterling silver in the late nineteenth century and remains popular in Southern collections because of its simple, straightforward design ($120).
Summer in the South immediately comes to mind with this pattern, since the leaves twine up the handle ($980).
With its tightly packed floral motif on the handle, Repousse is one of the most popular patterns not only in the South, but in the entire country ($130).
Neapolitan–Kings Court by Frank Whiting
This intricate pattern established in 1895 features formal scrolls and a gold wash, applied to protect the sterling from acids naturally present in foods such as tomatoes ($130).