At Over Yonder in Valle Crucis, North Carolina, the floors inside the 1800s building creak as visitors shuffle to wooden dining tables. The restaurant sits in the former homestead of the Taylors, one of the founding families of this little town. But today, it is a slice of small-town simplicity where Appalachian-inspired food and Southern hospitality meet. (It's also right up the road from the original Mast General Store.)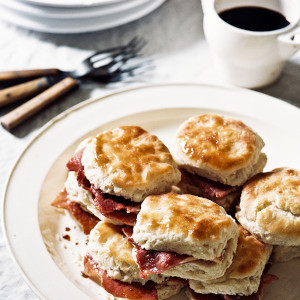 "It's a blessing because the space here is really what makes Over Yonder what it is," says chef-owner Andy Long. In 2014, he opened the restaurant with the former owners of Valle Crucis's Mast Farm Inn and amicably took it over completely in 2016. Over Yonder's menu takes a modern and casual approach to Southern Appalachian food, and many ingredients are sourced from farms in North Carolina's High Country.
Though the restaurant's menu has changed over the years, several dishes have remained since the early days, including the Over Yonder Pork Burger. "We made a decision a long time ago that the burger was well received, and we were going to stick with it," he says. "I don't think I could take it off even if I wanted to."
This dish is different from the barbecue pulled pork sandwiches the Carolinas are known for. Long grinds the meat into a patty and layers it with bold, flavorful ingredients, including an apple-butter-onion-jam. "It's a lot of things that you wouldn't think taste good together," Long says, "but it works for some reason." He serves it with housemade chips tossed in pork fat and sprinkled with rosemary, salt, and pepper.
Two tips from the chef: Skip the grill and cook this burger in a cast-iron skillet on the stove. And wash it down with apple cider—Long recommends the hard stuff: Molley Chomper Cider from Lansing, North Carolina.