Ty Walker is up to his ears in trout. From his home in New Castle, Virginia, Walker raises thousands of rainbow trout on a nearly hundred-year-old hatchery situated on a mountain spring. The hatchery, built in the 1930s by the federal government, still operates the way it always has, relying on gravity and an abundant supply of limestone-filtered water to fill the raceways and ponds where the fish grow to maturity. In 2022, Walker estimates that he and his brother-in-law, Matthew, processed around eight thousand trout by hand, cleaning, gutting, and packing the fish before they could be sold.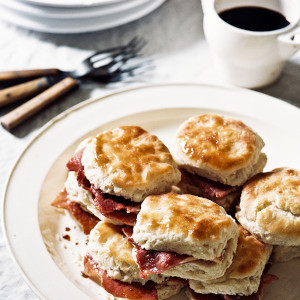 This year, the trout count is up to twenty thousand, and Walker is committed to putting them front and center (and whole) on plates around the state of Virginia. His hatchery, called Smoke in Chimneys, sells to chefs, as well as by mail-order online. "Our goal is to make eating a whole trout right up there with shucking oysters or picking crabs," Walker explains. "Eating whole trout should be in that sphere, but the barrier to entry is like walking into a cigar shop and not knowing anything about cigars. You already feel like an idiot." Walker wants to change that, and he hopes that people will be willing to learn about the beauties of eating the state fish, grown in its home state, with a little help from some of Virginia's best chefs.
One of those chefs is Ryan Zale, co-owner of Local Chop & Grill House in Harrisonburg. Zale orders about twenty-five pounds of trout per week. When they come in, fresh from the spring, the chef says his job is to continue treating the fish with the same respect Walker does to allow the mild, clean-tasting fish to shine. "Their product doesn't really need much of anything," Zale says. "With the natural spring, all the impurities are gone, and that comes through in the color and the taste. I don't want fishy trout. I want it to taste like spring water, and this does."
Zale serves the fish whole, which is how Smoke in Chimneys sells all of its trout. "Eating whole trout goes right along with nose-to-tail eating," Walker says. "When the trout comes out, there's nothing on it you can't eat. Pick the meat with a fork, eat the skin, just pick through the bones." Walker gravitates toward the tender cheek meat and the tail. "Crispy trout tails with a little aioli? Absolute fire."
Walker and his wife, Shannon, moved to New Castle in 2019 after getting a lead on the hatchery's sale from a friend. The two came from farming backgrounds but had never attempted to raise fish, let alone operate an antique hatchery. After months of clearing the land and learning everything he could about raising trout, often from old books he found on eBay, Walker opened Smoke in Chimneys in 2022 with the mission of providing a delicious Virginia-raised trout. He notes that, despite being the state fish, most of the trout consumed in Virginia is brought in from North Carolina, Idaho, and Maine—an absurdity, the avid fly fisher says, given the 2,800 miles of wild trout water in the state.
Walker makes most of Smoke in Chimney's sales the old-fashioned way, with samples and a handshake, and it's already taken him to some of the best kitchens in Virginia and Washington, D.C. He needs these high-profile chefs to help educate consumers and one another about the splendors of spring-raised trout, he says.
Walker takes samples with him anywhere he might run into a chef. On a visit to Blue Hill at Stone Barns, for example, he shared his rainbow trout with chef and co-owner Dan Barber, who let Walker know that what he was really after were brook trout, another member of the Salmonidae family that requires an additional six months to reach maturity. With a fire lit under him, Walker says, he went back home and started breeding brook trout, embarking on the two-year journey to raise them. Next year, Walker says, "I'm going back to Blue Hill, and I'm bringing the brook trout with me."