"Augusta National is the most beautiful golf course I've ever stepped foot on," says Atlanta landscape designer Alex Smith. "You don't even have to play golf to think it's heaven on Earth." Smith knows of what he rhapsodizes. His firm, Alex Smith Garden Design Limited, transforms Southern estates into gracious showplaces, and he leads landscape design for the nature-intensive Top of the Rock Golf Course in the Missouri Ozarks.
An avid linksman himself, Smith has played a couple of rounds at Augusta National, where each hole is named for a plant species that graces the course. As the 2023 Masters draws near, we figure he has the keen eye to lead a hole-by-hole tour of those plantings.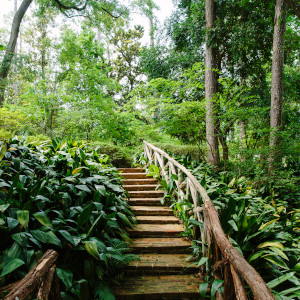 Hole 1: Tea Olive (Osmanthus fragrans)
This evergreen, not-actually-an-olive shrub can grow to heights of twenty feet and doesn't require much pruning to maintain a pleasing oval shape. "It's a good shrub to provide a visual buffer, and Augusta is keen on hiding concessions and such," Smith says. But it's best known for the tiny, white, fall-blooming flowers that give off a scent similar to jasmine and orange blossoms. While it's native to Asia, nurseries around the South still grow a tea olive cultivar that originated at Fruitland Nurseries, on the land that in 1933 became Augusta National, Smith notes.
Scorecard: Birdie
---
Hole 2: Pink Dogwood (Cornus florida var. ruba)
Who doesn't love this showy American contribution to ornamental horticulture? The tree's graceful, open branches bloom in late March through April and with any luck will paint the landscape during the Masters. Less heralded are its bright red berries and red-purple leaves in fall. Some care is required, as dogwoods are susceptible to disease and pests. "The fairway on this hole is heavily wooded on both sides, which is natural habitat for dogwoods to grow as understory," Smith notes.
Scorecard: Birdie
---
Hole 3: Flowering Peach (Prunus persica)
In the late 1800s, Fruitland Nurseries made its name by developing new Georgia peaches on this land. Flowering peach trees, on the other hand, are native to China and more prized for flashy blossoms than juicy fruit. A mass of those blooms is a wonder to see—but the Masters likely isn't the place to see them. "Unfortunately they put on their show of flowers fairly early in spring," Smith says.
Scorecard: Par
---
Hole 4: Flowering Crabapple (Malus hybrida)
These Asian imports prefer full sun and flower more showily than native varieties; buds develop striking color even before they open into five-petaled flowers of pinkish white, and in the fall they produce tiny fruits that wild birds find tastier than we humans do. "This is a beautiful, extremely ornamental type of crabapple, not the kind I used for crabapple fights when I was a kid," Smith says.
Scorecard: Par
---
Hole 5: Magnolia (Magnolia grandiflora)
Augusta National's fifth hole was modeled after the Road Hole at the Old Course at St. Andrews, but even those hallowed Scottish links can't offer a stunning backdrop of massive magnolias. (One has to wonder if an errant ball has ever landed in one of the giant, bowl-shaped flowers that bloom so fragrantly in May and June.) "It doesn't get any more Southern than these stately native evergreens," Smith says. "They are all over the course, but the most iconic magnolias line Magnolia Drive, forming a tunnel that lands players and members at the front door of the clubhouse."
Scorecard: Hole in One
---
Hole 6: Juniper (Juniperus virginiana)
This bushy native conifer is popular as a Christmas tree in some parts of the South. Moths avoid its aromatic wood, which is why your grandma was wise enough to store her sweaters in a cedar chest. But as a landscape feature, it doesn't draw much attention. "People often position them as a border between estates, but as a designer, I don't use juniper," Smith says.
Scorecard: Bogey
---
Hole 7: Pampas (Cortaderia selloana)
There is only one big clump of this lush ornamental grass, native to Argentina, planted along the seventh hole's fairway, but when it sends up its flowers in August, even a scratch golfer might slice into the pines; those creamy white plumes reach heights of ten feet when given the degree of care they no doubt receive at Augusta. "Being from South America, pampas can take the heat, so it does quite well in the South," Smith says.
Scorecard: Par
---
Hole 8: Yellow Jasmine (Gelsemium sempervirens)
Though widely called jasmine, the only vine to lend its name to an Augusta National hole is actually native Carolina jessamine—likely the Pride of Augusta variety introduced by the old Fruitland Nurseries. Its five-petaled, trumpet-shaped yellow blossoms (the state flower of South Carolina) are manna for butterflies but quite toxic to humans—so no slurping the jessamine! "I've seen Carolina jessamine being used as ground cover at Augusta and allowed to climb up some of the pine trees," Smith says. "It's a fairly aggressive vine."
Scorecard: Par
---
Hole 9: Carolina Cherry (Prunus caroliniana)
This native evergreen tree produces dense clusters of small white flowers in April, followed by shiny black berries favored by hungry birds. It is tolerant of heat and drought but susceptible to a long list of diseases and pests. "Carolina cherry doesn't offer any fragrance, but it's a very useful plant, good for screening," Smith says. "The flowers bloom around the time of the Masters, and you have to be careful because they drop a lot of seeds."
Scorecard: Par
---
Hole 10: Camellia (Camellia japonica)
It's nice that golfers can be soothed by the sight of so many of these classic shrubs, given this hole's reputation as the most difficult on the course. A member of the tea family native to Japan and China, camellias produce fist-sized flowers in a range of colors. Shallow-rooted, they thrive best when sheltered from full sun and wind. "One of my favorites, I use it all the time. They don't like cool temperatures, but in the Deep South they do very well," Smith says.
Scorecard: Hole in One
---
Hole 11: White Dogwood (Cornus florida)
The dogwood figures in sacred stories of several cultures, so perhaps it's no accident it lends its name to the first hole of Augusta National's three-hole Amen Corner. Blooming in late March and early April, this Southern mainstay is almost always on full display during the Masters. "In my designs I actually prefer white dogwoods to pink, because they are more compatible with other plants—subtler and more classic," Smith says.
Scorecard: Birdie
---
Hole 12: Golden Bell (Forsythia intermedia)
Forsythia's banana-hued blooms are often the first splash of color against the still-brown backdrop of very early spring. A nonnative member of the olive family, it makes a good nesting site for songbirds, though it's typically surrendered its blooms by the time of the Masters. Tip: "When forsythia buds up, you know spring is close," Smith says. "But if you cut some branches even before then and put them in warm water, they will bloom indoors after a few days."
Scorecard: Birdie
---
Hole 13: Azalea (Rhododendron indica)
The "oohs" and "ahhs" from the gallery on this hole may not be aimed at the pros, given the 1,600 flowering azaleas flanking it from tee to green, where they rise and mass in multiple pastel hues behind four not-as-beloved bunkers. A note on those ice packs allegedly deployed to make sure the blooms arrive at the right time: "I think that's urban legend," Smith says, "because there's no way to fool Mother Nature. But I would bet there are nurseries in Augusta that have container-grown azaleas ready to stage just in case."
Scorecard: Hole in One
---
Hole 14: Chinese Fir (Cunninghamia lanceolata)
Also known as China Fir, this evergreen tree produces inconspicuous, petal-less green flowers called catkins, plus ornamental cones desirable for holiday decorating. "A lot of people don't like them because they look good from a distance but hang on to old, dead foliage that can look a bit trashy and disheveled close up," Smith says. "I feel sorry for the person who has to clean up around it."
Scorecard: Bogey
---
Hole 15: Firethorn (Pyracantha coccinea)
This fast-growing evergreen shrub, native to southern Europe, is a member of the rose family, with prolific thorns to prove it. But more striking than its tiny white flowers are the loads of bright red-orange berries it bears in late summer to fall. "I like to use it as espalier, which is when you train and shape a plant to grow up against a wall," Smith says. "It's a really cool treatment—what we call a wall shrub."
Scorecard: Par
---
Hole 16: Redbud (Cercis canadensis)
If anything could outshine the azaleas also clustered around this short par three, it would be Eastern redbud, which displays clusters of neon fuchsia flowers in early spring. By mid-summer, the flowers are swapped for long, flat seed pods that dry and persist through winter. "This is another native, so you see it out in the woods all the time as an understory tree, like dogwoods," Smith says. "It's very showy."
Scorecard: Birdie
---
Hole 17: Nandina (Nandina domestica)
A 2014 ice storm took out this hole's famous Eisenhower Tree, a loblolly pine loathed by the thirty-fourth president because he hit into it so often. Nandina, an Asian evergreen shrub, may be hardier, living more than a century with no care. It delivers two showy punches—pinkish-white blooms in May and shiny red berries from fall to winter—and is often planted near the doors of Japanese homes as a good-luck symbol. But it's fallen out of favor with many environmentally minded Southern gardeners. "Some people consider it invasive because underground stems spread to form colonies," Smith says.
Scorecard: Bogie
---
Hole 18: Holly (Ilex opaca)
During the Masters, the eyes of the entire golf world are glued to the green on this famous finishing hole. But if you're lucky enough to be playing here around the winter holidays, your gaze might be diverted by several varieties of American holly. That's when female hollies produce the luscious berries so often employed in Christmas decorations (and favored by turkeys and quail). "Because it's an evergreen and can grow up to fifty feet tall, holly is often used for screening," Smith says. It's also found wild from Florida to Massachusetts and west to Texas.
Scorecard: Par