Every batch of dough that passes through the oven doors at Spread Market & Larder, a bakery and specialty market in Nashville's historic Germantown neighborhood, gets seeded with the same sourdough starter that co-owner Chad Kelly inherited from a friend about fifteen years ago. The starter, estimated to be around thirty-five years old, adds a deeply rich, sour flavor to the business's beloved breads and "four-day cinnamon rolls."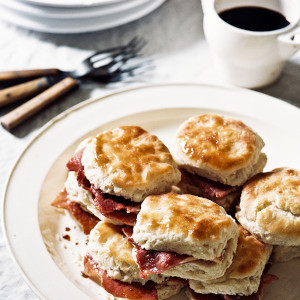 Kelly, a fifteen-year food-and-beverage veteran, met his now-wife and business partner, Alex, when she interviewed him about a restaurant opening. The couple have resided in Nashville for about six years, and they don't plan on leaving anytime soon. "We want to be here for a long time," Alex says. Sinking their roots deeper by forming connections with locals and small business owners sits high on their priority list. "So many of our customers are regulars from the four blocks around Spread," Kelly says.
Spread operates out of the Kellys' former home, just one of the many charming facades dotting the storied streets of Germantown. Their old bedroom now hosts the Spread kitchen, where they bake their breads fresh each morning using dough mixes featuring heritage grains hailing from Weisenberger Mill in Kentucky, Alex's home state.
When selecting the products that grace the shelves of Spread's market section, Chad and Alex asked themselves: "What's in our pantry? What do we wish we could walk down the street to get?" That contemplation—along with careful consideration of the people and brand ethos behind the potential offerings—led to what is today a covetable selection of pantry items, cheeses, charcuterie meats, wines, beers, and ciders. The process also led to their motto, "cool things by cool people."
"We always loved to share this stuff with friends," Alex says. "We ran out of friends to share it with, so we opened a market." That, and, as Kelly says, "We're getting to use our small business to prop up other small businesses."
In addition to its market section, Spread also boasts a wine room with approximately seventy low-intervention, biodynamic bottles (all within an affordable $12 to $32 price range) and a cooler bursting at the seams with house-made grab-and-go sandwiches (on sourdough loaves, of course), charcuterie, and beverages.
While many patrons pick up items to take home (the bakery offers take-and-bake pizzas and cinnamon rolls) or to bring to a nearby park for a picnic, Spread hosts sixteen seats for guests who want to devour their goodies right away. For those who can't make it to Nashville, though, the Kellys have shared three recipes for home cooks: a sourdough with cultured butter and spicy sardines, goat pimento cheese with piparras peppers and fancy country ham, and pickled green tomato and marinated feta salad.