"This is my love letter to this country and my love letter to my friends," says Stacey Mei Yan Fong about her new cookbook, 50 Pies, 50 States: An Immigrant's Love Letter to the United States through Pie. Fong, who grew up in Hong Kong and studied at the Savannah College of Art and Design, moved to New York City after graduation and worked for a time at a popular pie bakery in Brooklyn, Four & Twenty Blackbirds. That experience showed her just how much people connect over pie, and she started compiling ideas for a nationwide study of the baked treats. It helped her feel more connected to her adopted home, and also helped her pay homage to the many friends she'd made at SCAD.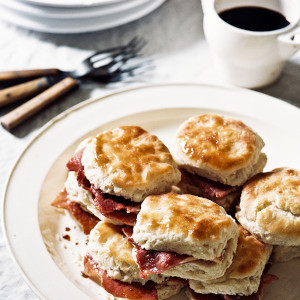 The resulting cookbook includes a pie for each state—some classics and some creative spins, like a North Carolina pie that includes both pulled pork and Cheerwine soda. She also shares delightful baking tips, such as how to use instant espresso to sketch on pie crust—a coffee-painted portrait of her favorite singer, Dolly Parton, graces the top of the Tennessee state pie. We chatted with Fong about her favorite Savannah spots and her brilliant use of Old Bay seasoning in a crab pie's crust.


You moved around a lot as a kid, but you write that Savannah was the first place you chose for yourself.
My dad worked in the hotel industry, and I had come to the States a lot growing up. I went to a British school in Hong Kong, and most of my friends were planning to go to school in England, but I wanted to really shake things up. But if I'm honest, I literally applied to SCAD because they mentioned it on an episode of One Tree Hill. I googled where it was, found out the art school was really good, got a scholarship, and it was the best decision of my life. It gave me a totally different perspective, and it led to wonderful relationships that I mention in the book. I'm a fan in general of taking the risk—make the cold call, write the email, what's the worst that can happen? Someone says no? You pivot.


What were some of the quirks about living in the South that you had to get used to?
I laughed at the "bless your heart" situation; the saccharine sweetness where you don't know a person's true intentions. It took a little bit of getting used to, with me coming from a frank culture—in a Chinese household like I grew up in, people do not mince their words. But there are so many similarities in the way that Southern hospitality and my Chinese upbringing are totally food-based. Everything is about sitting around the table or asking if people had eaten yet. At the end of the day, all anybody wants to do is hang out and talk and eat food.
If you've got one day back in Savannah, where are you going?
I always go to Back in the Day Bakery. Cheryl Day is my favorite—she fed me all throughout college—and when I think about how Savannah is my home, Cheryl has been home to me too. I'll get a drink at the Rail. I love that dive bar. And then we'll go to J. Christopher's or B. Matthew's for breakfast and talk about all the sins from the night before. A health food market called Brighter Day has my favorite sandwich of all time, which is a big statement. Their baked cheese sandwich: Wheat bread, sprouts, avocados, and a cheese crisp. I dream about it and when I visit, I take an extra one to eat on the plane home.


What was your vision for the look of your book?
I wanted to do justice to all fifty states, but essentially you are shooting the same thing over and over—a round pie. So we had to find fun ways to make each of them different. I focused on the dusty seventies look, and I was heavily inspired by national park posters, old Pyrex, and old road trip guides. I'm not saying the pie I did for each state is the be-all-end-all; this is my journey and my opinion, and I can't wait to hear the conversations with people about if I got their state right or wrong.


I liked the one for my home state of Missouri—it included my favorite frozen custard, Ted Drewes! Tell us a little about the three recipes you shared with us.
For some states I made the obvious choice—like for Florida, it had to be a key lime pie. I'm a citrus over chocolate desserts girl, and the vibe for that shoot was your grandma's house by the pool in Boca.
For West Virginia, it's a pepperoni roll pie. One of my best friends from SCAD is my friend Jeffrey. I had never met someone from West Virginia before, and he told me all about pepperoni rolls. It reminded me of what I ate growing up in Hong Kong—milk bread with a hot dog.
There's a crab-dip pie with an Old Bay Crust for Maryland. People always think about pie as just the filling, but you can add flavoring to the crust too. I wanted spice that cuts the creaminess of the crab dip. I love a lot of textures while I'm eating, and this pie has a crispy crunchiness that just makes you want to drink a bunch of Miller High Lifes with your friends.
People get surprised that there's a mixture of savory and sweet pies in the book—but I grew up in British colonies, so I grew up eating only savory pies. When I moved to the States, I learned pie's the limit! There are custard pies and fruit pies. Pie's the limit is such a good metaphor for the opportunities here—your life in America can be whatever you want it to be. And it's the relationships you make that make this country your home.