Forget about Barbie pink—have you seen flamingo pink?
For the avid Birmingham, Alabama, birder Greg Harber, spotting American flamingos during birding trips to the Yucatán in Mexico and Ecuador's Galápagos Islands was always a thrill. "But never in my wildest dreams did I ever expect to see them in Alabama," Harber says, describing an early-September sighting of the charismatic birds in a pond in Hale County.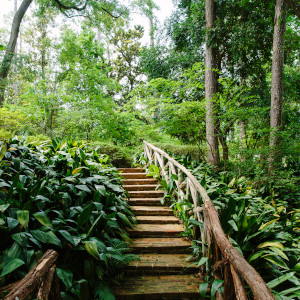 Scot Duncan, executive director of Alabama Audubon, called the "pink wave" of flamingos from Hurricane Idalia, which pushed an estimated 150-plus birds into the eastern U.S. on August 30, "truly phenomenal." The species, which typically ranges throughout the Caribbean and northern South America, has been spotted as far north as Wisconsin and along Lake Michigan—as well as in the Carolinas, Kentucky, Virginia, Pennsylvania, Mississippi, Florida, and Alabama—in recent weeks. "No one has ever seen anything like this," Duncan says.
All of the displaced birds that had bands on their legs came from the Yucatán, says Jennifer McKay, a wildlife biologist with the Bird Banding Laboratory of the U.S. Geological Society's Eastern Ecological Science Center. She says it will be interesting to talk with bird banders in Mexico next year to see how many flamingos currently in the U.S. are spotted back in the Yucatán during the summer and fall breeding and nesting season."I expect the majority of the flamingos that have come up in the hurricane, especially the ones very far north now, are going to want to get out of dodge pretty quick," she says.
McKay calls the flamingos that ended up in Wisconsin and Pennsylvania "outliers." But could more Southern states—in particular Florida—soon count the birds as permanent residents? It's possible, some experts say.
"Most people expect that the birds will be instinctively heading southward as the temperatures drop, probably triggered by cold fronts and taking advantage of the northwest winds that come with the fronts," Duncan says. "That should push them back to the Southeast and down into Florida. But, like I said, we've never seen anything like this before in modern times, so no one knows what will happen."
Jerry Lorenz, state research director for Audubon Florida, says there are currently between seventy and seventy-five flamingos in Florida Bay, a number that's growing as birds from up north appear to be making their way south as temperatures drop. That the birds have stopped in this area between the Florida Keys and the mainland Everglades is a good sign, he says. "They would not be here if we were not protecting and fixing our critical wildlife habitats."
Although flamingos are native to Florida, there hasn't been a standing population of the birds in the state since the early 1900s, when they were hunted to extinction for their feathers, Lorenz says. "All of the flamingos seen in the area before Idalia have so far been transient," he says, adding that the ones that got blown north during the storm were most likely flying between the Yucatán and Cuba when they were diverted.
Scientists and residents hope that since the birds arrived in larger numbers with Idalia, some of them might be tempted to stay and settle in. "There's some evidence flamingos have historically nested in Florida, although no confirmed nesting," Lorenz says. "We're hoping that the population across the Caribbean continues to grow and we will have resident flocks, if not a nesting population, here."
The birds will begin heading into their mating season soon, which lasts from November to February. "I suspect if they don't find mates they will start to head south relatively soon," McKay says. Breeding season runs from around April to August, and the birds are usually faithful to their breeding grounds. "So even if they don't depart in the next month or so, I would think they would head back to the breeding grounds some time in early spring," she says.
Whatever the flamingos decide to do, you can enjoy their singular beauty if you're lucky enough to witness it. "No one knows what will happen. This is why bird watchers have so much fun," Duncan says. "Birds have wings, they fly, and sometimes they show up in unusual places. Looking for surprises like that is a lot of the joy and fun of birding."