When it comes to shopping for bourbon aficionados, there's no lack of accoutrements, gadgets, ingredients, and glassware designed to accentuate our favorite spirit. We tend to be discerning, however, with a preference for what is truly useful over cabinets filled with superfluous stuff. Grain, water, yeast, wood, time—bourbon is nothing if not simplicity distilled. But that isn't to say we don't appreciate a thoughtful gift that helps further our enjoyment. These finds fit the bill nicely.


---
Elevate your next bourbon tasting with this personalized flight board from Uncommon Goods. Handmade by a woodworking couple in Arkansas, each board comes from a reclaimed bourbon barrel and includes four classic Glencairn tasting glasses. Boards can be customized with a name, location, and year. $75; uncommongoods.com
---
A cup of bourbon-barrel aged coffee is one of my favorite treats on chilly weekend mornings. This coffee from Pappy & Company is made from beans sourced from Guatemala and roasted by the Louisville-based Good Folks Coffee. Small batches are then packed into freshly dumped Pappy Van Winkle barrels, imparting caramel and vanilla flavors with a hint of smoky oak. $22; ggfieldshop.com
---
Any cocktail bar worth its weighted shakers has a clear-ice maker these days. The devices work through directional freezing, pushing out impurities and air bubbles and leaving only the purest, slowest-melting ice behind. Using just tap water and a freezer, the Phantom Ice Maker system from Wintersmiths lets you easily create crystal-clear cubes, spheres, and more at home. The design provides optimal freezing, and the interchangeable trays (sold separately) allow for a variety of shapes and sizes. $100 (plus $40 for each tray); wintersmiths.com
---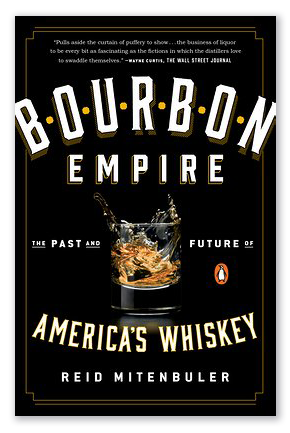 Author Reid Mitenbuler cuts through centuries of hyperbole to tell the straight story of America's native spirit in Bourbon Empire: The Past and Future of America's Whiskey. Beginning in colonial times through the Whiskey Rebellion, Prohibition, and bourbon's current boom, Mitenbuler charts a clear-eyed course through twisting tales filled with dubious characters, scandal, and big business. I've read dozens of books on bourbon, but Bourbon Empire stands alone for its comprehensive scope and storytelling that will hold the interest of even casual fans. $17; bookshop.org
---
Discerning home bartenders know that most classic bourbon-based cocktails call for a good stir, not a shake. Not only is the Bulu Pineapple Bar Spoon from Cocktail Kingdom the perfect size and shape for mixing all manner of spirit-forward drinks, it gets the job done with an extra dose of hospitality. $34–$41 (depending on finish); cocktailkingdom.com
---
The best decanters accentuate the bourbon inside without commanding attention. The Oklahoma Decanter by Terrane Glass Co., a G&G Made in the South Awards winner, does just that thanks to an unfussy design that strikes an ideal balance between beauty and function. Made by glassblower Colin O'Reilly of Spruce Pine, North Carolina, it holds a full fifth of your favorite spirit and feels like a contemporary classic. $140; ggfieldshop.com
---
Garden & Gun has affiliate partnerships and may receive a portion of sales when a reader clicks to buy a product. All products are independently selected by the G&G editorial team.
This article first appeared in G&G's Good Hunting newsletter, featuring products used and loved by editors and contributors. Sign up for the newsletter here.