Salisbury, North Carolina, is a classic small Southern town. There are grand Greek Revival homes, folk festivals, and a community green space that spools out beneath an 1892-built, red-brick bell tower. Daniel Boone once lived here.
Yet Salisbury's legacy isn't architecture or even that coonskin-capped resident.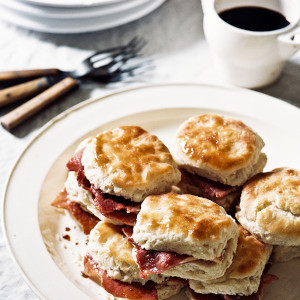 Salisbury is home to Cheerwine, the beloved Carolina soda-fountain staple that, despite the name, has no alcohol. What it has is a deep, ruby-red coloring, an old-school glass bottle, an expressive carbonation, and a flavor that's tough to describe except to say it's not as sweet as one might figure. It's rife with black cherry notes and an underlying essence of earthy cola-ness.
Cheerwine isn't only for sipping. Family-owned for five generations, it's made with the same recipe, and in the same factory, since its 1917 founding, and the company sells its syrup for use in everything from barbecue sauces to pies to cocktails. There's a Cheerwine Festival each spring that last year was sixty thousand strong. When Krispy Kreme made a limited-edition Cheerwine donut, they sold a million in less than a month.
That collaborative spirit has borne fruit once again, and now Cheerwine, in partnership with Charlotte's NoDa Brewing Company, has announced the release of Cheerwine Ale.
"If you live in North Carolina, you know Cheerwine. If you live in North Carolina and like beer, you also know us," says Jacob Virgil, director of strategic partnerships for NoDa Brewing, one of the state's oldest and largest brewers. "About a year ago when Cheerwine reached out, I thought the message was spam. I'm very glad I returned that call."
The brewery spent about nine months perfecting the recipe, ultimately landing on a wheat ale. "It has that great backbone of beer flavor but hints of Cheerwine that come through distinctly," he says. The offering will be a permanent mainstay in the NoDa lineup, right alongside their Hop Drop 'n Roll IPA, a past gold award winner at the World Beer Cup (essentially Best Picture at the Oscar's of brewing).
The style of Cheerwine Ale eschews hops, however, using a two-row barley. It's crafted to be drinkable. No bitter notes and certainly no gimmick. It's a sessionable, light, wheat-forward sip, great for any season.
Cheerwine Ale also comes with a slightly lower ABV of 5.2 percent. This was on purpose, according to Virgil. "Our IPAs are higher, around 6 or 7 percent," he says. "That's too high for your everyday beer consumer, but if you go below 5 percent, you can lose flavor. Then you have the fact that Cheerwine has deeper notes and a prominent, distinct flavor. It was a challenge, but I think we got there."
It seems so. NoDa Brewing initially sold out of what they'd allotted for two months in forty-eight hours.
At the moment, the sixteen-ounce cans are available in four-packs at select North Carolina retailers. It's also on draft at a number of Charlotte and Triangle restaurants and bars as well as at the brewery's Charlotte and Chapel Hill taprooms. Over the coming weeks, Cheerwine Ale will roll out in additional North Carolina retailers and throughout South Carolina.