Too many of us fail to plant herbs in our summer gardens, even though they take up so little space. Or we just tuck some basic basil next to the tomatoes and move on to yanking weeds. But top Southern chefs know that a full roster of homegrown herbs is a secret culinary weapon, providing a fresh element and depth of flavor to almost any dish. Consider these handful of easy-to-cultivate options: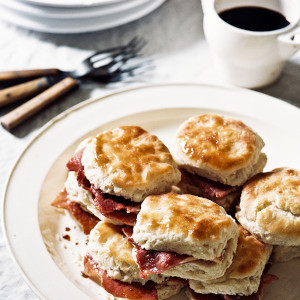 Rocco Carulli
R House Wynwood, Miami
"Growing a home herb garden is incredibly useful because you always have fresh herbs at hand to enhance the flavors and qualities of your culinary creations," says Carulli, whose Wynwood neighborhood eatery is known for creative comfort food and weekend drag brunches. "Watching the herbs grow and hand-picking them is not only fulfilling, but nurtures my creativity for exploring new flavors and recipes."
• Sorrel: "This nice, leafy herb has a refreshing citrusy taste that shines in salads, especially during hot Miami summers. It also lends a zesty kick to soups."
• Lemongrass: "Since lemongrass is like a tall grass, it brings an ornamental touch to my herb garden. I love to use it for crafting aromatic stocks. At R House, I use it in the stock for moqueca, a delicious seafood dish with coconut milk and ginger."
---
Lydia Solano
Bakery Bar, New Orleans
"I love my home herb garden, and I'm planning a kitchen herb garden at the restaurant," says Solano, who makes use of homegrown mint, chives, thyme, rosemary, oregano, and mugwort at her full-service cafe in the Garden District. Here are just a couple of her best herb hacks:
• Chamomile: At home, Solano uses the daisy-like plant in desserts, and at Bakery Bar she sneaks it into a Cajun strawberry salad with mixed greens, pecans, fennel, and queso fresco.
• Hibiscus: Though not actually an herb, the bright flower can easily be grown in a patio container. Solano uses it in the batter for Bakery Bar's hibiscus fried pickles, and in a lovely mango hibiscus sorbet.
---
Brian Landry
Marsh House, Nashville
• French tarragon: "I like all things anise," says the chef of the seafood-centric restaurant in Nashville's Gulch neighborhood, "and tarragon, considered the king of herbs in France, is a mild, anise-flavored herb perfect for the Southern home herb garden. It's wonderful in a béarnaise sauce, and planted alongside parsley, chives, and chervil, you will always have access to the big four herbs of French cuisine—fines herbes. Those are my go-to herbs in beurre blanc and vinaigrettes, and they pair really well with fish, shellfish, chicken, and potatoes."
---
Laura Fonner
Siren, Charlottesville, Virginia
"Herbs are the best way to brighten up any kind of dish," says Fonner, who literally wears her herb devotion on her sleeve in the form of an artful forearm tattoo. "I focus on seafood with a Mediterranean influence at Siren, so herbs are really important."
• Dill: "Dill is my absolute favorite herb. I use a lot of it for an appetizer I'm not allowed to take off my menu—shaved golden beets with goat cheese mousse, almonds, dill, and sumac vinaigrette."
• Micro purslane: "Purslane is a weed in most people's yards, but I have a farmer who cuts it for me as a microgreen, when it's tiny and a beautiful light green. It's earthy with a hint of lemon, and full of juice because purslane is a succulent. I use it to give a little zing to a dish of burrata, roasted artichoke hearts, and mortadella."