A classic holiday setting is always magical, and plenty of Southern towns have postcard-worthy charm to spare come December. But every festive to-do list needs a dose of the unexpected, and these one-of-a-kind events deliver: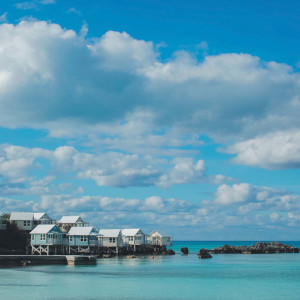 November 17–December 31, Natchez, Mississippi
Each holiday season the Towers Mansion, a historic home turned bed and breakfast in Natchez, opens its doors for the Jeweled Christmas Tours. Its storied halls are decked with costume jewelry, luxurious ribbons, and dazzling jeweled ornaments, resulting in an extravagantly sparkly display. The outside of the mansion shines brightly with Christmas lights, providing a glittering experience from entry to exit.
---
Hot Cocoa Crawl
November 24–January 7, Elizabeth City, North Carolina
The "Hot Cocoa Capital of the World" will soon host its annual celebration of chocoholic-approved beverages and activities. This year's lineup of drinks includes pumpkin pie hot cocoa, a frosted gingerbread white hot chocolate, and for adults, the "Dirty Snowman," a hot chocolate à la mode with a splash of Baileys—all accompanied by twinkling lights on Main Street, musical performances, and arts and crafts booths.
---
Sandi the Christmas Tree Lighting
November 30, West Palm Beach
A Palm Beach holiday fixture since 2011, Sandi holds the title of "the world's largest tree made entirely of sand." Standing thirty-five feet tall and weighing 700 tons, she will once again ring in the season on the West Palm waterfront, joined for the first time by "Ferris" the Ferris wheel. Sandi's lighting kicks off the town's Holiday in Paradise celebration, which runs throughout the month of December and includes light shows, live music performances, and a holiday gift shop. 
---
Algiers Holiday Bonfire and Concert
December 2, New Orleans
This spectacular riverbank event honors the "Bonfires on the Levees" tradition inaugurated by nineteenth-century Cajun settlers, who lit the way for "Papa Nöel" during his Christmas Eve flight. Come nightfall, a thirty-foot-tall sculptural bonfire designed by NOLA Burners will blaze against a backdrop of the New Orleans skyline—accompanied by musical performances, food from local vendors, and local artisan wares. 
---
December 23, Athens, Georgia
The Bulldog territory of Athens, Georgia, is filled to the brim with team spirit, but holiday spirit takes over during this singular public-art display and roving musical performance. The streets of downtown Athens and the University of Georgia's North Campus come alive for a parade in which each attendee is assigned one of four musical tracks to play in concert with other parade goers, creating a unique symphony of holiday sounds as they travel along the designated route. 
---
December 24, Cocoa Beach, Florida
The Sunshine State is a surfing mecca year-round, but when Christmas Eve day rolls in, hundreds of participants don Santa garb and head to Cocoa Beach to catch some waves and enjoy a day of oceanside merriment. For everyone else, there is a costume contest, photo opportunities with Surfing Santa, and all-around good vibes.
---
December 31, Tallapoosa, Georgia
What better way to ring in 2024 than watching a possum plummet from the top of a building? In Tallapoosa, Georgia, the star of the New Year's Eve show is a taxidermied possum named Spencer, in honor of Ralph L. Spencer, a businessman who brought a nineteenth-century boom to the town. Another fun fact: Tallapoosa was once known as Possum Snout, the name of a local Native American chief. The Possum Drop features fireworks, musical performances (including an Elvis impersonator and an eighties dance band), and plenty of street food.
---
New Year's Eve Beach Ball Drop 
December 31, Panama City Beach, Florida
This New Year's Eve event includes two countdowns (one at 8:00 p.m. and another at midnight), fantastic fireworks displays, and live music performances. Immediately after the first countdown, ten thousand inflated beach balls rain down on attendees. During the midnight celebration, a giant beach ball ten feet in diameter is slowly lowered from the top of Celebration Tower.