Many people would like to be Reba McEntire. There's her fame and talent, of course, but also how she seems to keep both cowgirl boots firmly on the ground. She credits her upbringing on an Oklahoma ranch for her "not that fancy" attitude, one she exudes even when rocking bespangled outfits onstage. (McEntire may not require frills, but she loves her fringe.) So when her new lifestyle and entertaining book (available October 10) needed a name, that's the title that stuck—Not That Fancy. It spotlights dozens of recipes for pinto beans, smashed potatoes, carrot cake, and other comfort food favorites, around which flows McEntire's often humorous advice on living her version of the good life.
We chatted with her about the book, entertaining when the house is messy, and her genius tater tots tip. Read the Q&A below, then check out her recipes for pineapple upside down cake, pinto beans and cornbread, and the Redhead 'Rita cocktail.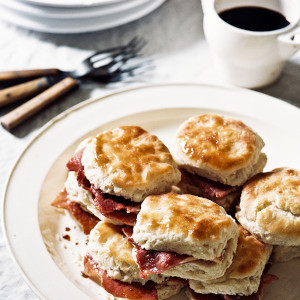 Not That Fancy has a bit of everything—food and cocktail recipes, memories, travel tips, even horror movie recommendations. Did you imagine it that way from the beginning?
Well, when the idea of doing a coffee table book came up, I figured it would be pictures with little captions, that sort of thing. But I kept adding other ideas here and there, and it became this. It's all over the place, but my attention span is like twenty seconds. I'll say this—I've read it three times and never got bored.


Is the title also a play on your signature song, "Fancy"?
That's intentional, because a lot of what we do onstage is sparkly and razzle dazzle. I think people don't have as many get-togethers now because they're worried about appearances. With this book I wanted to do paper plates and plastic forks. If the house isn't clean, don't worry about it—just invite folks over and have fun.


Why did you ask Garth Brooks to write the book's foreword?
Garth opened for me on tour in 1990 and 1991 and has been a special friend all these years. He was so sweet to say yes to writing the foreword, and said such nice things. He's a fellow Okie, you know.



Many of the recipes come from friends and family. Do any of them bring back a childhood memory?
Mama wasn't known as a great cook, and didn't even cook that much. But I can see that pineapple upside down cake being made in a cast-iron skillet, and then we'd dump it out. To me, it was a work of art. That brings back great memories. I can almost see the old kitchen and smell the food.


It's hilarious that the "recipe" for tater tots simply says to drive to Sonic. Do you love Sonic's tots that much?
Yes, absolutely! That's where Rex and I went on our first Valentine's Day date, and it's still our Valentine's Day tradition. We drive to Sonic and line up all the food on the dashboard.