In 2011, a handful of shaggy-headed teenagers were busking on Broadway in downtown Nashville when an overserved passerby (aren't they all?) chirped, "Play that banjo faster, boy!" Guitarist William Reames thought that was a pretty good name for a band, and Boy Named Banjo was born. Over a decade later, they're no longer boys (a few have children of their own), and while they do still count a banjo among their ranks—played fervently by Barton Davies—their sound has evolved and deepened, no longer penned in by just one genre.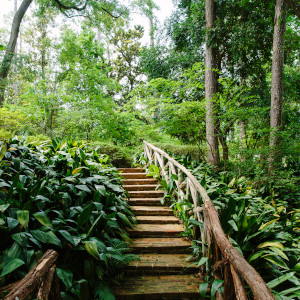 That evolution has propelled them off the sidewalks and onto the stages of Nashville's most iconic venues. In the last few years, they've played the Ryman, sold out Nashville's Brooklyn Bowl, opened for the likes of Hank Williams Jr. and the Cadillac Three, and made their Grand Ole Opry debut. Later this month, they'll release their first major-label album, Dusk, and head out on a coast-to-coast tour, with stops across the South and beyond.
We caught up with the band ahead of the album's debut to talk about touring, major milestones, and how they stay true to themselves.


Y'all have been playing together since you were teenagers. Has that given you any advantages—or presented any challenges?
William Reames [guitar]: There's definitely more strengths than anything from knowing each other so long. For one, touring: That's not easy at all so it really helps to have such good friends on the road. In terms of the stage, we've played so much together that it feels like we're all on the same page mentally. Like if something's changing in the song, right in that very moment, we all seem to somehow be able to realize it. It helps us play a lot tighter.
Barton Davies [banjo]: The main challenge is that we are a five-way partnership, so we have to agree on everything we do. Even with, like, merch designs, there are five opinions. But you always get the best result because you know at least five people like it. If five people like it, hopefully more do too.


Listening to Dusk, a theme that seems to resurface is growing up and dealing with the growing pains that come with that. Does that reflect where you are as a band? 
Reames: When we started writing these songs and putting them all in one place, we were different people than we are now. I do feel like the record reflects that transition in life. [Like with the song "Mama I'm Misbehaving,"], I feel like a lot of people can relate to that because so many people grew up being a rebellious kid and staying out too late. It kind of reminds me of Stranger Things, playing that song. Like those kids just riding their bikes around until midnight.
We started out as a folky string band, so to have a song like "Goodbyes Are Sad," where it's just much more alternative—that's a big part of our sound now. And to have on the same project a song like [the heartfelt ballad] "Opposite Directions" makes me really excited. Everyone around us is allowing us to have such a wide array of sound.


Why call the album Dusk? 
Davies: We haven't put out an album in quite some time, so we've been pouring our hearts and souls into this music over a long stretch. And as we were listening to the music, we caught a lot of the same themes appearing. A lot of falling in love, a lot of sunset imagery, and with that [the idea of] trying to live in the moment and make the moment last. The sun setting is a reminder that time is moving and fleeting, and I think as we get older that is becoming more apparent to us. Dusk is just the first part of the project, though. It'll make a lot more sense soon.


This is your first album with a major label. Did that change anything about how you write and record your music?
Ford Garrard [bass]: Now, we're getting a lot more people throwing their two cents in every step of the way. And so throughout the process of making this album, I think we went from caring a lot about what they thought to caring more about what we thought.
Davies: Yeah, we've learned from this experience that if we don't like something, it shouldn't be on the record. We should only be making music that we like, and I think we really did focus on that, especially in the later sessions for this record and all the music we have coming.


Listen to the first single off the album, "Lonely in This Town," below. Dusk is out September 29 and available to pre-save here.