In line at the counter to order a high-crowned pepperoni pizza, fired in a hardwood-stoked oven imported from Italy, I hear a man with tousled hair and muddy jeans say to a woman in a dress and pigtails, "I'm sorry I was late, but I ran over my cell phone with my truck." Seated at a table in the corner, opposite Claes Oldenburg–inspired wall sculptures of a pizza pie and a bagel, I watch a server place a calzone before a woman in a magnolia-green smock. She takes one look at the giant crescent of crackly brown-black dough and laughs so loud that I burst out laughing too.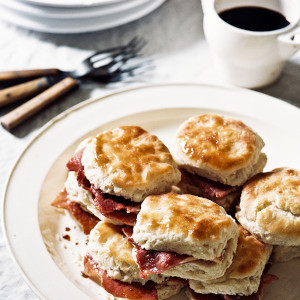 A good restaurant gives its diners the opportunity to eavesdrop as well as eat. By that measure and several others, Leña Pizza + Bagels, a twenty-eight-seat storefront open since last spring on Cotton Row in the Mississippi Delta town of Cleveland, is a very good restaurant.
Bagels came first. Marisol Doyle and her husband and co-owner, Rory Doyle (a photojournalist whose images accompany this column), moved to Cleveland in 2009. She began her baking career in 2016 with a bagel pop-up at the Cleveland Farmers Market. Marisol was a veteran restaurant server and manager. Her friend and collaborator was a home baker. In a region where freezer-case bagels are too often the best option, they imagined getting bagels right while raising dollars for causes they cared about. "They were terrible little bricks," Marisol says of their first efforts. Her smile widens as she thinks back. She knows the effort was idealistic. That smile says idealism was the point.
She kept working on those bagels, and she went deep on pizza, too. Before she opened Leña, Marisol traveled twice to Naples, the scruffy Italian city where pizza was born, first to study at the Scuola di Pizzaiolo, later at the Associazione Verace Pizza Napoletana. She also made pilgrimages to American temples, including Pizzeria Bianco in Phoenix. Back home in Mississippi, waiting for that all-important oven to arrive, she practiced on a backyard Ooni.
Bagels remain part of the formula. Each Saturday morning, Marisol kettle-boils fifteen dozen or so. No longer bricks, her rings of almost-sweet bread smell of malt and taste of what a love of dough and a belief in self can yield. Some get spiked with red chiles and sprinkled with shaved Parmesan. She rolls others in her everything mix. All get baked in that pizza oven until they blister and form a pliable crust. Split and toasted at the mouth of the oven, smeared with cream cheese, Leña bagels remind me that, like a Bill Traylor drawing on cardboard, the greatest pleasures are small and elegant things, made with an attention to details.
There are at least two ways to think about the Mississippi Delta. Track the change in population and income from the mid-twentieth century to today, and you'll suspect that the Delta, once a driver of the American economy, is a place with more past than future. (According to the 2020 census, the population of Bolivar County, where Cleveland is a seat of government, dropped by around 10 percent over the previous ten years.) But listen to Marisol and other recent arrivals to northwest Mississippi, drawn by Teach for America or inspired by Delta artists and musicians, and you hear what idealism and hard work can bear in a place others have quit.
Less than two hours away in Oxford, where I live, entrepreneurs struggle to take chances. Landlords charge Nashville money for prime leases on the square. The emptying out of the Delta has made real estate in Cleveland comparatively affordable. New arrivals like the Doyles signal new vitality. "This place has made so much possible for us," says Marisol, a native of Ciudad Obregón in the Mexican state of Sonora. "Everybody roots for you here," adds Rory, who grew up in the woods of Maine, in a house heated by a wood furnace.
Leña is the Spanish word for firewood. Red and white oak, stacked in the hallway, is the fuel here, perfuming Marisol's pies. Her time in Naples shines through, too. Topped with sausage or pepperoni or eggplant, pies from that oven arrive at tables crosscut by air pockets and tattooed by wood fire. With each month of operations, the pizza gets better. And so does the restaurant. Not long after she opened, Marisol began setting tables with pots of basil, as her favorite pizzerias did in Naples. Her upbringing in Ciudad Obregón shows, too, especially in an occasional special called the Sonoran, layered with refried beans instead of tomato sauce, topped with crumbled chorizo and clumps of fresh mozzarella, drizzled with roasted jalapeño salsa.
This past summer, Marisol added a caprese salad, served on a bed of arugula and capped with a basil and sunflower seed pesto. Come fall, she will serve a toss of sweet potatoes, zucchini, and feta with a lemon vinaigrette. Like the salad roster, the wine list is a work in progress. Last time I ate dinner at Leña, Marisol's bottles didn't live up to her pies. But she's since tracked down wines that work with her pocketbook and palate. All to serve the community she claims in the Mississippi Delta, where the restaurant is rapidly becoming a creative clubhouse, a place where young people make bets on the age-old idea that, by making something beautiful, they can make a difference.