The Oscar winner Nicolas Cage has a storied love of New Orleans—he once owned the mysterious LaLaurie Mansion in the French Quarter—and recently traversed the city while filming his new movie, Renfield. The horror-comedy, out in theaters April 14, held its world premiere earlier this month at the Overlook Film Festival, which brought fans, directors, actors such as Cage, and cinematographers together in the Crescent City for a weekend of events that celebrated the art of cinematic horror.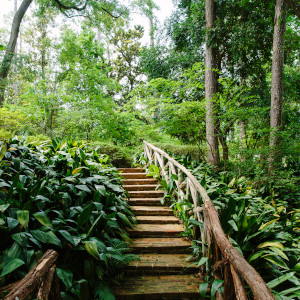 Formerly a traveling festival established in 2017, the Overlook found a permanent home in New Orleans and returned this year after a COVID hiatus with panels and immersive experiences, trivia nights, an art market, and, of course, movie screenings. The cornerstone was Renfield, starring Cage alongside lead actor Nicholas Hoult and the comedic stylings of Ben Schwartz and Awkwafina.
Filmed entirely in New Orleans, the film centers around the character of Renfield, Dracula's captive "familiar," who must do his bidding in the daylight hours. The movie is set in the modern day and reimagined from Bram Stoker's original novel. Renfield (played by Hoult) has grown exhausted of Dracula's incessant demands. He joins a toxic-relationship support group. Members convince him that he can break free. What breaks free, as one might imagine, is utter, hilarious, frightening chaos.
We caught up with Cage on the red carpet outside the historic, century-old Prytania Theatre prior to the screening, where he eagerly chatted about the challenge of playing Dracula, his love grilled oysters, and his ties to New Orleans. After all, while he's no longer a permanent resident, Cage has aims to rest eternal here. You can visit the pyramid-shaped mausoleum he owns in the St. Louis Cemetery No. 1.


What made you want to play Dracula in Renfield?
I don't know how you say "no" to Dracula. Especially when the house is Universal. It is a big role, because it's been done many times. And done well. But it's also been done not so well many times. So, I felt there was room to play with it. [Director] Chris McKay was making a movie that was both a comedy and a horror, fused into one moment. I wanted to play with that format. That's what I think separates this from other Dracula performances.


Why do horror and comedy meld so well?
Because it knocks you around. One moment you're laughing, and it's okay to laugh. The next you're screaming. You just don't know what you will get. It keeps you on the edge of your seat. I think McKay really got there with this movie. He found that perfect tone. It's just so unpredictable. The movie becomes almost like a ride.


Renfield acknowledges the classic lore of Dracula, but there was a freedom to make it your own. How do you find a balance of reverence and reinvention?
Dracula is a character that we all know. The one that I looked at as a starting point was the Bela Lugosi Dracula. My Dracula was Christopher Lee. I loved his animality when he was on the attack. [Frank] Langella also brought a real charm. Then, I started thinking about my father. He was a literature professor and always spoke with distinction. I landed on that mid-Atlantic accent my dad had.
Believe it or not, I thought about Anne Bancroft, in The Graduate. She had that mid-Atlantic accent. There was something Dracula-seductive about her. Those were the two influences that I most looked at, but, having said that, there was so much that just occurred on the set. You open yourself up to imagination. And…in supporting Nick Hoult…I worked with him on The Weather Man…I got to see his timing. He's so gifted with that timing. It's in his body. He can turn on a dime and be vulnerable.


Why was New Orleans the perfect location to film Renfield?
Oh well, you know, there's always a kind of…something in the air. There's always kind of an X factor here, which is undeniable. You feel it. It's just very charming, and it can be a little unnerving. You just don't know what's around the corner. I think that's a perfect location for a movie like Renfield.


When you land back here, is there a place you head to every time?
Cochon. I just went today. I had far too many wood-fired oysters. I had breakfast, lunch, and dinner, all in about an hour.


Anywhere else?
I like some of the old-guard restaurants, like Galatoire's. Good times there. Arnaud's has a great menu. I like to listen to jazz while I eat. You know, you can do that at Brennan's and at Arnaud's, and I really enjoy that.