It's impossible to say how Ernest Hemingway—swarthy fan of brevity, sport fishing, and philandering—would feel were he to come back from the dead now (at a wizened 124 years old). Bristled, perhaps, at all the bars and bookshops wearing his name. Thankful, potentially, that his houses in Key West and Cuba have been so painstakingly preserved.
Hemingway would be nearly as old as the Florida Keys themselves, which are celebrating their two-hundredth birthday all year long. We wanted to honor this milestone by collecting the private rooms and public spaces that remind us of old Ernest. From dreamy verandas and dimly lit dives where conversation flows as readily as the tides to ripped barstools and ample soaking tubs … these storied spaces beg you to read, write, or sip and stay awhile.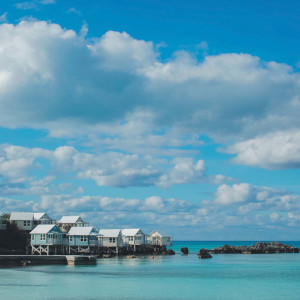 Dining & Drinking
Berlin's cocktail bar in Key West
"Don't bother with churches, government buildings, or city squares," Hemingway famously said. "If you want to know about a culture, spend a night in its bars." He had an equal thirst for dives and glitzy establishments, and Berlin's is a bit of both, with stiff sips and moody, amber lighting. It opened in the 1940s, in the same era that Hemingway gave us For Whom the Bell Tolls.


The Hemingway Bar at the Bungalows in Key Largo
Hemingway bars exist from Bangkok to Paris, to be sure. None may be as apt for raising a glass to the temperamental author as this namesake in Key Largo. The bar's design features exact replicas of the tiles found in Hemingway's Key West home. Order a Hemingway Daiquiri made with Papa's Pilar Blonde Rum.


Pepe's in Key West
Teddy Roosevelt was president when this ramshackle steakhouse opened, and Hemingway was fond of dining here. Not much has changed at what's now the second oldest restaurant in Florida. Lean back in a high-sided wooden booth, and order a ribeye dripping in butter and a couple ice-cold lagers.


Burdines Waterfront in Marathon
You can touch the tops of palm trees surrounding the deck at Burdines, a sky-high, open-air restaurant with a central horseshoe bar decorated in rusty license plates. Dig into the island's best fried shrimp sandwich, and watch sailboats navigate the narrow end of Boot Key Harbor below.


Latitudes near Key West
Dredged in 1965 to create a fuel depot during the Cold War, Tank Island evolved into an opulent station of wealthy homes. Renamed Sunset Key in 1994, this little island just off Key West doesn't have cars (or a grocery store). However, you will find an impressive bar menu and seaside fine dining at the lone and luxe restaurant, Latitudes. In the lounge by the bar, the British East Indies design includes antique steamer-trunk tables and battered leather armchairs for conversations over daiquiris and rum sours.


Keys Fisheries restaurant in Marathon
Paris might be a moveable feast, but Keys is too, rather literally. You order at a tiny window and carry a towering lobster reuben, conch fritters, or in-season stone crab claws to a weathered picnic table. There's a Hemingway-worthy, Route 66 nostalgia to this no-frills joint, open since '67.
Hotels
Little Palm Island Resort & Spa off Little Torch Key
Little Palm is a private island worlds away from the Overseas Highway neon and traffic. Here, you'll find vestiges of the 1940s, including oxblood-leather chairs and teak speedboats. The best place to dive into a great book would be a bungalow's sitting room, among the ochre velvet chairs, inlaid game tables, and Persian carpets. If you aren't staying the night, you can still reserve a table and unwind over dinner.


The Ernest Casita at Cheeca Lodge in Islamorada
Islamorada welcomed the first guests to the now-iconic Cheeca Lodge back in 1947. This year, eleven new private casitas debuted, including a 3,500-square-foot Ernest Casita. Indulgences abound: butler service, a chef's kitchen, and a four-couch terrace facing the sea.


The Mermaid & the Alligator in Key West
The apex of this 1904 Victorian is a dreamy hideaway. So dreamy, it books a year in advance. The Treetop Suite has a timber ceiling and cooling linens as well as the best book-reading perch in the island chain. Just don't drop your book in the elevated tub.
Surprises
The Coast Outpost in Key West
Coast is a collaborative, creative T-shirt and print shop that hosts events frequently. "Our space feels more like you've walked into an art installation at a California surf boutique than a typical Old Town T-shirt shop," says founder Billy Kearins. The setting is a sun-bleached, 1842 bungalow house. "We encourage customers to interact with installations," Kearins says. "We're interested in offering you something radically memorable."


The Crystalmarine Suite Houseboat in Key West
A five-minute water taxi from Key West, this Airbnb offering is a floating escape, offering endless sea and sky stretching beyond giant windows. Every booking includes snorkel gear, a kayak, and hot showers. After an epic sunset, lower the projector screen to stream Lauren Bacall and Humphrey Bogart in To Have and Have Not.


Owner Ryan Stone spent nine months building two floating Polynesian-styled, thatched-roof huts atop motorized bases. Guests take a ferry to the huts, which are anchored off the coast of Key West, for a truly private getaway. The Tiki Suites allow the ultimate disconnection from devices as travelers spend days paddleboarding and snorkeling and enjoying nights full of scattered stars while bobbing in the harbor.