On a recent jaunt to the Florida Keys, my husband and I spent a night at Little Palm Island, a real Robinson Crusoe–meets–Restoration Hardware spit of lavish serenity about an hour south of Islamorada. If you reserve a villa there (or even if you simply opt to make a reservation for dinner), the resort picks you up in a private ferry at a dock off Little Torch Key to transport you to the island. While we were there, we frequently remarked that we felt like we were somewhere even more far flung—Thailand, maybe, or Fiji.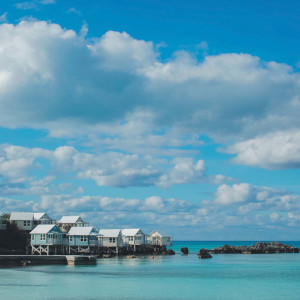 The four-and-a-half-acre island features a collection of villas, each with a sitting room, teak canopy beds, the softest pillows imaginable (we purchased two), and enormous soaking tubs. Below each private deck swings a two-person hammock next to a sandy fire pit. You're politely asked to unplug from devices in common spaces. In other words—heaven.
Recently, Little Palm's management announced an option that promises even more fun. You can now buy out the entire island—starting at $300,000 total in low season—for you and up to fifty-nine of your closest friends. But this ultimate vacation goes beyond luxury; the three-day "Impactful Indulgence" package centers around a philanthropic partnership with the MOTE Marine Laboratory and Aquarium.
The nonprofit MOTE, headquartered in Sarasota, Florida, largely focuses on coral reef restoration, and Little Palm has pledged to donate $5,000 of the stay cost, per night, to support their crucial ongoing efforts. (You can read more about MOTE in Garden & Gun here.) Not only that, but the package includes a journey by boat to the nearby Looe Key Reef, where guests can help plant new coral reef alongside scientists and experts in underwater ecology. The new section of reef then gets named for the primary guest.
"While our reefs don't produce a large proportion of our oxygen, our open oceans do," explains Jason Spadaro, a staff scientist and program manager for coral reef restoration at MOTE. "Our coral reefs are a canary in the coal mine for the health of our oceans. They are a biomarker. Aside from that, they provide the main source of protein for a million people on the planet, and some entire nations have their entire gross domestic product tied to them. Economically and socially, reefs are at the center of many cultures, including here in Florida Keys."
Like the rest of the ocean, the reefs in the Florida Keys have become significantly degraded and endangered. This region, thanks to MOTE, is at the forefront of restoration advancements. There is hope, and packages like Little Palm's aim to promote awareness alongside reef-saving measures. "Some of the plots we have put out over the last three to five years, we've seen an increase in living tissue by more than 700 to 800 percent," Spadaro says.
If you don't necessarily want to buy out the entire island, you can still participate. Little Palm also offers a "Paradise with a Purpose" package, for which individual guests may book a three-night stay that includes snorkeling the reef and kayaking the beautiful mangrove forests, with a $300 donation given back to MOTE.
"I never thought I would be so enthralled with something so scientific," says Bill Foster, Little Palm's regional director of marketing, with a laugh. Foster says he's already had interest in the island buyouts for 2024. "We have a tagline of 'Get Lost,'" Foster says, "and it's our aim to help people enjoy the natural wonder of this place. We have manatees swimming under the docks, egrets and key deer on the property. We also have important coral reefs. Those deserve our attention just as much."