Whew! This is a delicate dilemma and depends on two things: 1. How well do you know these people? And 2. How well do they know Emily Post? Because despite how we may feel about our rivals, good manners are sports agnostic.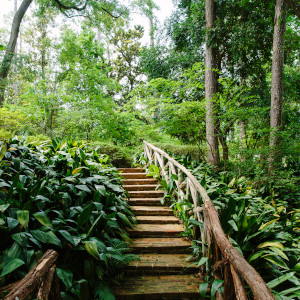 Handing off precious season tickets—even if your football team is playing a ringer smaller than most high schools—is a huge act of trust (particularly here in my adopted home of Oxford, Mississippi). You won't be present, but the season ticket holders in the rows around you absolutely will, and unless you want icy glares from your seatmates for years to come, ask yourself these questions about your guests:
1. Do they have any tattoos of Bear Bryant?
2. Do they say that their two best friends are Jack and Jim?
3. Where do they stand on body paint?
4. Do you know where they were on January 6?
5. Are they from Baton Rouge?
Also, remind the guests that no matter how loudly they yell, the players and coaches can't hear them, but the seven-year-old two seats away definitely can. And no matter what they repeat from ESPN talking heads, yelling—not cheering—only annoys those around you. Guests should be cordial, sit unless it's a huge play, and for the love of God, not start arguments.
As a former Auburn defensive end who was once pelted by obscenities and hot dogs at the Swamp, I can assure you that bad behavior is far too common. And no, it's not a recent problem.
Several years ago, I accepted the hospitality of my late, dear friend Dean Faulkner Wells—niece of a fairly famous writer—every time Auburn played at Ole Miss. Dean not only gave up her seat for me to see my old team but also drove me and her husband, Larry, to and from the stadium. I made damn sure I was on my best behavior out of respect to her and her nearby Ole Miss faithful. Even though I wore my navy blue and my Auburn hat, I didn't make a nuisance of myself every time the Tigers made a big play (or failed to). I didn't scream War Eagle at the top of my lungs or taunt the section after a big sack. I guess the past isn't dead, it's whippin' y'all's ass!
While I don't have season tickets at Auburn or here at Ole Miss, I'm fortunate to have a standing invite to my friend Marquis's Grove tent. A few years ago, I learned that my pal John Sewell—a former athletic trainer at Auburn—and his wife would be in Oxford for the game. While we weren't in the stadium, being a guest in the Grove is of equal or perhaps higher social importance. The Sewells, while massive Auburn fans deep in Rebel territory, were gracious and wonderful guests, showing up with a bottle of Knob Creek and plenty of good vibes for the upcoming game. They left Oxford with many new friends. No one cared what colors they wore.
And that's what you should impart to those accepting your generous offer of tickets. They're not there to make a spectacle for their tribe but as guests in your house. Good behavior is the bare minimum. Even at just a football game.