When it comes to choosing lighting, I operate in extremes: I either go for a minimal fixture or I choose pieces with a wallop of character. That mix of opposites, I've found, lends a space balance. When it comes to the statement lighting, more often than not, I gravitate toward pendants, sconces, and table lamps inspired by the Southern garden.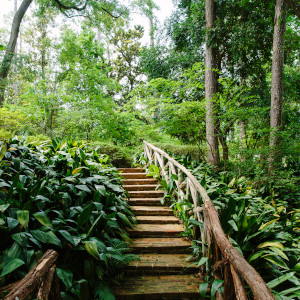 I've long been a fan of the plaster works by the New Orleans artist Julie Neill, for example, particularly her floral Diego sconces. They look both ethereal and modern, and the handmade quality, right down to the chalky white layers of plaster applied to the metal petals, draws the eye. "This whole family of fixtures grew out of my love for flowers," Neill says, "especially Japanese magnolias and the white Hakuun tulip. I've also been a longtime admirer of the work of Diego Giacometti, and a lover of all things crafted in plaster."
A few months ago, when I finally began work on a primary bathroom in my new house, I knew Neill's pieces would be the perfect way to bring a bit of the garden outside of my windows, which now includes many magnolias, indoors.
They arrived from her Crescent City workshop packed as carefully as artifacts culled from an Egyptian tomb, fully crated and endlessly wrapped to protect the fragile specimens. "Each piece is crafted in metal and then hand-plastered in our studio," she says. "This allows us to customize the size and structure for our clients, since we make everything one piece at a time by hand.
I look forward to them moment when the sconces finally blink to life in my bathroom. "Sometimes a piece will tell a story that even I didn't know it was going to tell until I see it installed in a room," Neill says. "And I love that."


Here are a few more takes on the idea that have recently caught my eye.


A New Leaf
The U.K. designer Beata Heuman imbues everything she touches with a delightful eccentricity, including this pendant, decked out in curling leaves, from her lighting collection.
---
Eternal Spring
The Charleston, South Carolina, lighting design firm Ro Sham Beaux offers another lighthearted take with this rattan tulip.
---
Flower Power
The blooms on both this shade and base by the artist Rebekah Miles for Nickey Kehoe's furniture and home shop in Los Angeles provide a double jolt of happiness.
---
Petal Pusher
This brand new poppy papier-mâché design from Tennessee-based Stray Dog Designs would work as well as a flush-mount fixture as it does as a sconce.