During my last few years living in Lexington, Virginia, I planned my Saturdays around visiting nearby Staunton and collecting breakfast treats of custardy cannelés, buttery croissants, and savory quiches from the European-inspired Reunion Bakery & Espresso. The glass case of pastries beckoned me from thirty-five miles away, kicking off a day of eating and exploring in the small town. Among my top picks, just to name a few: a portal to Shakespeare's seventeenth century at the Blackfriars Playhouse; a colorful pocket-sized taco shop; sloping country roads for fall bike rides; and a glassblowing studio with live demonstrations daily.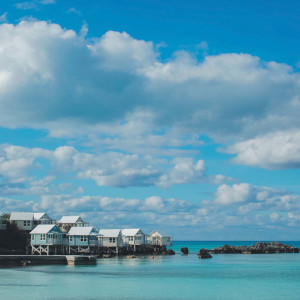 Food & Drink
It's hard to resist the tiers of baked treats behind the counter at Reunion. Order a cup of coffee and grab a white paper bag of goodies (some for now, some for later). I'm partial to the rum and custard–infused cannelés, which are crisp on the outside and spongy on the inside, but I've recently discovered a runner-up in the form of flaky, sugar-dusted cruffins filled with fruity jam and creamed cheesecake. If you love a savory breakfast, get a croissant with local sausage, garlic, and cheese, or a warm slice of quiche. The quiches come in plenty of varieties, including a hearty favorite with ham, cheese, and caramelized onion.
For a mid-morning pick-me-up, head to Crucible Coffee Roasters—but before you order a warming seasonal latte or silky housemade espresso, get a specialty bag of beans. You'll find plenty to choose from, including the "Ella," which highlights women producers and plays up sweet chocolate and tropical flavors, or the popular espresso "Kinfolk." In the warmer months the shop offers an unexpected but bright and punchy matcha lemonade drink.
For lunch, pop into Chicano Boy Taco and relish the flavor-packed handhelds and burrito bowls. Soft corn tortillas swathe chilled shrimp, shredded carnitas, brisket, and chicken alongside cheese, herbs, pickled red onions, and thin slides of radishes. But the grilled corn elote might be the ultimate star of the menu—the kitchen generously slathers the cob in lime mayo before rolling it in cotija cheese and chili powder.
Staunton's beloved Gloria's Pupuseria pays homage to authentic Salvadorian flavors. After helping her mother in the kitchen of their family restaurant in El Salvador, owner Gloria Gerber opened her downtown spot with her husband, John, in 2013. In Gerber's iteration of the traditional Salvadoran dish, she packs pickled cabbage and meat—including tomato-dressed shrimp, loroco (an edible Central American flower), and crunchy chicharrón—into the folds of handmade corn tortillas. You'll also find plantain leaf–wrapped tamales, pasteles (corn turnovers loaded with meat), and crispy enchiladas on the menu alongside house drinks like horchata and tart tamarind fresco.
Step into the historic Cranberry's Grocery and Eatery to grab a light lunch or shop for snacks from the shelves. Both the menu and grocery revolve around healthy options, including vegan, gluten-free, and vegetarian wraps and sandwiches. If you're looking to craft your own meal back home, browse ingredients from nearby makers and farmers like Scratch Pasta, South Mountain Creamery, and Polyface Farms. In the Apothecary, Cranberry's stocks herbs and natural homeopathic remedies.
When the clock strikes suppertime, mosey over to the Shack, a pint-sized red brick eatery focused on Appalachian cuisine. Here, chef Ian Broden infuses dishes mined from his Jewish and Russian heritage with Shenandoah ingredients. This fall, Boden and his wife, Leslie, just announced a new project coming to Staunton: Maude & the Bear, a boutique inn and restaurant named after their son and daughter.
The Green Room is a hybrid charcuterie restaurant, wine and beer tasting room, and retail space and a lovely spot for catching up with friends over delicious bites (like Route 11 chips with French onion dip, soft pretzels, and baguette sandwiches). My favorite option is to build a cheese board: You can mix and match cured meats, specialty cheeses, and savory vegetarian bites like pickled peppers and salty dolmas. The Green Room is also a wonderful place to sample beer; I first fell in love with sours on their patio when my boyfriend and I discovered an "açai bowl" brew inflected with flavors of berries, bananas, and milk sugar.
Find a sweet nightcap at the Split Banana, an ice cream parlor with imaginative flavors like sticky rice, pineapple basil sorbet, espresso biscotti, London fog, and Highland County maple. Order a scoop (or two), or sink into a booth with a soda float, milkshake, or banana split sprinkled with crunchy Virginia peanuts.
Arts
Staunton is home to the American Shakespeare Center (ASC) and the company's stunning re-creation of the playwright's Blackfriars theater. With its Gothic hammerbeam roof; Virginia oak–clad ceilings, walls, and floors; and iron chandeliers, stepping inside feels like slipping through a time capsule. The ASC worked with Richmond architect Tom McLaughlin to build the world's only reconstruction of the indoor theater, constructed from research into the original thirteenth-century monastery-turned-playhouse (no physical evidence of the burned-down theater remains). This coming fall and winter, the company will present Much Ado About Nothing, Hamlet, and Coriolanus as well as Charles Dickens's A Christmas Carol. I can't recommend an afternoon or evening at ASC enough: The company's talented actors bring fresh life to Shakespeare's oft-staged romances and tragedies, engaging directly with audience members and playing off the energy of the unique space. After, you can debrief with friends at the Split Banana nearby.
At Sunspots Studios, visitors can browse a rainbow of glass goods and watch live demonstrations of artists at the furnaces. Peruse hand-blown hummingbird feeders, drinkware, vases, and watering balls inside, then head to the adjacent studio to feel the heat from the furnaces. From 10:00 a.m. to 4:00 p.m., guests can visit the demonstration studio and talk to artists at work. I'm always impressed with the artists' steady hands as they meld molten glass, swirl it with pigment, and blow into the liquefied material to create volume and dimension.
Get Outside
The green, pastoral landscape of the Shenandoah Valley is an especially lovely backdrop for bicyclists. Staunton's twenty-three-mile Polyface Ride sweeps through downtown and west toward farms and hills speckled with grazing horses and cows. Begin and end in the city with a ride through the Staunton Frog Pond Smoky Row, which loops around the west perimeter of the town. Pop into Black Dog Bikes to browse road and mountain wheels or get your own repaired.
Outside of town, visit the twenty acres of flowers and greenery at Harmony Harvest Farm. While guests are always welcome to explore the grounds—including the Farm Shop and pick-your-own fields—Harmony Harvest also hosts yoga classes, workshops for crafting fall wreaths, and tours with farmers. The woman-owned operation grows over four hundred varieties of flowers, including peonies, ranunculus, dahlias, and heirloom chrysanthemums.
With Shenandoah National Park less than twenty-five miles away, there are plenty of Appalachian trails for birders, seasoned hikers, and visitors looking for a short mountain jaunt. Dark Hollow Falls is a short but steep 1.4-mile trek to a tall waterfall that is especially beautiful in the fall; the hike to Doyles River Falls includes two waterfalls and a trip across some streams. Birders favor the flat Tanners Ridge Road, which weaves past an old farmhouse, or the South River Falls trail, where hikers will find themselves at the bottom of a eighty-three-foot waterfall. You can always hop in your car and cruise across the top of the Blue Ridge Mountains on Skyline Drive, particularly stunning in the fall when the mountains below ripple with orange, red, and gold.