On July 1, 2020, North Carolina guide Seth Vernon poled his skiff to within casting distance of a string of tarpon, just off the beach in an undisclosed location along the southern shores of North Carolina. His client, a Greensboro angler named Ben Klein, cast a purple tarpon mouse fly to the lead fish. The tarpon ate the fly, and promptly spat it out. Unfazed, Klein backcast the fly free of the water and fired again. This time the second tarpon in the string sucked in the fly, and after a nearly twenty-five-minute fight, Klein had the fifty- to sixty-pound fish boatside.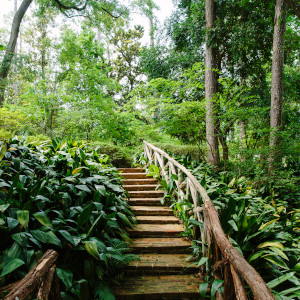 It was the state's second confirmed landing of a tarpon on a fly, a feat Vernon would later call his "Everest." But completing such a quest is likely to become more common. Reports of increasing numbers of the prized game fish are coming in from places far from Florida, a typical stronghold of the species. In Georgia and the Carolinas, and even in the Chesapeake Bay, anglers are catching tarpon hundreds of miles from any mangrove shoreline. Now, thanks to a groundbreaking study of tarpon movements along the East Coast, the growing presence of the silver king in more northern waters is no longer anecdotal. Scientists have a soundtrack of sorts to prove it. And a coalition of anglers, guides, and conservation advocates are using the findings to better protect one of the most revered species in the Southern sporting realm.
While tarpon are most closely associated with the Florida coast and the Gulf of Mexico, a recent study by scientists with the University of Massachusetts Amherst and Carleton University in Ottawa, in conjunction with the Florida-based Bonefish & Tarpon Trust (BTT), confirmed that tarpon are actually a sort of All-South athlete. The research group positioned nearly a hundred acoustic receivers in waters from Key West to Biscayne Bay to the Everglades, connecting to a dragnet of four thousand others in place for various research projects from the Gulf of Mexico to the Delaware Bay. Meanwhile, fishing guides partnered with scientists to catch and surgically implant tarpon with tiny acoustic tags. Unlike larger, more common satellite tags, which can't be used with fish less than one hundred pounds, acoustic tags are safe for tarpon as small as five pounds. Ultimately, some two hundred fish were tagged, and by the time the five-year project ended in 2021, the researchers had a half million tarpon detections from more than a thousand receivers. And the harvest of information will continue. More than forty tarpon will be tracked until their transmitter batteries go dead in 2026.
What the telemetry study shows "is that some tarpon move thousands of miles north along the Atlantic coast, and those fish are staying farther north for longer than anticipated," says Andy Danylchuk, professor of fish conservation at UMass and a BTT research fellow. Places such as the Altamaha River estuary in Georgia and South Carolina's Winyah Bay popped up as possibly critical migration areas. North Carolina's Pamlico Sound is also figured as a critical foraging area, with tarpon putting down roots in the estuary for several months a year, to feed on fatty menhaden that thrive in the darker waters of sounds and nearshore areas. Says Danylchuk, "Our studies help tie science directly to the experiences and observations of anglers and guides, and should move the needle on new ways to help tarpon thrive."
Already, BTT has used data from the study to successfully lobby North Carolina to make its tarpon fishery catch-and-release only. That was the first significant management measure built at least in part on the study's findings. In addition, new studies on the food preferences of tarpon in more northern waters could add punch to arguments that it's time to pull back on menhaden harvests. The small, oily fish travel in gigantic schools and are a primary prey for many larger fish species. In April 2022, BTT funded a study of stable isotopes from fin clips anglers took from tarpon they'd caught to help figure out the role menhaden and other forage play in tarpon ecology across the Gulf and the Eastern Seaboard all the way to Virginia. The study is ongoing, but many suspect that menhaden are a critical food source for tarpon in more northern areas, which underscores the need for conservation measures in a fishery that measures in the hundreds of millions of pounds.
The acoustic data showed fish migrating to northern estuaries like Pamlico Sound and the Chesapeake Bay during the summers, the same time menhaden populations in those waters swell. If the stable isotope study shows that tarpon are feeding heavily on menhaden and other forage fish, it could prompt greater conservation measures in conjunction with advocates for striped bass, another prized fish that has fallen on hard times. Last year, in fact, a coalition including BTT petitioned the Virginia governor to move menhaden fishing out of the Chesapeake Bay. That effort failed, but for Danylchuk, the findings "underscore the connectivity between the southern spawning areas and northern feeding areas," he says. "And that amplifies that tarpon management has to be regional and we need to get all the players around the table when it comes to the future of the tarpon fishery."