It starts in the parking lot. Maybe you see a Dorothy exiting her SUV in ruby slippers, a fuzzy lion climbing from his Subaru, a kid with a tin funnel strapped to his head. There's an energy too, a sort of happy bustle as folks walk from the gravel parking lot of Beech Mountain Resort down toward the check-in tent.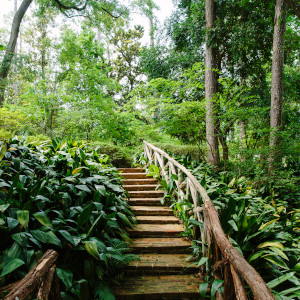 It's a breezy September morning and I'm about to experience opening weekend at the Land of Oz. I know a few scattered facts about this quirky spot not far from my home in Boone, North Carolina—24,000 visitors will trek Oz's 44,000 yellow bricks, folks from all fifty states and as far away as Australia—but though I live just minutes away, prior to today I've never visited the…what to call it? An open-air homage to the most watched movie in history? A theme park without rides?
"An immersive theater experience," my guide, Tabitha, will later tell me, and that feels exactly right.
The Land of Oz operated as a theme park from 1970 to 1980, and it was a big deal then: Debbie Reynolds and her then-unknown daughter Carrie Fisher cut the ceremonial ribbon. In its opening year the Washington Post named it the nation's Number One Tourist Attraction. Muhamad Ali and the original Scarecrow actor Ray Bolger visited. But there was also a fire, and a financial crisis, and the park closed in 1980. Despite stirrings of interest through the 1980s, it wouldn't welcome visitors back until a renovation in the nineties. Since then, it has become, as a friend describes it, the hottest ticket in the High Country: Each year, the park hosts nine days of Oz immersion over the course of three September weekends.
Oz sits at the pinnacle of Beech Mountain, and though buses shuttle visitors to the top, arriving by chairlift feels more appropriate, as if we boarded in one world only to step out into another. After a short weather delay—lightning, not a cyclone—my wife, daughter, and friend, the novelist Emily Nemens, make the chilly ride. Up top sits 5506' Skybar, a local institution known for drinks and views. Standing on its deck feels if not exactly on the roof of the world, most certainly on the roof of the Appalachian Mountains. The view is panoramic and stunning, the green velvet of the mountains stretching as far as the eye can see.
We pause, but only for a moment, and then make our way inside Oz. Around us are superfans, cosplayers, youth and senior groups, a giant of a man in T-shirt that reads "Pretend I'm a Munchkin," all of us gathering in an open plaza with an exact replica of Dorothy's Kansas house, accurate right down to the canned goods and Toto's water bowl. The show, the "immersive theater experience," begins here on Uncle Henry and Aunt Em's farm with three dancing farmhands. Dorothy, Toto in her arms, emerges soon enough to part a sea of cell phone cameras and sing "Somewhere Over the Rainbow," and—let me just say it—it's incredible. You don't have be an Oz fan, and you don't have to know a thing about the tragedy that was Judy Garland's life, to feel chills.
It's into Dorothy's house after that. Here we pass by the bedroom and the sitting room. Aunt Em waits in the kitchen where a weather bulletin comes over the radio as we make a hurried descent into the basement storm shelter for a "psychedelic tornado experience" of neon and sloped floors. When we emerge—perfectly disoriented—we are on the famed yellow brick road where, led by Dorothy, we encounter the Scarecrow and Tin Man and the Lion. We make our way into the Wicked Witch's forest—and oh that laugh! That cackle! At every stop, the characters perform. They're funny and skilled and perfectly costumed. It's like one big family operating in perfect synchronicity and loving every minute of it.
"It really is a love thing," Anna, a makeup artist will tell me later. She's air-brushing a flying monkey onto my arm while I ask why it is that everyone here seems so genuinely happy? "Because where else do you find people doing exactly what they love?" she responds, and she's right. The players come from all over the country to perform, and they do it again and again. Here, legacy casting is very much a thing: Dorothys come back as Glindas and Aunt Ems. In the Emerald City I meet Nathan, who's come all the way from Ann Arbor, Michigan. He's been a scarecrow and a flying monkey in the past. This year, he tells me with a flourish of his green cape, he's an Ozyian Aficionado.
But—it occurs to me—aren't we all?
Somewhere, at some point, we all saw the movie, didn't we? We laughed at the cowardly lion or ran out of the room when the Wicked Witch showed up (I know I did). Maybe we even read L. Frank Baum's books. It's all a part of our cultural DNA. I didn't arrive in Oz as a superfan; I didn't arrive, frankly, a fan at all. But I'm leaving as a convert. You can call it a theme park or an immersive theater experience, and you'd be right, of course. But to me, it's more a work of performance art, something that comes and goes as quickly as the fall foliage in these mountains. Something you can't quite appreciate without seeing, and, like the changing leaves, every bit worth witnessing for yourself.


Author Mark Powell teaches at Appalachian State. Next month he will release a new novel, Hurricane Season.