Southerners have never needed a reason to throw a party, but sometimes it's fun to have an excuse anyway. And as these eight fall happenings prove, the wilder the affair, the better.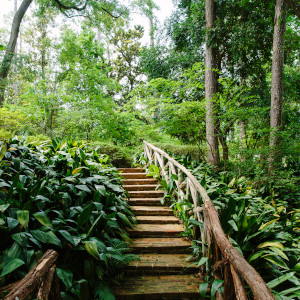 October 20–21, Jefferson, Texas
If everything is bigger in Texas, that must include furry forest lurkers. Bigfoot believers gather each year at the Texas Bigfoot Research Center in Jefferson to discuss sightings and view presentations about the famous cryptid. Founded in 2001 by Craig Woolheater, a man who had his own Bigfoot sighting years ago in Louisiana, the conference's goal is to facilitate a safe, judgment-free atmosphere for people to share their experiences. Jefferson was declared the Bigfoot Capital of Texas by its mayor in 2018, and local businesses have embraced the title, with gift shops carrying Bigfoot memorabilia and restaurants serving up "Bigfoot burgers" and "Sasquatch sandwiches."
---
October 20–22, Houma, Louisiana
Badly behaved Bayou kiddos are often told that, if they don't clean up their act, the Rougarou will come and snatch them up. The creature, whose name derives from the French word "loup-garou," is essentially a French-Cajun swamp werewolf. When he's not frightening youngsters, the legendary beast is the center of a family-friendly festival in Houma, where there's dancing, a costume contest, carnival rides, Cajun food, and a parade. All proceeds go to the South Louisiana Wetlands Discovery Center, a nonprofit organization that aims to educate about the disappearing Louisiana coast and how people can help it thrive once more. The Rougarou needs a place to live after all.
---
October 21, Fayetteville, West Virginia
West Virginia's New River Gorge Bridge is not just an architectural marvel—it's also the site of an annual adrenaline showcase. Every third Saturday in October, thousands of people gather around the 876-foot-high Fayetteville landmark (and centerpiece of the country's newest national park) to watch BASE jumpers parachute into the mountain-fringed gorge below. Jumpers will need to register in advance, while festivalgoers can simply set out on a guided walking tour of the bridge to learn about its history and enjoy incredible views.
---
International Edgar Allan Poe Festival & Awards
October 7–8, Baltimore
Based out of the Edgar Allan Poe House and Museum in Baltimore, this eerie extravaganza hosts fans of the famed poet for a weekend of literature, music, and art commemorating the anniversary of Poe's passing (this year is the 174th). The festival offers free events as well as ticketed experiences like the "Red Masque Program," which features the Nevermore Murder Mystery Room, One Man Poe Show, and Bloody Mary Brunch. A creepy highlight is the Poe Death Exhibit, a memorial service of sorts at the Westminster Hall & Burying Ground that features an open casket with a fake body meant to look like Poe. (You can also visit his real grave at the same site.)
---
Standing Stone Marbles Festival and National Rolley Hole Marbles Championship
September 16, Hilham, Tennessee
What better way to spend a beautiful fall day in a lush Tennessee state park than…playing marbles? Every September, marble aficionados gather at Standing Stone to share their love for the old-time game. It's the only state park in the nation with a dirt marbles yard, a nod to Clay County's history of turning out talented players. The festival agenda includes glass and flint marble-making demonstrations, marble roller coaster building, and bluegrass music performances. There's also a serious showdown: Some of the world's best players compete in "the Super Bowl of marbles," plus variations on the game like "Rolley Hole."
---
October 14, Marshall, Texas
A staple in Marshall, this red-hot event will return for the forty-first time this year and include the FireAnt 5K, the TourDeFireAnt long-distance bike ride, and the FireAnt parade, where attendees can show off their impressive bright-red ant costumes. There are plenty of vendor booths to browse as well as pizza, beer, and sweet treats, but the most exciting part of the day comes right before the final music act of the evening, when the FireAnt King and Queen are announced.
---
October 21-22nd, Banner Elk, North Carolina
Who needs the weather app when the forecast can be predicted by a worm? Every fall since 1978, a small North Carolina mountain town has hosted a vibrant celebration of the climate-aware critters. Woolly worms' bodies have thirteen segments, each of which (according to tradition) corresponds with a week of winter. If a segment is light brown, its corresponding week will have mild conditions. (If a segment is black, the week won't be as pleasant.) Back in the day, farmers used this dubious methodology to plan when they might harvest crops; now the bug brings people together to enjoy craft and food vendors, live entertainment, and worm racing. That's right: Attendees can race their own woolly worm at the festival for a prize of $1,000. The event looked so fun that another state decided to join in: Beattyville, Kentucky, has hosted its own Woolly Worm Festival since 1988.
---
October 13–14, Lewisburg, Tennessee
Held at Rock Creek Park in Lewisburg, this hairy fair celebrates all things goat-related, especially the Tennessee-native "Fainting" and Boer species, whose showcases are the main highlight of the festival. Goat-loving guests can also enjoy a barbecue cook-off, art shows, and goat yoga. Music is a core tenet of the festival, and the extensive performance lineup features bluegrass, acoustic, country, and rock and roll.