Dozens of bird dog contests take place each year across the country, but since 1915, the Super Bowl of the sport—the National Bird Dog Championship—has been hosted on six thousand acres of the historic Ames Plantation in Grand Junction, Tennessee. The thirty or so competing dogs may not know this particular gathering is such a big deal. They see grass-and-woods habitat, sense the presence of quail hiding within it, and go to work.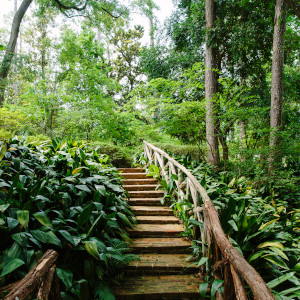 On February 21, after eight days of high anxiety for owners and handlers, one dog distinguished himself from the pack: Miller's Blindsider, a six-year-old English pointer owned by Nick Berrong of Maryville, Tennessee. The white, orange, and ticked champ, called Sam in the field, was making his third appearance at Ames, having qualified by winning the Masters Open Quail Championship in Georgia last spring.
"Sam has won some other big competitions, but nothing compares to this," Berrong says.
Released in pairs ("braces" in gundog lingo), the dogs get only one chance to stand out. On the second morning of the trials, under cloudy skies, Sam made his run with longtime trainer Jamie Daniels on hand. While the other dog in the brace made a point that didn't flush a covey and was removed from the field by its handler at just under halfway through the three-hour session, Sam hit an early productive streak, finding quail four times in the first thirty-three minutes and twice more before finishing.
As impressive as the run was, plenty more dogs would get their opportunity, and five others also finished with multiple finds. The three expert judges, who traveled to Grand Junction from Alabama, Kansas, and South Carolina, ultimately remembered Sam's performance and behavior as superlative. "His six signs were impeccable, and his endurance and athletic ability are amazing," Berrong says. "At the end he was already hunting another field, and could have gone for another hour or two."
When not flushing quail, Sam exhibits other "good dog" attributes. "He loves people," Berrong says. "Go up to him and he puts his nose under your hand. The trainer's kids play with him all the time."
Though Sam is already getting ready for his next competition, there are some benefits to being the newly minted national champion. Says Berrong, "I've told everyone that he can eat a big steak every week for the next month."