Sam Hart was working in ad sales when the cooking bug struck and with it, the idea for a restaurant. So they quit their job, enrolled in culinary school, and entered the world of fine dining. After fine-tuning their craft at establishments in Chicago, including the three-Michelin-starred Alinea, Hart returned to Charlotte, which their family has called home for generations. There, they opened Counter, an incubator for rising chefs with impeccably choreographed (even set to music) tasting menus.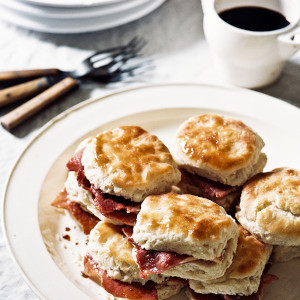 That was back in 2020. In 2022 Hart opened the wine bar Biblio, which focuses on pairing food with wine instead of vice versa, and this year they were named a James Beard Award finalist for Best Chef: Southeast. A third restaurant, Preface, is in the works for spring 2024. 
"It's cool to see a true culinary scene in Charlotte for the first time ever," Hart says. "For so long, it was the same stuff made by the same people." And though Counter is a big part of the city's food renaissance, it's in good company. Below, Hart shares their go-to haunts for fueling and indulging.
Breakfast
I usually sleep too late to get breakfast, but if I ever do, I go to Skyland for liver mush, hash browns, eggs, and toast. It's an absolute dive straight out of the eighties, with Greek columns, neon red lights, and old school green carpet. The service is so welcoming. The food is always cooked right. The menu is wildly large—I compare it to Café Tropical on Schitt's Creek. The owner is always working the register. I've been going there for thirty years now. It has a soft spot in my heart.
Lunch
Cheat's Cheesesteak Parlor opened in the last one or two years. It's a straight-up cheesesteak joint in a tiny building in Plaza Midwood. I go there way too frequently. I always get a Dole Whip and go back and forth between a Philly cheesecake and this hot Italian sub that is outrageously good. Everyone at Counter eats there once a week, minimum.
Inside a tiny market off Shamrock [Drive] is Rinconsito Chilango Taqueria. Made from scratch, it's the best authentic Mexican food I've had. They make the tortillas to order. They have other things—posole, tortas—too. I ate at thirty taquerias in Charlotte in one month; this was head-and-shoulders above anywhere else.
Dinner
For dinner, I like the Peruvian-Japanese fusion at Yunta. The cuisines and farming of both countries are very similar. The sushi and ceviche are spectacular. The vibe is a lot of fun. Peruvians have a non-stop party and that's very apparent there. Also, they don't shy away from heat.
The place I frequent the most is the Bottle Tree in Belmont, a suburb of Charlotte. It's located in an old house and serves very eclectic global cuisine. I always look at the menu and wonder what [the chefs] were thinking with those combinations, and then every single time it works. The last time my partner and I were there, we had ramen schnitzel. Ramen schnitzel? That sounds crazy, but it wasn't.
Drinks
Humbug just opened. It's the nicest dive bar I've ever been to. It has a pool table, beer on tap, and everything from Hennessy to Eagle Rare. It's a cool neighborhood spot with small, craft, unique items. Larry [Suggs] and Andy [Schools] are the owners and mixologists. They created an incredible cocktail list, and the space is so laid-back and unpretentious that last time we were there, we played Scrabble on the patio.
The goal at Idlewild is to have the most unique and curated cocktail experience you can get. I once asked what they'd give Rhianna if she walked into a saloon, and they made a drink for it. It was a Dominicana, now one of my all-time favorite drinks, made with rum and coffee and egg-white foam. The creativity is unparalleled. They don't have a cocktail list—it's just a conversation they have with you. I've gone there a lot and never had the same drink twice.