photo: NICK KELLEY
Let's see, where would you like me to start? With the trophy fishing? The majestic bush plane flights? The king crab and Wagyu feast? The deluxe-rustic lodge? The incident with the twenty-five-pound salmon? The bears? The poem?
I'll start with the fishing.
I was wading American Creek, in Alaska's famed Katmai National Park and Preserve, on the state's southern coast, hunting for monster Dolly Varden and rainbow trout, when my guide, Ryan McGraw, offered a suggestion.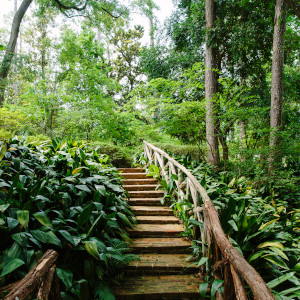 "Let your flies swing," he said. "The really big boys sometimes eat it that way."
I cast into the pool I'd been working for the past ten minutes and let my bugs drift as instructed.
Nothing.
I cast again. Mend…Drift…Swing…
Still nothing.
McGraw began to walk downstream, the telltale sign your guide is ready to move on to the next spot. I was about to give up on the hole myself, but I cast to one last piece of water, at the very bottom of the run, just to be sure I'd covered the full expanse.
Well, I could tell you about the nineteen-inch Dolly Varden I wound up catching on that cast, or the twenty-one-inch rainbow I caught three casts later—the one that was so hot we had to get in the boat and chase it downstream, where we watched it jump fully out of the water three times before we managed to land it. But instead, I'll skip ahead to the good fish.
That one took all of six casts more to summon up, and from the instant I felt it strike and saw my rod bend practically in half, I knew this wasn't your average Sunday brook trout. In fact, it was a twenty-five-inch Dolly, the biggest freshwater fish I've ever caught.
photo: NICK KELLEY
After I released it, I paused to have a moment. In the previous several days, I had flown 4,311 miles from New York to Denver to Anchorage to the tiny gateway town of King Salmon (population: 327). Earlier that morning, I had puddle jumped from Crystal Creek Lodge, my home for the week, to American Creek in a De Havilland Beaver six-seat bush plane, then jet boated upriver, anchored, hopped into the water, and walked several hundred yards upstream from there. Now I was standing knee-deep in just about the clearest water I've seen, in just about the prettiest stream I've set foot in—a shallow, snaking, grassy-banked jewel—with the sun making a somewhat rare Alaskan appearance and the snowcapped peaks of the Aleutian Range looming in the distance. This was a mere three hours into the first morning of the first day of my trip.
"The things people will do for a fish," I had said to McGraw as we disembarked from the Beaver and sloshed our way through a swampy bit of river to where the jet boat was anchored.
"Yeah," he said. "We're idiots."
I couldn't argue. But the way things were going so far, at least I was a happy idiot.
---
Some states are just states. Alaska is a whole vibe. Towering mountains, vast seas, rushing rivers, and calving glaciers on a scale that's hard to fathom. Epic snow, ice, wind, and rain. Brown bears, black bears, grizzly bears, and polar bears. Earthquakes and volcanic eruptions. Whales, sea otters, sea lions, walruses, seals, and salmon. Wolves, caribou, and moose. Bald eagles and ravens (and the state bird, mosquitoes). A rich, proud Native culture. Forests and tundra. Sled dogs, kayaks, and bush planes. John Muir and John McPhee. Oil and gold. Is there a more romantic collection of people, places, and things? Far from detracting from its appeal, the state's difficulties—the cold, the remoteness, the relative lack of paved roads—are half the point. In a world with no shortage of human development and creature comforts, they give the place its edge. They keep it wild.
Have I mentioned Alaska is large? In his memoir of traversing the state, Tip of the Iceberg, Mark Adams writes, "Alaska is essentially a small continent: big enough to hold Texas, California, and Montana (the second-, third-, and fourth-largest states) and still have room left over for New England, Hawaii, and a couple of metropolises." In his vast historical novel Alaska, James Michener notes that the word Alaska is derived from the Aleut term Alyeska, meaning "great land." You could spend a long time trying to come up with a more apt name.
photo: NICK KELLEY
To sportsmen, the state is a haven. Hunters roam its 365 million acres to pursue everything from caribou to waterfowl. Anglers select from a menu that includes, among other sought-after species, arctic char, Dolly Varden, halibut, trout, and the holy grail of Alaskan fishing, king salmon. Generally speaking, the waters are clean, clear, uncrowded, and well managed, keeping fish counts healthy and offering globe-trotting sport fishers that increasingly rare commodity: genuine aloneness.
I suppose I count myself among their ranks. I've been lucky enough to wet a line everywhere from Idaho and Montana to Belize and Chilean Patagonia. But I had yet to experience Alaska. My aim was to bomb around in floatplanes, catch my share of larger-than-average salmon, trout, and char, and maybe see a bear or two (ideally from a nonlethal distance). For my home base, I chose Crystal Creek Lodge, an outfit set hard against a perfect stretch of the Naknek River. Founded in 1988, Crystal Creek has been recognized three times as the Orvis fly-fishing lodge of the year. Though the Naknek is a fine trout stream in its own right, the lodge is primarily a "fly-out" operation, with guests (no more than sixteen at a time) taking off to different locations via its three floatplanes and one wheeled plane. The access to remote spots means they are often casting by themselves to big fish that have seen very few flies.
photo: NICK KELLEY
Dinner that first night started with a Little Gem lettuce and radicchio salad with Manchego cheese, Rainier cherries, and a tarragon vinaigrette; moved on to roast pork collar with polenta, sautéed mixed mushrooms, and caramelized cipollini onions; and culminated with homemade cantaloupe sorbet drizzled with white-chocolate sauce and topped with crushed pistachios.
The basement of the lodge is home to an aviation-themed watering hole called the Beaver Bar, with vintage propeller blades hung from the ceiling and tables made out of old De Havilland engines. When the bartender asked if I wanted my bourbon on the rocks with one big ice cube or lots of little ones, I had to blink twice to make sure I wasn't in a Manhattan boîte.
photo: NICK KELLEY
I had timed my trip for June specifically because the king salmon, the largest and most prized of Alaska's most coveted species, typically start running then. (Bristol Bay kings commonly tip the scales at fifteen pounds, and thirty-pound fish are not uncommon.) The next morning, the photographer Nick Kelley and I were scheduled to fish for kings. King populations have been declining, and the way we'd set up this trip, it would be our one and only shot at them. When I asked the gentleman seated beside me at the bar how his day was, he told me he and several other guests had been targeting kings themselves. "But we didn't see any," he said. I didn't pursue the issue. I didn't want to rub a sore spot. And I suddenly felt a little queasy.
---
Bush planes hold an almost mythic place in Alaskan culture. In an enormous state without a lot of great roads, they're an essential form of transportation. Look up pretty much anytime, anywhere, and there's a decent chance you'll see one buzzing around. At times you can feel like Henry Hill dodging the helicopters in Goodfellas.
Bush planes are also plain old fun. From just the right height, the views they afford are stunning. It's as if you're a human drone. The flying itself, bombing around in the sparest of machines like some kind of Wright brother, is the stuff of little kids' dreams. Taking off and landing on the water? It's a magic trick that never gets old.
photo: NICK KELLEY
All that said, the planes have their limitations. On day two of my trip, we were headed west, across Bristol Bay to the Nushagak River, home to the largest king salmon run on earth, when a wall of fog appeared over the bay ahead of us. Our pilot, Alex Oberholtzer, exchanged messages with a pilot who had just flown through the murk and reported that he wouldn't do it again if he had the choice. Oberholtzer turned the plane around. Not a single passenger complained.
While we cooled our heels waiting for the fog to clear, I took a self-guided tour of the lodge. Artfully taxidermied bears, wolves, moose, seals, ducks, and fish adorn the walls. Works by local painters and sculptors appear here, gorgeous stained-glass windows there. A lit display case holds armor, arrowheads, and other Native artifacts. I have now seen a walrus penis bone, the Native term for which is oosik. (One of the lodge staff members has a water bottle with a sticker that reads, "Don't be an oosik.") One might expect the hot tub, fitness center, and massage room, but a dedicated, screened-in cigar-smoking cabin came as a surprise to me. Lockers where you can change in and out of your waders resemble the fully tricked-out cubbies pro athletes use. Should you wish to go into the lodge after you've wadered up, there are giant rubber slippers to put over your boots so you don't have to take them off, for God's sake.
photo: NICK KELLEY
By 10:30 or so the fog had burned off, and we set out across Bristol Bay for the Nush. Beneath us, we saw the commercial fishing boats, canneries, and processing plants that make up the local salmon-industrial complex. Commercial salmon fishing in Alaska generates hundreds of millions of dollars annually and draws seasonal workers from across the world during the summer. It's a distinctive crew. On my flight from Anchorage to King Salmon, the flight attendant spiel included a reminder that dipping tobacco was strictly prohibited. A help-wanted ad for fishing crew members posted at the King Salmon Airport specified that applicants must have "no prior issues with authority."
A little after 11:00 a.m., Oberholtzer landed the plane on the Nush and chug-chugged to an outcamp where our jet boats awaited. Our guide, Kody Frantz, helped us transfer our gear, then zipped us upriver to the run where we would spend the day.
Here's how fishing for king salmon on the Nush goes: You drop a spinner in the water, stick the butt end of your rod in the rod holder, troll along, wait for a strike, then muscle in your fish. As a friend of mine says, "It's not fishing; it's reeling."
The whole undertaking makes for something of a scene. Dozens of makeshift salmon camps line the banks of the river, and boats with names like Krazy for Kings form an armada in the good runs. On one bank, there's a town called Portage Creek with a year-round population of two: a man and his wife. The man runs for mayor every year, Frantz told us, and votes for himself.
The purist in me was skeptical at first. But as we motored upriver, we saw a bunch of bent rods and heard hooting and hollering. "Looks like the kings are in," Frantz said, meaning the salmon had begun making their annual sojourn from the open ocean back to their spawning grounds. Improbably enough, we had arrived at exactly the right time. Who was I to turn up my nose at that?
It got better. Just a minute or two after I dropped my spinner in the water, I saw my rod tip twitch, then bow. I reeled like mad, and after a short but exciting tussle, I landed my first ever salmon—a gorgeous silvery ten-pound, twenty-three-inch king, a keeper. (Local regulations allow you to harvest one fish between twenty and twenty-five inches and one over twenty-five per day, and a total of five fish twenty inches or larger per year.)
Kelley and I went on to boat a number of nice kings that day. Rarely did we go more than fifteen minutes without one. One of the other pilots, Brian Schanche, who had joined us after lunch back at camp, bagged a handful more, including another keeper. But with less than an hour before we were due to return, we had yet to catch a truly big king.
And then: The next time I saw my rod bend, I grabbed it from the rod holder and started reeling. This time the fish felt stronger, heavier, feistier. It took a good ten minutes of give and take, but I eventually brought it close enough to the boat that we could see it. "Take your time with that one," Frantz said. "That's a good fish."
photo: NICK KELLEY
Three times I brought my would-be quarry almost near enough for Frantz to net it, and three times it took off. On my fourth attempt, with my forearm starting to burn, I had it within a foot of the boat, just inches from the net, when I felt a sudden, unholy pop. Just like that, it was gone.
Schanche had been recording the whole affair on video, so I can share with you word for word what I said, in all its insightful glory. The exact quote was "No, no, no, no. no." And then something unprintable. I was dumb enough to ask Frantz what he thought the fish weighed. "At least twenty pounds," he said. "Probably twenty-five."
---
On my third and final day in Alaska, we were fogged in again. But if ever a three-hour fog delay was worthwhile, this one was. When the mist burned off, the sun came out full throttle, and we headed to world-renowned Brooks Falls, in Katmai National Park and Preserve, where we hoped to see bears. The flight was the most spectacular yet—the sky an impossible royal blue, the mountains and rivers glistening. I asked Dennis Thacker, our pilot that day, if he ever got tired of the view. "You know," he said, "I don't."
After attending mandatory "bear school" at a park-entrance ranger station ("Don't leave food anywhere." Check. "If a bear charges, don't run—stand your ground." Easier said than done), Kelley, Thacker, and I followed our guide, Winston Kingman, a short distance to an elevated observation platform. The spot was undeniably touristy and a little crowded, and up on the platform there was no real danger of an unwelcome wildlife encounter. And yet, when we spotted a mother brown bear and her cub fording the river in search of salmon, everyone stood mesmerized as the bears swam and fished and splashed around. At one point, they climbed up on the bank and passed within thirty feet of us.
You may have seen our next stop, Brooks Falls, in pictures or on webcams. It's the spot where bears, sometimes lots of them, stand in a virtual lunch line to snatch salmon out of the air as they make their way upstream. Walking the trail, I remarked on the copious amount of bear scat. "You don't need to worry about it," Thacker deadpanned, "unless you see a finger." When we set up to fish about a hundred yards below the falls, we didn't see anything like a pack, but we did spot one male that had planted its rather large ursine posterior just beneath the cascade.
In addition to being potentially savage killing machines, bears are excellent indicators of nearby fish. Within half an hour, I caught a twenty-inch rainbow, stuck and lost a much bigger rainbow (we saw it jump before it broke me off), and netted a twenty-two-inch sockeye salmon, a relatively rare species to catch on a fly.
We finished the morning by bushwhacking a mile or so downstream, through a field of tall grass, to what Kingman hoped would be a good run. "This would be an excellent spot to surprise a bedding bear," Kelley said as we hacked our way through the grass. We all laughed weakly. When the run in question turned out to be unproductive, we did what any anglers in our situation would do—hopped in the plane and headed to a new spot.
photo: NICK KELLEY
If there's a prettier place on earth than the mouth of Margot Creek where it empties into sapphire-blue Naknek Lake, I don't know of it. Before we started fishing, we set up a picnic lunch—lamb gyros on homemade pita bread, hot bison chili, Rice Krispies Treats—by the plane. With the snowy peaks of the Brooks Range as a backdrop, we could have been in a beer commercial. Kelley and I completed the effect with a couple of Alaskan Ambers.
Afterward, we waded up Margot Creek. My companions caught a handful of fish, but for the first time in three days, I got skunked. As we headed back to the plane, I decided to try my luck in one last spot. On the very next cast, I caught a pretty sixteen-inch Dolly. I released it and watched it swim away. My Alaskan fishing exploits had come full circle. Dolly to Dolly, dust to dust.
photo: NICK KELLEY
---
The lodge's guests for the week, me included, were due to fly home the next day. In keeping with lodge tradition, dinner on our final night was an over-the-top "reef and beef" feast of Alaskan king crab legs and fillet of Wagyu, served with roasted cauliflower, whipped buttered potatoes, and angel food cake with sabayon and fresh sliced nectarines for dessert.
After dinner, in accordance with another lodge rite, Crystal Creek proprietor and co-owner Dan Michels handed out a few lighthearted awards and then announced he was going to read a poem written by the acclaimed British Canadian poet Robert W. Service, a.k.a. "the Bard of the Yukon."
Michels is a tall, imposing figure with a shock of white hair. A pilot, entrepreneur, angler, food-and-wine enthusiast, history buff, gracious host, and master storyteller, he's exactly the one-of-a-kind, self-reliant sort Alaska is known for. Standing at the head of the communal dining-room table, he opened a well-worn jacketless edition of The Best of Robert Service and began to read.
"The Spell of the Yukon" is narrated by a man who came to Alaska during the gold rush and, despite many hardships, fell deeply, obsessively, in love with what he found. In the final stanza, he realizes why he's so drawn to the place.
There's gold, and it's haunting and haunting;
It's luring me on as of old;
Yet it isn't the gold that I'm wanting
So much as just finding the gold.
It's the great, big, broad land 'way up yonder,
It's the forests where silence has lease;
It's the beauty that thrills me with wonder,
It's the stillness that fills me with peace.
When Michels finished reading, there was a churchly hush. A few of us may or may not have dabbed at our eyes.
photo: NICK KELLEY
It's been said that everyone in Alaska is running either toward something or away from something. Service's narrator and the other prospectors came seeking gold; the other guests and I came looking for fish. But the real treasures are ones you can't hold or put a price on. Beauty. Solitude. Adventure.
Back at home a few days later, I made a salmon dinner for my wife, my daughter, her boyfriend, and my son with the keeper king I had caught. I also read them the poem. On my last night in Alaska, I had told Heather Oberholtzer, the lodge's manager and Alex Oberholtzer's wife, that was my plan.
"You know what I love about that?" she said. "The story just keeps going."