photo: Sully Sullivan
It's a Tuesday night in September, and the North Myrtle Beach shag club Fat Harold's teems with leather-tanned men and dyed-blonde women reliving the time of their lives on the dance floor. Mott Free spots Kaleb Brown, a friend of her grandson Grayson's. Kaleb and Grayson competed together on the Junior Shag Dance Team, traveling from Australia to Paris to California to spread the gospel of the shag, the state dance of the Carolinas. He's here tonight on leave from the Navy, and soon asks Mott to dance.
Mott, who is eighty-two, looks as though she could be Kaleb's mother rather than his "Nanny," as her grandchildren call her. She wears her hair in a stylish honey bob, along with gold hoop earrings, a loose white button-down, and yellow floral pants, the billowy kind favored by female shaggers for the ripples the dance induces.
A Rock-Ola jukebox glows in the corner, but the music comes courtesy of the Fat Harold's wood-paneled DJ booth, one of the most coveted spots for spinners on the coast. Mott and Kaleb hold right and left hands, respectively, and begin to shag to Frank Sinatra's "Fly Me to the Moon," smoothly accordioning together, one-and-two, pause, three-and-four, and then rocking back and forward on the five and six counts to starting position.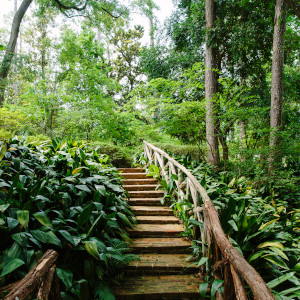 That's what's called the "basic," but these are professionals—the Beach Shaggers National Hall of Fame, headquartered in North Myrtle, inducted Mott in 2000. Unlike most partner dances, in the shag the lead does most of the fancy footwork, and Kaleb doesn't disappoint, boogie walking and pivoting with Mott, "the prettiest move," in her opinion.
This crowd is nothing, Mott says. As the younger set gets off of work and out of school on Friday, they will make their way here to the Grand Strand region of the Carolina coastline for what remains of SOS, a ten-day get-together put on by the Society of Stranders every fall and spring that draws more than ten thousand shaggers for club hopping, block parties, workshops, and concerts by beach-music bands that have been crooning since the fifties and sixties—the Embers, the Swingin' Medallions, the Catalinas, Band of Oz.
Still, the hordes have undeniably gotten older, their hair thinner, grayer. Mott walks to the Harold's back room, with its smaller dance floor. There, plaques honor the Keepers of the Dance, a group the Hall of Fame started in 1998 to help counter that trend by honoring young people keeping the shag alive.
Mott points to a photo of a handsome teen with a swoosh of sandy hair: "Here's Matt." The Keepers tapped Matt—the youngest of Mott and her late husband Bobby's three sons, and Grayson's father—in 2001. As a Bass Weejun–loafered wunderkind, Matt competed on the junior shag circuit in the eighties, winning a record forty-three contests in a row, his plaque notes, as well as two junior national championships.
Matt and his generation learned to shag from their parents, a secondhand love; by that time, the dance's popularity since its postwar advent along Carolina shores had faded like a suntan in winter. But to the original shaggers, the dance still sparks a Pavlovian pleasure—the euphoria of youth, of newfound freedom, of dancing the night away at the ocean's edge, the moon the beachfront bacchanalia's only spotlight.
"It was a lifestyle," Norfleet Jones, one of the old-timers, explains. "It covered not only your three minutes on the floor, but it covered friends, attitude." Hints of that joie de vivre remain. You can see it when Grayson, a recent graduate of the Citadel military college in Charleston and one of the smoothest Gen Z shaggers, steps out onto the floor and boogies with abandon in his father's actual footsteps—he picks up Matt's moves by watching videos Bobby once made on a hulking camcorder.
photo: sully sullivan
As Mott leaves Fat Harold's, shaggers spill out of the open-air OD Pavilion, and a band plays in the Spanish Galleon club's parking lot. "Now that it's SOS, all these places are catering to shaggers," Mott explains as she crosses Main Street to Duck's Night Life, but Harold's is North Myrtle's only surviving full-time club. On this evening, though, pilgrims from as far as California shag under blue lights at Duck's, and Mott perches at a high-top with friends until an older gentleman asks her to dance. The Frees have a rule: It's rude to say no. Plus, Mott says, "somebody else who can dance might be looking and say, Well, she won't dance with him, she might not dance with me!" And with that, out she goes.
It's getting late but no one seems to flag. In North Myrtle, eternal youth beckons not in a fountain, but on these dance floors. Mott and other shaggers retire here to do just this. Still, there's real worry among her generation: What happens to this indigenous dance of the Carolinas when those who first put Weejuns to wood finally pass?
"Just like the tango, it's not going away," Mott says. "But the way we know it is going away.
---
To understand what Mott means, you need a little history. But if anyone tries to tell you they know the one true story of how the shag and its eyebrow-raising name came to be, they are at the least misinformed. As Mott says, "You could ask a hundred people and get a hundred different answers."
Most agree, though, that the shag—or what many simply called "fast dancing"—sprang from the big-band swing moves of the thirties and forties, slowed to the cadence of the Carolinas. The humorist Lewis Grizzard described it as "doing the jitterbug on Valium." Former Broadway dancer Stanley Catron, who landed the cover of Life in 1943 doing the Lindy Hop, once quipped, "Old Lindy people never die, they just do the shag." Famed instructor Arthur Murray taught a version, later known as the "collegiate shag," that looked more like the Jazz Age's Charleston.
All of those dances—including the Carolina shag—owe their flair to the influence of Black dancers and musicians. At the Big Apple in Columbia, South Carolina, where the Big Apple swing dance began, white teens would watch the Black dancers from the balcony. Mott recalls doing the same at the old County Hall in Charleston, where she saw Jackie Wilson perform.
Crossing that divide could come at a price. Myrtle Beach shaggers picked up moves at Charlie's Place, a "Chitlin Circuit" club on the Hill, a Black neighborhood not a mile from the Pavilion. There, everyone danced together, regardless of race. "We hugged each other's neck," recalled Leon Williams, an inaugural Hall of Famer, in Frank Beacham's book Whitewash: A Southern Journey through Music, Mayhem & Murder. "If you had been at the beach in that period of time, you'd thought segregation didn't exist." Harry Driver, another Hall of Famer, credited with perfecting the pivot, visited the juke joint so often that owner Charlie Fitzgerald, a striped-suited New York dandy, didn't make him pay a cover. "We emulated what they did," Driver told Beacham. "Everybody claims to have started the shag. Nobody started it. It evolved from one dance to another in a big melting pot."
In the summer of 1950, the racial mingling inflamed the Ku Klux Klan. They paraded in convertibles in their white sheets through Myrtle Beach to Charlie's Place to threaten Fitzgerald, who refused to back down. About sixty of them returned that night and unloaded more than five hundred rounds of ammunition into the building and kidnapped Fitzgerald, whom they thrashed with a bullwhip.
Fitzgerald reopened Charlie's but died a few years later, his club eventually following him—but not his legacy. Charlie's regular "Big George" Lineberry, another Hall of Famer, went into the business of filling jukeboxes up and down the coast with 45s featuring the rhythm and blues he had heard there, "race music" then largely banned from white radio. The only way to hear what then came to be called "beach music" was to head to spots like Atlantic Beach's Idle Hour, North Myrtle's Pad, or Pawleys Island's pavilion.
Much of that vinyl came from Randy's Record Shop, a mail-order outfit that advertised on Nashville's WLAC, which broadcast news and pop clear down to the Caribbean—until nightfall. Then on came the likes of Duke Ellington, Big Joe Turner, B. B. King, and Etta James. In her hometown of Bamberg, in the South Carolina Lowcountry, young Martha "Mott" Brabham stayed up late to listen to WCKY, which did the same. "I have always been a rhythm and blues girl," Mott says. She learned to shag by watching her older sisters, Barbara and Rose, tagging along as early as ten as they danced to Black bands that played at the Folly Beach pier every weekend. "There was no such thing as lessons back then," Mott says.
Instead, anywhere with a Wurlitzer became a de facto dance studio. High school cafeterias had jukeboxes. Municipal swimming pools did, too. American Legion outposts, resorts in places like North Carolina's White Lake, and open-air pavilions that clung to the sand from Virginia Beach to Edisto racked up quarters. "The only competition there was, was with yourself," recalls Norfleet Jones, a Raleigh native and Hall of Famer who became so enamored watching shaggers at Atlantic Beach, North Carolina, in 1955 that he didn't go back home that summer, staying instead to study the dancers. "The greatest prize you could win was clearing the dance floor."
photo: sully sullivan
After scoping out the best, a tenderfoot would return home, loop a towel or necktie or pantyhose to a doorknob or bedpost, and hold onto the other end to practice until they had the belly roll or sugarfoot down pat. Mott often emulated Charleston shagger Jean Rogers, a dance instructor who later opened a beloved shag club called J.B. Pivots. "Everyone wanted to dance like Jean," Mott recalls.
Each region put its own accent on the shag. Lowcountry dancers prized smoothness, like gliding over eggshells. The first time Mott witnessed showier dancers from Myrtle Beach, she joked they moved like they had "the rickets." To polish her own style, Mott sweet-talked friends into hauling her to shindigs two hours away at Isle of Palms and Folly, shagging holes in her slippers by day and sleeping in cars by night.
In 1958, at a weekly dance held at a Jaycee hut, one great dancer in particular caught seventeen-year-old Mott's eye: a "little blond-haired boy" from Cottageville, wearing draped peg pants and a jaunty felt hat. "I remember exactly where I was when Bobby came over and asked me to dance," she says. Mott's longtime boyfriend walked up in time to hear the request, and stormed out to the car. Mott eventually followed her boyfriend outside—but not before she danced with Bobby Free.
"I ended up marrying a man who loved to do what I did," she says now, choking up. "It may sound crazy—how in the world do you build a marriage on dancing? Shagging gets into your emotions."
---
For Matt Free, one of the best shaggers of his generation, his love of the dance ignited the night in 1980 he sneaked into his parents' bedroom in Cottageville. There, his father, Bobby, kept his and Mott's carton of vinyl. Ruth Brown's Rock & Roll. Wilson Pickett's It's Too Late. Esther Phillips's What a Diff'rence a Day Makes. He turned on the record player and slipped the 1957 hit "Think" by the "5" Royales onto the spindle.
By then, the rock and roll of the sixties and seventies had twisted and frugged and hippie-twirled all over partner dancing until disco dawned, and now Blondie's "Call Me" topped the charts. Even so, eight-year-old Matt couldn't resist his parents' old rhythm and blues—though the fragile vinyl was off-limits. When Mott walked in on him, he knew he was in trouble. But Mott had another idea. "Do you want to learn how to shag?"
After Mott and Bobby had exchanged vows in 1960, they remained faithful to dancing. Weekly date nights to the Five O'Clock Club, in Charleston. The Elks Club in Walterboro. The Ramada Inn, in Santee. As Mott cradled their son Richard, then Robbie, and, finally, Matt in her arm, she held onto the kitchen counter with the other hand and shagged. Just a few minutes into her lesson with Matt, Mott ran into the living room, beside herself. "Bobby, Bobby! Matt can dance."
As it happens, that same year, former Ocean Drive lifeguard Gene "Swink" Laughter decided to stage a reunion with his fellow "shag hounds." He spent "hours and hours on long distance trying to find old beach bums," he recalled for the shag exhibit at the North Myrtle Beach Area Historical Museum. He also tossed out a message in a bottle coded with words and names only shaggers would recognize: SOS. Reward for delivery. Please see that this gets to Captain Earl Bostic of the USS Flamingo in the Port of Charlestowne. Raven is rocking off the Carolina Banks. Migration is under way. Due at Oak Tree September 11th. Signed, James Ricks, Captain, USS Raven, 14 June 1897. After the antique glassware washed up at Myrtle Beach, the yellowed missive made headlines from Los Angeles to New York. (Naturally, a Sumter, South Carolina, radio personality beat experts at the Naval Institute and the Smithsonian in unraveling the prank.)
At that first gathering of the newly dubbed Society of Stranders, Laughter expected five hundred or so pals might join him at their North Myrtle stomping grounds. Instead, thousands showed up, eager to put leather-soled loafers to warped floorboards. As Laughter wrote in an editorial afterward, "the Grand Strand was our true alma mater."
Back in the Lowcountry, in Walterboro, where the Frees had moved, word got around that Matt could shag. A local couple asked Mott and Bobby to instruct their children, too. Mott decided to invite all the children at Matt's school. "I had to figure out, how do you teach this thing I've been doing my whole life?" The synagogue in town offered up space, and a hundred kids, from first grade through twelfth, came. One girl, a former gymnast named Leslie Williamson, showed promise. Bobby knew: If Matt started competing, Leslie would make a great partner.
photo: sully sullivan
Thanks to the now-annual SOS, shagging had resurged, with North Myrtle and the dance floors of Ocean Drive at its heart; in 1982, "the first time I ever came to SOS," Mott recalls, "I couldn't believe it—I'd never been in a club where you had to turn sideways." And "beach music" came to denote not just old-school R&B, but also shag-friendly songs with lyrics soaked in the coconut scent of suntan oil: "Ms. Grace," by the Tymes, "I Love Beach Music," by the Embers, "Sixty Minute Man," by the Dominoes, "Under the Boardwalk," by the Drifters, "Be Young, Be Foolish, Be Happy," by the Tams, "Summertime's Calling Me," by the Catalinas. As General Johnson, the Chairmen of the Board front man, once said of beach music, "If I write a song down here, it'll last for fifty years. Anywhere else the lifespan of a song is six months."
Shag societies and clubs popped up across the Carolinas—from Irmo, South Carolina's Weejuns, to Groucho's in Charlotte—and beyond: Atlanta, St. Louis, Pittsburgh, Memphis. Lessons and contests within these groups heated up with the formation of the Shag Preservation Association, which standardized judging, and later, the Competitive Shaggers Association. With that progression came the rise of "mirror steps"—choreography in which a couple reflects each other's moves—and more flamboyant footwork.
Soon Mott and Bobby were shuttling Matt and Leslie each weekend to a contest, Matt in his tailor-made "boogie britches" and Leslie in pedal pushers. Matt began concocting new steps—the "dead leg," for instance, in which he would swing his leg as though the weight of it were freed from his body—and he and Leslie dominated, taking the top spot at just about every junior competition they entered, including the National Shag Dance Championships, freshly dreamed up by instructor Barry Thigpen, in 1985 and 1986.
In between, Mott worked at a bank and Bobby ran his own security company, and taught "like crazy every night," she says, not only children but adults, too: The Frees answered calls for lessons from Georgetown to Savannah. Eventually, they opened up a shag club for kids in Walterboro called Annie's, where Matt and his friends DJed for the small fry.
Across the country, Robin Swicord, then a budding Hollywood screenwriter, was working on a film, with a story by Lanier Laney and Terry Sweeney, featuring four teen girls who go to Myrtle Beach "to meet boys" and to discover themselves—and to dance the shag. While Swicord hadn't heard about the shag's revival, her mother had been a champion dancer in her hometown of Columbia and spent summers at Myrtle. "My mother would shag all the time," Swicord says. "If the radio was on, she'd grab your hand."
A set of Brits "who thought it would be a finger in the eye of the state," Swicord explains, "if there was a big marquee that said Shag"—a U.K. euphemism for sex—financed the indie, and the starlets Bridget Fonda, Page Hannah, Phoebe Cates, and Annabeth Gish signed on. While scouting locations for the 1963-set film at Myrtle Beach, Shag producer Julia Chasman recalls being shocked to find "there was a whole ready-made world of people, including young people, who still did the dance and lived that fun life."
Before the camera rolled, though, the actors needed to learn how to shag. When the film's choreographer, Kenny Ortega, asked to see the best local dancers, Barry Thigpen showed him footage of Matt Free. "He said, 'I need to meet this guy,'" Thigpen recalls. At that time, the summer of 1987, Matt was only fifteen, but he "could dance as well as anybody."
Thigpen and his wife, Pat, offered a pullout sofa to Matt, and he slept there during filming. "I'll never forget it," Matt says of teaching Ortega and the actors, and of appearing in Shag as a featured dancer. "It was probably a good thing I wasn't really starstruck." Gish, on the other hand, who played "Pudge," a shy teen who turned swaggering shagger by movie's end, may have been—by Matt.
"When Matt would step in to lead me," Gish recalls, "I became a better dancer. I was enamored by this teenage guy who could just whisk me around. It's like his feet were barely moving, but they were just doing all of these ridiculously intricate steps in loafers. I'm pretty sure I had a big crush on Matt Free."
Making Shag along the Grand Strand in fact became an "iconic summer" for Gish. "We were filming on the beach, we were immersed in the beach lifestyle," she explains. "I was also coming of age at the time, and I was also seeing this whole new world." In the end, that world didn't expand beyond the big screen; when Shag was released in 1989, the movie did modestly well, and eventually became a cult favorite. But the shag itself didn't take off. By that time, Matt had moved on, too, at least from competition.
Stopping had been a hard decision; his parents thrilled to watch him excel at a pastime they loved. But at an age when Mott and Bobby had been hitching rides to the beach and shagging for fun, their steps full of spontaneity and joy, Matt was living a highly choreographed life. A new driver's license, and high school sports—baseball, basketball, and the football team, where he starred as running back—called. "I had danced so much, seven or eight years straight, all over the place," he explains. "I felt a little burned out."
---
In the winter of his sophomore year at the Citadel, Grayson Free stood guard at one of the white wedding-cake barracks the cadets call home. Beneath his beanie, he wore a pair of illicit AirPods, and as "White Port & Lemon Juice" by the Bel-Aires boomed in his ears, he began to shag.
"I didn't think anybody was looking," the lithe blond says, but another cadet had wandered up. "What are you doing?" the cadet asked. "I'm just dancing, dude," Grayson replied.
Grayson, who is now twenty-two, has been just dancing since he was barely seven, when he and his father, Matt, were watching a shag contest at J.B. Pivots in Charleston. Matt noticed tiny Grayson tapping his foot to the music. "Grayson, you like that?" Matt asked. "Yes, sir," he replied, and so Matt took him outside to show him the steps. "In five minutes he got the basic, and then went in and danced with someone," says Matt, who immediately called his mother. "Mom, Grayson can dance, Grayson can dance!"
To Mott, history repeating felt bittersweet. "I wish Bobby could have seen," she says of her husband, also a Hall of Famer, who died in 2006 of prostate cancer. "Grayson is the easiest person to dance with. His granddaddy was like that. It's just like you have a feather on the other end of your arm."
Few Carolina children outside the shag ecosystem get exposed to the dance in any formal way beyond the likes of cotillion. Grayson never took lessons, either, but his Nanny and Dad gave him plenty of advice. Soon he was taking his smooth style and knack for creating eye-catching moves—"the Chuck Berry," most notably, for which he plays his leg like a guitar—to competitions.
photo: sully sullivan
Each July, he would also spend a week at Junior SOS, a summer camp for shaggers under twenty-one that began in 1991. Since then, the program has played a pivotal part in recruiting young dancers. Between the kids and the adults who bring them, Junior SOS attracted more than a thousand people pre-pandemic; after skipping two years in the heat of COVID, attendance has dropped some 40 percent, says Garrett Humphries, the president of the Junior Shag Association, which puts it on.
Jackie McGee, one of shag's winningest competitors and biggest ambassadors over the last forty years with her husband and partner, Charlie Womble, is determined to boost those numbers. "I keep thinking this could all go away very easily," she says. "Seeing the age of the dancers, if we don't have people in their thirties, forties, and fifties, too, we're in trouble." She and Womble teach in-demand Monday night classes at Fat Harold's, but she's most ardent about Junior SOS.
"These kids—not texting, not being on their phones all the time—they're out on the dance floor, dancing to every single record," McGee says. "I'm thinking, My goodness, these are your friends for the rest of your life and you don't know it yet. These will be the people, when you're fifty and sixty, that you're still talking to and socializing with. You'll still have that common bond."
That's certainly been true so far for Grayson. He met his best friends and dance partners there, including Kaylee Bravo, a twenty-three-year-old who placed third with him at this year's freewheeling Keepers of the Dance competition in February, at Fat Harold's. She recalls loving to dance, too, with Matt, who would take vacation days from his job in IT sales to teach at Junior SOS. "He and Grayson have such a unique style," Bravo says, "and whenever me and Grayson dance, you hear him in the background screaming the loudest for his son."
Even so, when Grayson began to burn out and turned to soccer and skateboarding instead, Matt understood all too well. Grayson still showed up for Junior SOS, though, and the dancers there eventually lured him back to competition, and onto the Junior Shag Dance team—and his skills would come in handy at the Citadel. He easily won a spot on the school's elite Summerall Guards; he wears the patch for the precision drill team on his blue drab field jacket, near the sleeve that bears his class numeral, 23, and the "legacy patch" bearing that of his father's Citadel graduation year—94. "I was like, dude, all it is, is counts," he recalls. "I've been learning counts my entire life."
Shagging let him cut loose from that regimented day-to-day. He and his friends would rent a house at North Myrtle and dance into the wee hours as Mott and her peers once did. When he enters a contest these days, he does so to show off his moves. "He likes to dance better than his daddy liked to dance," Mott says.
But Grayson worries about the drop in junior-aged shaggers, too. "Back in the day, there were so many," he says. "I don't want my generation to be the reason it dies." He dreams of opening a shag club in Charleston. The bump and grind of today's style of dancing along King Street, where Grayson and his buddies hang out—"it's not as fun, you know?" he says. "It's different when you're holding hands and you're connecting with somebody. I want people to experience the shag the way I have." 
---
The first night of March's National Shag Dance Championships, Grayson and his partner, Karsyn Folds—the grandchild of another Hall of Famer—tear up the floor to the Penguins' "Baby Let's Make Some Love" as the audience, packed to standing-room-only at the Spanish Galleon, whoops and yells.
The Galleon, a pink-and-teal fever dream with dance cages and disco balls, connects to the Ocean Drive Beach and Golf Resort. Known as the OD, the hotel belongs to former county councilman Harold Worley, who also owns Fat Harold's—he took over just before the original owner, the much beloved, Harry Caray–beframed Harold Bessent, died in 2015. Out-of-towners stay there for North Myrtle's myriad shagging events, many of which raise money for scholarships, another lure for young shaggers; these championships alone have awarded more than $300,000 to students in the past quarter century.
During the three-day contest, the OD swims with signs of practice: the scuffle of loafers to Barbara Lewis's "Hello, Stranger" seeps under a door on the eighth floor. In the lobby, a father counts steps for two shaggers who barely reach his waist. Another couple rehearses on the mezzanine, below the plaques telling the stories of Hall of Famers going back to the first class of 1983.
Coming together for the sake of the dance now means even more to the Frees; Matt, who is fifty-one, has moved from Charleston to Montana with his second wife, Andé, and their children. On Friday morning, Mott's son Robbie cooks a big brunch of shrimp and grits at her house for everyone; Grayson straggles in after a late night out, and after a cup of coffee, he and Matt goof around practicing one of his dad's old steps in socked feet; Grayson wants to slip it into the dance he and Folds will do that night to Ben E. King's jazzy "Moon River."
Later, at Fat Harold's, Mott and Matt sit at a cocktail table as Grayson and Folds run through the choreography. When they finish, mother and son consult. "So, that second little lean?" Matt asks. "How do y'all feel about that one?" A tweak here, a tinker there. They rehearse again and Matt claps. "So much better."
Lulu Quick-Rigsby, the longtime manager at Fat Harold's, looks on as the two take another spin in front of the mirrors. She started working off and on for Bessent, "the Fat Man," in 1980; she and Worley sat by his bedside as he ailed, and "promised him we'd keep his legacy going as long as our health would let us." Quick-Rigsby, though, is tired. "I'm sixty-eight, and I would love to retire," she says as she sits in her office, cluttered with photos and plaques and invoices and DJ schedules. "But you got thirty, forty, fifty thousand people depending on you to keep a place open so they can have somewhere to go. It's going to be a harsh reality one day." The Frees, though, exemplify the best of what shagging can mean, she says, why it and the tight-knit community it spawned have survived nearly a hundred years—and why she's sticking around. "Love," she says. "That's the common denominator for everything around here."
That, and Fat Harold's, and North Myrtle Beach itself. "I've traveled in all the dance worlds," Jackie McGee elaborates, "country, ballroom, swing. None of them have what we have. They're a hundred times bigger, but they're scattered. The thing that has kept us the closest is that we have a central place."
photo: Sully Sullivan
The Saturday of finals, Grayson wears a pendant of gold shagging loafers, one that once belonged to Bobby. He and Folds dance with such spirit that sweat drips into Grayson's eyes and he instinctively flings his glasses toward the judges' table, but to an untrained eye, it looks like yet another flourish to get the crowd going.
When Grayson competes, "it's the only time he gets nervous," Andé says, pointing to Matt, whose eyes are fixed on the dance floor, fists pumping. Mott can barely stand to watch. They all hug and high-five Grayson when he comes off the floor. Matt says the weekend has given him the bug: "Mom and I are going to dance next year."
The ties the shag tightens in other families, too, surface as the emcee begins to call out winners and runners-up with surnames that echo across divisions and generations: Brown, Sellers, Batten, West. But before she can finish, the lights flicker, and the crowd gasps. Then they snuff out completely.
This cut to black—one might be forgiven for wondering if it's some cosmic metaphor for the shag and its future. Instead of panicking, though, the crowd starts to titter. A shagger shimmies up a cage, and yells, "Is there any more tequila?" And one by one, young and old get out their phones, and turn on their flashlights.
The dance floor emerges from the dimness, and the rest of the champions are announced. Grayson and Folds, two of the youngest in the professional category, are happy to snag third. And even as the crowd begins to help one another up the steps to leave, no one seems fussed. It's just another memory-making moonlit night on the Grand Strand.
"Hey," someone shouts across the darkness. "Y'all wanna go to Fat Harold's?"