The Old 96 District of South Carolina, spanning five counties along the state's western side, has a storied history, including Revolutionary War battles and Civil War landmark moments, and has produced storied figures. From Edgefield alone have come the likes of the acclaimed enslaved potter David Drake and Strom Thurmond, the country's oldest-serving senator, known for his staunch opposition to the civil rights movement. These days, visitors are just as likely to head to the area for its landscape, drawn by winding country roads, twelve-thousand-plus acres of peach orchards, and plentiful state parks with hiking and biking trails. And, if they're in search of a good meal, by Christine's Farm to Fork.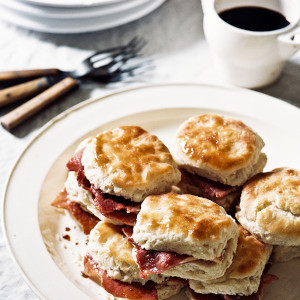 Located just around the corner from the Edgefield town square, Christine's Farm to Fork and the Korean-Greek American at its helm, Christine Smith, have become integral parts of this rural community of fewer than 2,500 people. The restaurant's menu reads much like an epicurean's travelogue inspired it—chicken marsala, crab cakes, a gyro platter, shrimp and grits.
"That's just as America goes," Smith explains, "and is where we are at today with a melting pot of cuisines and family recipes." And that's how it goes for her, too. Smith grew up as an outgoing military kid who enjoyed a life of travel and the exposure to cultures that entailed. "I've always been a people person because I was forced to be that way," she says. The menu reflects those jaunts, and her heritage—Greek from her father and Korean from her mother—and her marriage to a South Carolina native, Jake, who was also in the military.
When the couple decided to set down roots, they bought Jake's family farm and home of nearly 140 years in Johnston, just northeast of Edgefield. There, they focused on cultivating the land and raising produce to sell at local farmers markets. Their two sons, Jacob and Jared, had already moved to the region to attend college, and had learned the ins and outs of hospitality while working at Old McDonald Fish Camp, in North Augusta. So when the Smiths' realtor showed them an Edgefield restaurant space, they all saw the possibilities.
Launching the restaurant, though, became not just a family effort, but a community one. "Every place we turned, it was like, 'Let me get you in touch with this person and that person,'" Smith recalls. "What was amazing about this journey is how many people stepped up." Christine's Farm to Fork opened in October of 2021, with Jacob and Jared as the chefs and Smith at the front of the house. All the while, she and Jake have continued to work the farm, supplying the kitchen with the freshest of harvests.
Now, on any given night, the fine dining room crowds to capacity. But the restaurant and Smith have come to feed their neighbors beyond the food. Smith helps plan and execute the likes of block parties and charitable fundraisers as the chairperson of the board of the Edgefield County United Way. Samantha Guber, a professional counselor who works as an embedded therapist with local law enforcement and a fellow board member, was the very first customer of Christine's Farm to Fork. She says that the community at the time was trying to weave a diverse network of support, and needed a leader. "Christine's was the add-on that was needed to bring everything together," says Guber, who, with her husband, has raised their family on a street where three of the six households, including hers, are biracial. "The comfort is why we chose Edgefield," Guber explains, "and Christine is a part of that." 
Comfort also comes by way of the family recipes Smith and her boys have worked into the lineup, including the Korean barbecue beef, inspired by the bulgogi her mother used to make. Here, Smith's recipe has been adapted for the home cook.